Some of the most beloved moments in the Harry Potter films are set in London, and guess what? You can visit them!
JK Rowling wrote most of Harry Potter in Scotland. Did you know? (said in my best Hermoine Granger tone) Edinburgh has many locations where Harry Potter fans can visit where JK Rowling wrote and see some sites that may have inspired her. But, so much was filmed and set in and around London that you actually feel immersed in the world. For me, that is just the best. When I was walking across the Millenium Bridge, I was envisioning the opening scenes of The Deathly Hallows. Of course, maybe not the best memory as the bridge basically imploded, but you know what I mean, right? I was like, I AM HERE, actually standing in the best Harry Potter locations in London.
The cool part about most of these Harry Potter sights is that you can work them into your sightseeing day as they are near, or are some pretty popular sights on their own. The WB Studio Tour is outside of London, but this is something that you really should make time for as it is truly spectacular. There are plenty of Harry Potter walking tours or bus tours out there. If you're so inclined, Trip Advisor has a bunch listed; some are quite reasonably priced. I preferred to do this on my own because I could work them into my schedule.
While these are in no particular order, I am starting with the best.
Warner Bros. Studio Tour London; The Making of Harry Potter
---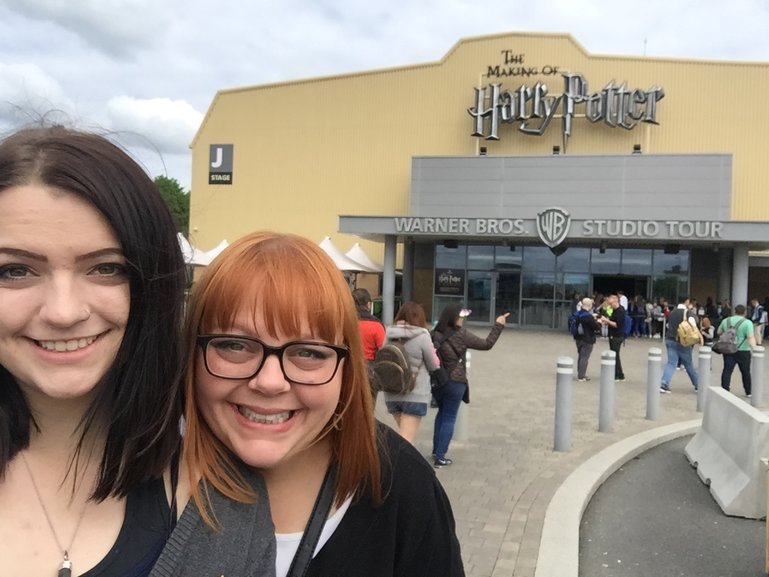 On our first trip to London, this was our anchor. I bought tickets early, as they do sell out, and we planned things around it. From London, it's a day trip. There are several ways to get there. We took a combination of tube, aboveground train, and bus. Unless you're driving or take a taxi (I don't recommend this due to the cost), it isn't straightforward. There are plenty of tours; where you don't have to get there on your own. A nice stagecoach where it includes transportation and admission. We maxed out our sightseeing budget by buying a 3-day London pass and this studio tour, so getting there on your own is definitely the most economical way.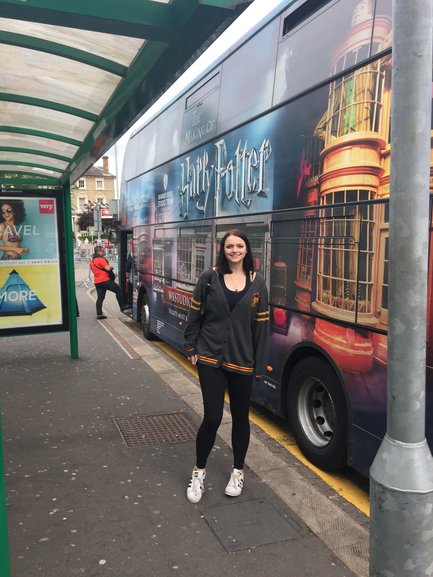 Travel tip: Don't rely on the Warner Bros. website for directions. They are a bit more complicated than that. Here's why. From wherever you stay in London, you'll want to get to Euston Station. From there, you'll take the aboveground train to Watford Junction. The aboveground does not run as often as the tube. So be sure to research the times online. Once you arrive in Watford Junction, you take the Warner Bros. bus to the site.
We accounted for the additional time and ended up arriving early. Which was fine, we had afternoon tea in the cafe, and that was a happy surprise!
One of the first things you encounter when waiting for admittance into the main event is Harry Potter's closet under the stairs. I remember feeling absolutely tingly with anticipation. One of my favorite JK Rowling quotes is posted right as you enter; "No story lives unless someone wants to listen."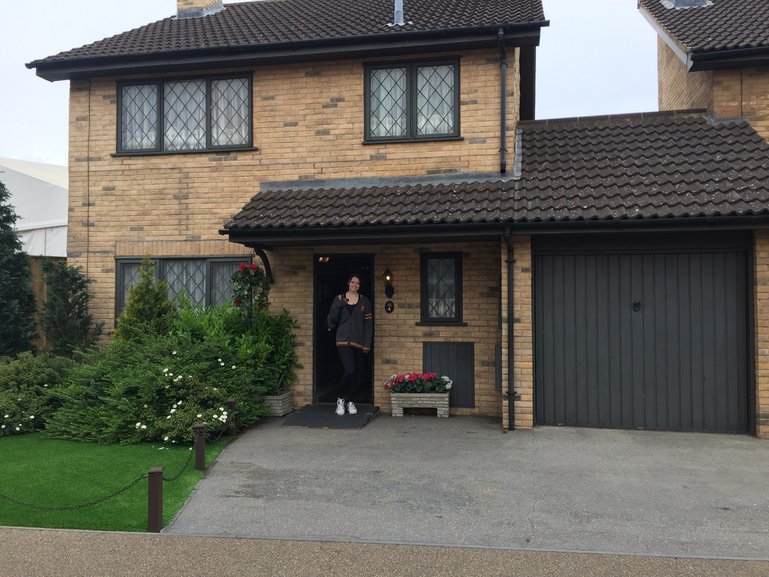 When those massive wooden doors are opened, you are welcomed into the great hall. It's ready for a feast, and I remember just standing there with my mouth open, head up, gawking at everything. It was truly magical. From the great hall, the tour is self-guided. There is so much to see; an entire blog post about it would not be out of line.
After the Great Hall, there are many amazing sights to see. The Forbidden Forest, Diagon Ally, and Platform 9 ¾. Outside is the house at Privat Dr, The covered bridge at Hogwarts, and the awesome Ford Anglia that Harry and Ron crashed into the Whomping Willow. Then there are props, special and visual effects, costumes, creatures, and the art department.
The finale in the art department is nothing short of spectacular—an intricate scale model of Hogwarts.
We took our time and spent hours looking at everything, enjoyed some butterbeer, and basically didn't want it to end. I remember the sinking feeling I had when we were at the end of the tour. But, the tour dropped us into the gift shop. Let me tell you, I've been to plenty of Harry Potter gift shops, and this one? It's the best. Unique, classic, and remarkable on every level.
Leadenhall Market
---
The exterior shots of the Leaky Cauldon were filmed here.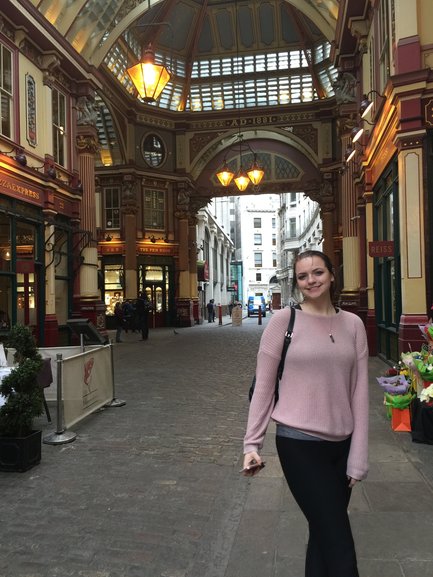 Leadenhall Market
I've read that VIctoria Street in central Edinburgh was the inspiration for Diagon Alley. I think people get confused that Leadenhall Market was the inspiration. In fact, The exterior shots of Harry and Hagrid walking through the market to the Leaky Cauldron were filmed here. Although in the movie Leadenhall Market is very grey and dark. In reality, it's quite vibrant and light! The Leaky Cauldron was an optical shop the last time I checked! It's a great spot on its own. The market has been around since the 18th century and is full of unique shops, even for someone who isn't a rabid Harry Potter fan.
Tower Bridge
---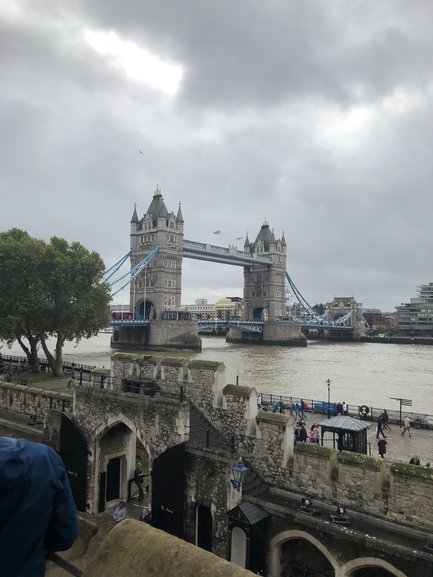 In Order of the Phoenix, the film opens with everyone in the order escorting Harry to Grimaldi Place, When they fly through Tower Bridge, and by the House of Parliament. It is a beautifully shot scene. The cinematography is stunning. Tower Bridge is gorgeous in the day or night. If you get a chance, try and see it at both times.
Tower Bridge does have an attraction. We used our London Pass to see it. I'll be honest, the tour is pretty uneventful. It's a walkway with some historical pictures, even a video. The cool part is the walk above the bridge where there is a see-thru glass floor. I'm terrified of things like this so I stayed on the side. But, my daughter loved it!
You can find awesome shots of Tower Bridge from the Tower of London and when walking from the north or south bank walkways.
King's Cross/St Pancras
---
I may be a bit biased about this one. Harry Potter stop or not, St Pancras is on the list of favorite places in London for me. It's a magical place. The champagne bar is to die for.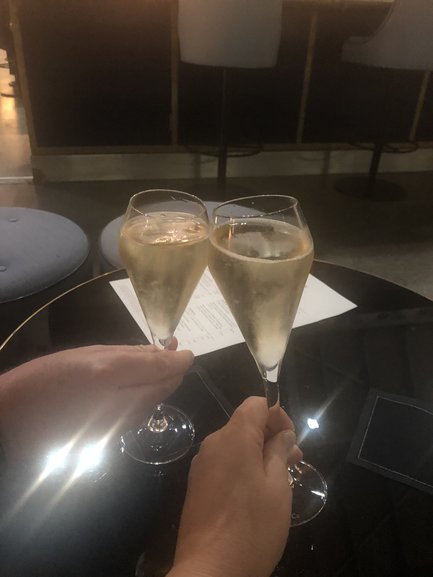 Champagne Bar at St Pancras
In the movies, you see exterior shots of Kings Cross when Harry is taking platform 9 ¾ to Hogwarts. Actually, it's St Pancras in those shots. King's Cross Station is just a brick building, nothing special or fancy, and St. Pancras, which is next door, is absolutely stunning. You can see why JK Rowling insisted that they use St Pancras as a stand-in for King's Cross.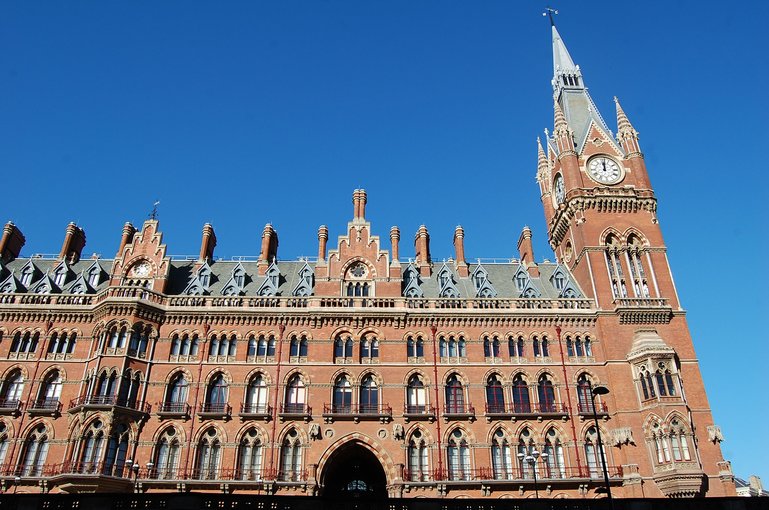 St Pancras is stunning.
Both stations are bustling with excitement. There are shops, restaurants, and bars. We spent hours at each. King's Cross is where you will find Platform 9 ¾, don't bother looking for it on the actual train platforms! It doesn't exist there. They have an entire attraction before you even get to any platforms. Just follow the signs. The queue is usually quite long, though.
Pro Tip: If you are going to the WB Studio Tour, you can skip the massive line here to get this classic shot. They have the same thing on the tour, and there are multiple photo ops, so no wait!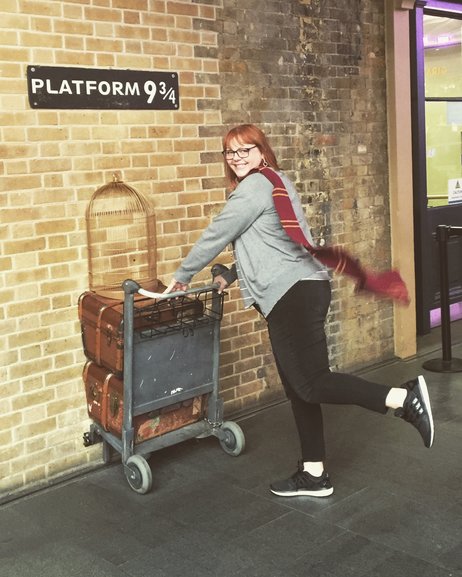 This is a free attraction; they even let you take your own photo. You can buy the professional one for about 10 pounds if you are so inclined. The gift shop is great, so you must make a stop. You'll find really unique Platform 9 ¾ items that you cannot find anywhere else.
It's a quick walk next door to St. Pancras. You'll want to go outside and take some pictures of the exterior. Inside, while there is no Harry Potter connection, St Pancras is just stunning you'll want to visit. It's Renaissance architecture shines through beautifully.
Piccadilly Circus
---
In Deathly Hallows, when Ron, Hermione, and Harry apparate from the wedding in the burrow, they land smack in the middle of the west end of London and nearly get hit by a bus, that is Picadilly Circus.
Yes, it's a total tourist spot. But I like it. Maybe it's the Las Vegas in me, the billboards and flashy signs, the constant traffic in the roundabout. It's an exciting place to stand and take it all in.
This is a great spot to see while you are doing other things. We walked through this area all the time in our most recent London stay.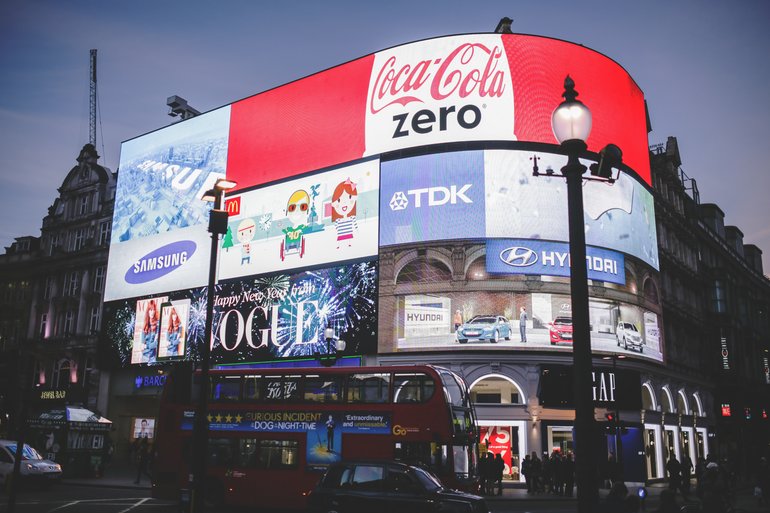 The Lights at Piccadilly
Millennium Bridge
---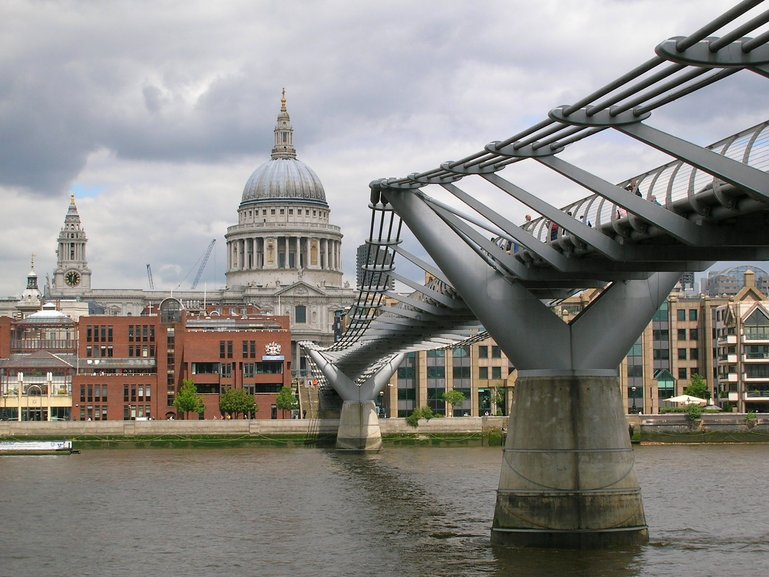 Another of my favorite spots. It's a fantastic place to transition from the South Bank walk. It drops you off right at St. Pauls Cathedral.
The South Bank walk is one of my favorite walks in London. You can get great photos of the London Eye, The Houses Of Parliament, and Westminster Bridge. You can get some exercise while visiting some cool spots like Tate Modern Museum or Shakespeare's Globe.
Crossing the Millenium Bridge was like a rite of passage for this Harry Potter fan. The opening scene of The Deathly Hallows is probably my favorite opening of all Harry Potter movies. As I was crossing it for the first time, I have to say I had some apprehension that it would start swaying. Thankfully, it didn't.
Lambeth Bridge
---
The Knight Bus scene in The Prisoner of Azkaban is epic. Lambeth Bridge is the star of the scene where the bus is heading into oncoming traffic and narrowly makes it through. In actuality, Lambeth Bridge has traffic in both directions, so no worries there! But it's a great scene, and you can continue your walk on the banks of the Thames to see this bridge. It also provides some fantastic views of Parliament and Big Ben.
Reptile House at The London Zoo
---
In Harry Potter and Sorcerer's Stone, the most iconic scene where Harry inadvertently does magic, at Dudley's expense and ends up behind the glass in the snake's house with the snake on the other side of the glass, that is the reptile house! Honestly, I'm not a fan of Zoos. So while this was included in the London Pass, we did not use it. It's probably a ½ day trip. It's a bit of a tube ride, and there isn't much else to do that way. You could hit the British Museum on your way back, though!
London is amazing but for a Harry Potter fan, it's like the holy grail. There is so much to do and see that you could actually spend an entire week in London and do nothing except see Harry Potter sites.
Other Harry Potter ideas in and around London
---
Some more adventurous Harry Potter sites would be a day trip to Oxford. The dining hall at Oxford's Christ Church College is said to have inspired Hogwarts' Great Hall. Several sites around Oxford were also used during the filming of multiple Harry Potter movies.
A Harry Potter-themed afternoon tea at Cutter & Squidge. This is a very popular activity so make sure you make a reservation.
Shopping at Primark they have SO MUCH unique and cool Harry Potter products. This is such a great spot, I needed to buy an additional piece of luggage for all my Harry Potter Primark finds!
House of Minalima, the design duo responsible for most of the graphic design for the Harry Potter saga. A gorgeous setting and full of original Harry Potter memorabilia.
Take in the theater with Harry Potter and the Cursed Child.
You can even book a room in this Harry Potter-inspired hotel; [The Georgian House Hotel](https://georgianhousehotel.co.uk/wizard-experiences/#dream).
We love working our love of Harry Potter, okay, MY love of Harry Potter (Derrick humors me) into our vacations. It's quite easy to do with this list of my favorite Harry Potter locations in London. Keeps your wands ready, soon there will be a post of my favorite Harry Potter spots, in Scotland!