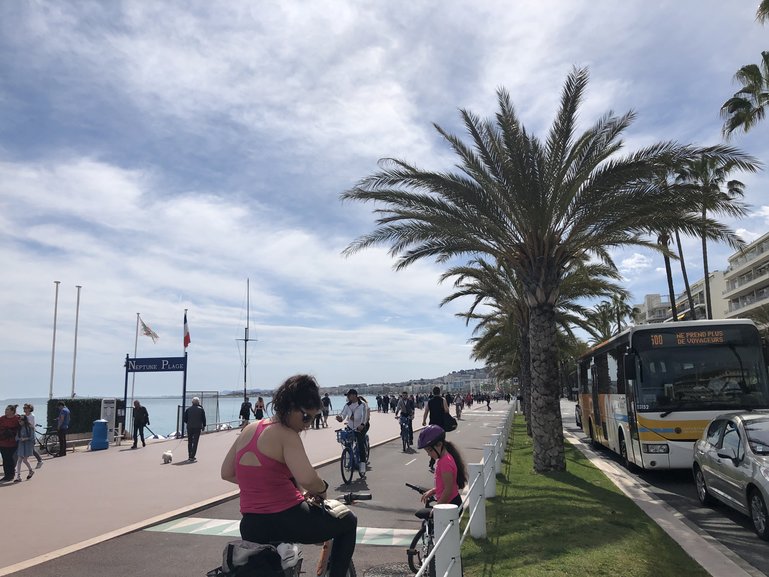 Promenade des Anglais
To make the most of your short break to Nice, consider exploring other other parts of the
French Riviera
by including a day trip to
Cannes
,
Antibes
and
Monaco
. Typically day tours to all three areas can start from €40 but you can board a train at
Nice station
from a cost of only €6 for a return ticket.
Trains run frequently from Nice station and it is a great connection point! You can board inter-city trains to other gorgeous parts of France including Bordeaux, Toulouse, Montpellier and Marseille. There are also connections to Milan, Italy. If you are planning a multi-destination trip around Europe, by including Nice into your itinerary would allow you to cover the scenic and cosmopolitan parts of the country whilst offering cheap and efficient means of connections by train to other parts or to other European countries. Ensure to book trains in advance to obtain the cheapest ticket possible for your trip.
For absolutely stunning views of Nice, take a trip to Castle Hill! From the very top of the castle, you can take the most awesome panoramic pics until your heart's content. To make the most of your short city break, I'd advise to check out the Old Town and Castle Hill together as they are in short distance of each other. And are the 2 key attractions of the city! If you're staying centrally by Avenue Thiers, the Old Town will only be a 25 min walk from there. You're likely to not ever need to take transportation getting around from there as many places, would only be but a lovely stroll away. Including: Promenade des Anglais, Cours Saleya and around Rue du Pont Vieux, for a great selection of bars and restaurants.
Nice has a great selection of lovely pebble beaches. However most of the beaches are private. You'd typically access the beach upon entering a beach bar or restaurant. To enjoy the scenic ocean views you can purchase a relatively inexpensive drink of the menu and relax away on a deck chair at a Jazzy beach bar. Other cost effective means to enjoy the beach, include sitting on public benches by the Promendade des Anglais or walking further afield to public beaches which include Plage Publique des Bains de la Police, Cocoon Beach and Beach.
The cost of dining in Nice can be pretty steep to say the least! However this can be kept to a minimum by ordering from the starters menu or by sampling a taste of France from local markets. Also consider using an Air BNB or accommodation that may include a kitchen and utensils that way you can reduce the cost of dining by preparing own meals during the day and maybe just limit dining-out to the evenings.