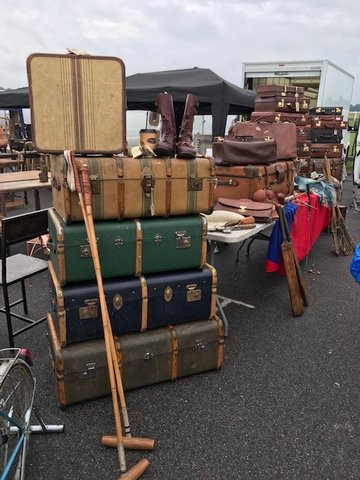 I can whole-heartedly say, that the the idea that 'the more things you pack the more prepared you are for adventures' – is a myth. What if carrying tens of kilos of unnecessary baggage actually restricted the kind of travels you could have? Almost every traveller has witnessed the scenario – you see a tourist that's struggling to carry their hefty suitcases across a crowded, busy city, wearing that look of discontent – knowing they should have packed less. So how can you ensure you've packed all the things you really need, without feeling weighed down by your luggage?
Drawing on our own personal experiences from travelling and also what we've learned from seasoned explorers on the road, I have created this qucik guide to packing light. Hopefully it will come in handy for your next adventure!
How and what to pack
---
Firstly, let's look at what the best items are to take with you and what the most efficient ways are to pack them.
Create an inventory – Lists are great, and when it comes to being organised, there's no better way to make sure you have precisely what you will need and nothing else. Divide your belongings into categories if it makes it easier (electronics, toiletries, clothes etc)
Choose a smaller bag! – it sounds so obvious, yet it is so often overlooked! The first step to packing less, is to allow yourself less space to begin with! This way it will be impossible for you to pack too much. Limit yourself to a bag that is not bigger than the carry-on allowance. You will find that if you are efficient, a carry-on bag can hold all that you really need for any kind of adventure. Heard-wearing materials are a plus.
Get some scales – If you do need to take a larger bag and have a weight limit, why not get yourself some accurate scales to keep at home? This will allow you to weigh your bag before leaving for the airport, ensuring you don't encounter any delays or difficulties when you get there. Also it will mean that you can use as much of your allocated weight as possible without stress.
Pack just one pair of shoes – wear the other pair you like to the airport. Choose footwear that will be suitable for the journey you are going on. Flip-flops are useful for hygiene reasons and take up virtually no space. Wear your heaviest shoes to the airport if you are carrying more than one pair.
Don't worry about how you look – this one shouldn't be too difficult, unless you are a fashion model it's not important what you look like. Try to pick clothes that are lightweight and can be folded/rolled easily. Big dresses, fur coats and leather clothes all consume a lot of space!
Choose your clothing wisely – possibly one of the most important factors in packing light for a journey. Steer clear of thick, bulky clothes for visiting colder climates and instead, opt for insulated layers or synthetic alternatives instead of wool. Many of these thinner clothes also have the added benefits of being lightweight and quick-drying – it's a no brainer!
Roll your clothes up – instead of folding your clothes up, try to roll them up tightly, it makes a noticeable difference once your bag is fully packed!
Hide socks inside your shoes – roll them into compact balls and stuff as many as you can inside the footwear you are packing. The empty space inside your shoes is just extra storage space waiting to be used!
Only take 7 days worth of clothes – no matter how long your journey will be, you will never need more than 7 days worth of clothes, anything excess will weigh you down!
Get some travel cubes – these trick gadgets are very useful when it comes to maximising space in your bag or case. They can also help keep your belongings organised and protected from water. Because of their uniform shape it can make packing and repacking a much faster process and prevents you ending up in the scenario where you are removing handfulls of clothes to get to something towards the bottom of your bag.
Keep heavier items at the bottom – The way your items are arranged in your case/bag make a difference when it comes to moving around airports and stations. Keep the centre of gravity low and try to keep the heaviest items like shoes and cameras at the very bottom of your bag to keep the load stable.
Space-saving items
---
Many of these items I didn't know about when I started travelling a few years ago. I've rounded up a collection of the most clever gadgets that will save you valuable space!
Multi-plugs/adapters – One of the problems with carrying several portable electronic devices, is that the plugs themselves take up space. Invest in a 3 way cable or plug extender so you can charge multiple devices with one cable. If you are visiting multiple countries, there are also travel plug adapters that suit 2-3 different formats.
Toothpaste tablets – ever had your toothpaste confiscated at the airport? It happens a lot and toothpaste can be surprisingly expensive when you visit other countries. Toothpaste tablets are very compact and are not a liquid so they will pass through airport security just fine.
Shampoo bars – another very handy addition to your travelling toiletries, shampoo bars can last for weeks even months if you use them carefully and come in a variety of aromas!
Laundry soap bars – these are compact, airport permitted and allow you to hand wash your clothes while away, saving you space and money.
With these tips and hacks now readily available to try out, give it a go and see just how good you can get at packing. It will make you feel more relaxed and in control of your journey, not to mention more free because of the baggage you left at home!