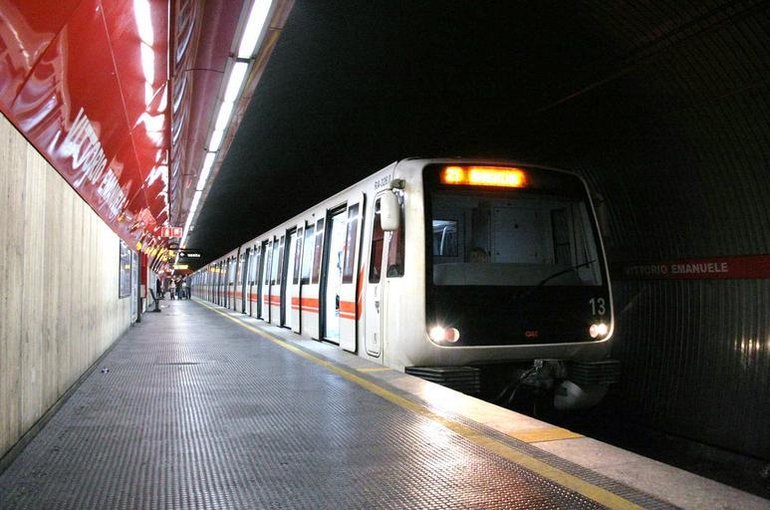 Subway station Rome V. Emanuele
As any big and busy city, Rome also has a few issues with pickpockets. Nonetheless, with a few tips and tricks I'm sure you'll be able to stay safe and not have any negative experience throughout your visit.
First of all we must understand that the pickpocket phenomena happens mostly where there is a big crowd, distracted people such as tourists, contemplating their new surroundings and paying less attention to their personal belongings, having a more relaxed set of mind. This happens in all big European cities and not only.
Pickpockets will blend in with the crowd so don't expect to be able to spot them from a distance. Best way to be safe is to always be aware of your personal space, keep your phone into the front pocket of your jeans or closed inside of your bag, one hand on the bag at all times. You can leave your passport at your hotel room as most places have a safe box; simply take a photo of it on your phone or a paper copy of it with you. You should also not carry plenty of cash and if you have more credit cards, don't put them all together. While on public transportation, do not stop in the very middle of it, as biggest crowds will be there; simply walk at the ends. Put your bags and backpacks in front of you or at your feet making sure you always keep a hand on them.
Another thing to keep in mind is when you sit at a table, it might be better if you do not put your phone on the table, especially if it's an outside seat. Some people might come and pretend to ask for directions and put a map on the table, covering your phone and when they leave, they take the phone with them! A map of course can very well be a newspaper, or any other object. Tricky fellows, aren't they?
If you don't give them a chance to take advantage of you being distracted while exploring the city, you will be perfectly fine.
Rome overall is a safe city, where you can walk around at any hour and hardly anyone will ever bother you. There are those "street vendors", who can be a bit annoying, but as long as you do not engage into a conversation with them, they will leave you alone. Under no circumstances should you take into your hands one of their objects, that is basically having signed your buying contract and they will never take it back from you but instead expect some money. If you find the most annoying one out there, you can always go to the military and ask for assistance.
By the way, the military…what's with that?
You will find soldiers all around the city, watching the crowd with their big machine-guns. Don't be afraid, their job is to make sure nothing wrong happens. It's kind of like having a team of bodyguards all around the city. They have been on our streets countrywide since 2008 as part of a Government operation called "Safe streets" overall making sure there is no small criminality, no terrorist attacks and in case of a natural disaster or incidents of any kind, they will be immediately ready to respond and give aid.
Do not take photos of them, they really don't like that. However, you can go to them to ask for help or directions, and point out people that might bother you.
As you see, a few small details and a bit of awareness is all it takes. Now go out there and enjoy the city!