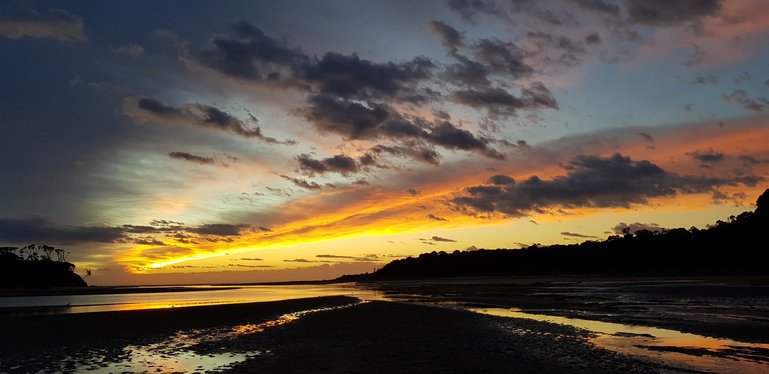 Papatowai sunrise
Set among tranquil native bush abundant with birdlife, Papatowai Campsite is a great base to explore the natural wonders of the Catlins.
Located south of Owaka, the little township of Papatowai is made up of several family cribs (holiday homes) with just a few permanent residents. The gas station doubles up as the local store and sells all the basic requirements like milk, bread and toiletries. Right behind the store is a good-sized Department of Conservation campsite set among stunning native bush. Once a commercial campground, DOC acquired the land and have re purposed it into budget campsites. Unlike many DOC camps, this one has ablution blocks with flush toilets and running water. The kitchen is large and has plenty of room for you to get your dishes done, however, there is no hot water nor showers available. Nonetheless, facilities are clean, well-kept and adequate.
116 non powered campsites are situated around a sealed ring road which runs throughout the camp. Sites comfortably accommodate the smallest tent or the largest motorhome. At the back of the camp a short walkway leads to the Papatowai Estuary which is a perfect spot for kayaking, swimming & recreation. Beach access from the walkway is accessible at low tide only, but you can always take the short walk along the road to the beach when the tide is high. The rocky outcrops at the mouth of the estuary offer a plentiful supply of paua and other shellfish and are a favourite place for divers. Resident Sea Lions and other wildlife frequent this area so you must be mindful and remember the 20-metre rule and give wildlife it's space. The estuary has a soft sandy beach, great for families with small children.
Dotted around the camp you will find outdoor kitchens with stainless steel sinks and running water to clean your catch or shellfish.
Kayak hire is available in season on the main road, and the local gallery is a must browse. They also serve barista coffee from an onsite coffee cart.
If exploring the Catlins is on your NZ Must Do list, Papatowai Campsite a offers affordable camping in one of New Zealand's most undiscovered coastal treasures. The Catlins district has amazing bush walks, spectacular waterfalls, beautiful beaches and regenerating podocarp forests. Stay a while and explore!
Papatowai Campsite is wheelchair accessible. Registration & fees are paid at an onsite kiosk by honesty box method. No booking is required, first come, first served basis. The New Zealand Department of Conservation provide several budget style campsites throughout New Zealand.