There are lots of tourists in NZ. Join a tour if you are here for a short trip and get the feel of the country. Plan to come back again - and spend your time with a hire car based in one or two places and really explore off the beaten track. Once you are off the tourist bus trip you will meet the real NZ and its people and you will be blown away. Here are my three tips.
Visit Northland
---
My favourite place is Northland - North of Auckland. Only one in five tourists go north and most hit only the main stops. Hire a small car and stay somewhere like Waipu - half way between Auckland and the Bay of Islands with the best beaches in the world. Go diving or snorkelling on the Poor Knights Islands with Dive Tututuka. Visit the Kauri forest at Waipoua at night with local Maori. You can easily stay anywhere in the North for a week and not get to the end of the list of things to do. Simple non touristy things like walking on an empty beach, going into a free glow worm cave, have a coffee where the locals hang out, explore the back roads.
Hire a car
---
Instead of a large Campervan, hire a car and stay in Campgrounds or B&B's - spread all over NZ.
Include some cycling
---
New Zealand has some amazing cycle trails in almost every city and town. There are over 30 multi day rides. Some car hire places will rent you a bike rack and bicycles - I love to travel with my bike on the back. More about the Cycle Trails here You can download a great app called Great Rides. The most famous multi day ride is the Otago Rail Trail - which is definitely worth doing, but now there are lots more trails to choose from. You an hire a bike and arrange transport for most of these trails.
Enjoy NZ - I came here for a holiday 40 years ago and never went home!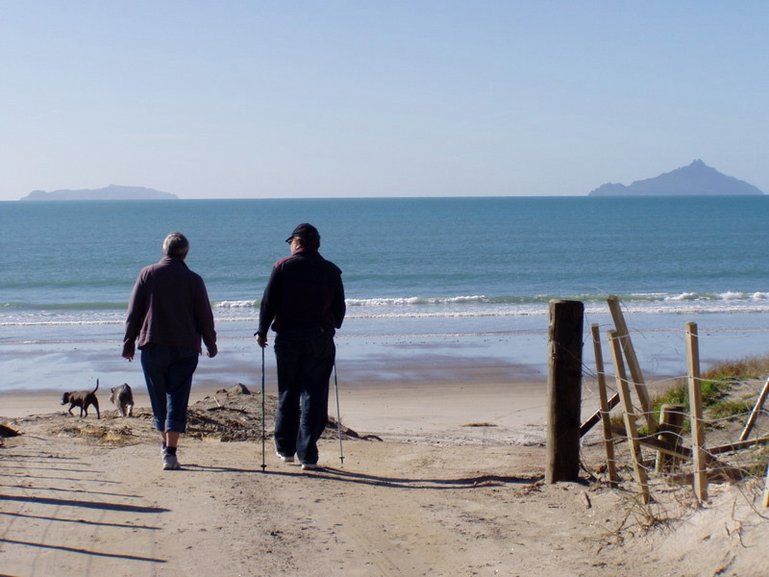 Uretiti Beach - 22 kms of empty beach near Waipu - even in Winter it is fabulous