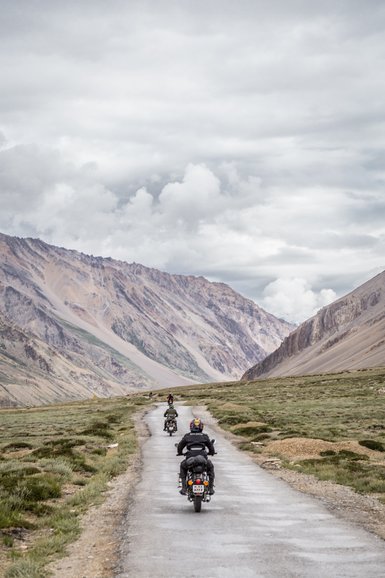 Taking your motorcycle out of the garage and heading off on a big adventure is a thrilling moment in any rider's life. Leaving your home for the open road, covering hundreds, thousands, even tens of thousands of miles! It's such a special moment that puts everything you have learned since you started riding, to the real test. Of course let's not forget, it also brings you the most memorable experiences on a motorcycle. Every rider remembers their first time. But that unsettling feeling you think you may have forgotten something important can soon threaten that great buzz.
So what is the best way to make sure you and your bike are prepared for absolutely anything coming your way?
How about a snappy guide you can use as a quick checklist for your own motorcycle?
How are you going to navigate?
---
Whether you decide to use modern GPS systems, an app on your phone, or even trusty fold-out maps, make sure it is reliable and works well for you. Download offline maps where possible. Beautiful places sometimes come with non-existent phone signal.
If you are using an app on your phone, make sure you check the settings for your route being adjusted automatically, this can really lead to lost time. Go on some rides with your setup before you actually set off on the trip. Make sure however you are mounting the device, it will be secure and easy to take-off when you want to.
---
Does your motorcycle have its own toolkit or toolbag? If it does, check its contents and see if there are any other tools you might need to carry. At a bare minimum you should carry the tools needed to remove body panels and access the battery on your motorcycle. You do not want to be stranded somewhere without the means to work on your motorcycle.
Other useful items you could pack:
LED flashlight
Zip ties
Compass
Insulating tape
Duct tape
Long-nose pliers
Emergency tyre repair kit
Multi-tool with allen keys
A waterproof place for documents?
---
When travelling on a motorcycle you will need to carry all your necessary documents with you and your passport. Where are you going to keep these items safe? Good waterproof jackets usually have inside pockets where you could keep these. If you prefer to keep them stored on your motorcycle's luggage, try to store them in a place that you know is waterproof and not too difficult to get to. Tank bags that attach to your fuel tank are a great piece of kit for helping you keep important items safe and close to hand. I have used a budget-friendly model from Ryde. Tried and tested for thousands of miles, they are reliable, well made and truly waterproof! They don't look to shabby either.
Keep everything lubed
---
As you clock up a hefty amount of miles, your bike will experience accelerated wear-and-tear. Your chain and running gear will require lubrication more often that it would back at home under daily use. Either carry a spray lube to stop it from becoming dry every 300-500 miles, or better still, fit a Scott-oiler or other kind of Auto-Chain lubricator – it removes all the hassle and one less thing for you to worry about!
Make your motorcycle handle better?
---
On long distances your motorcycle is being subjected to a lot more abuse from the road itself. Crumbling roads, pot holes, unfinished roads, sudden inclines, not existent roads. All of this takes a toll on your suspension and can be quite difficult and uncomfortable to ride on. Maybe you are struggling for grip unexpectedly through bends and it is knocking your confidence? Well, you don't have to suffer any longer! Providing you have not already had your motorcycle's suspension set-up for your own weight, it is something you will really benefit from.
If you are handy with tools and want to do-it-yourself have a read of this fantastic guide from MCN here.
Alternatively you can find a motorcycle garage near you that can adjust your suspension to correctly suit your size and weight, meaning the bike will not become overloaded or unbalanced. You will feel more responsiveness from the machine and more comfort over those derelict roads and hidden potholes.
Remember to ALWAYS check your tyre pressures on the day you leave and try to check them regularly on your journey, especially in hot weather. Why not install some of these genius valve caps that have an indicator to notify you of changes in pressure?
Choose soft or hard luggage
---
It is a question that comes up quite often in the world of motorcycle adventures. Shall I choose soft luggage or hard luggage for my journey?
In truth, they both have their good and bad points.
Soft luggage takes up less space, is easier to remove from the bike and carry with you but will need to be waterproof. Hard luggage on the other hand is generally safer as most boxes have locks on them, is water and weatherproof but as a downside, they do occupy more space and even when you are travelling light, the storage boxes will still occupy the same amount of space.
Many riders opt for soft luggage but I have used both and they worked well for me. I love the security of lockable boxes and knowing I can leave important items on the bike without someone being able to access them. I love soft luggage because it is more versatile and makes for easier unpacking when I arrive at the place I will stay for the night.
Make sure the luggage you buy has a rack or mounting system that is designed for your motorcycle and that it is secure.
Will you need crash protection?
---
If you are embarking on a trip that takes you off-road, the surfaces will become tricker and there is of course, a greater chance that you may drop your motorcycle. If you think this will be the case, why not invest in some protection for the vital parts of your motorcycle?
At the very least get yourself some engine crash protection bars or frame sliders to prevent your engine cases becoming punctured in the event of a fall. Handguards/barkbusters are very important for rides through woodland and trees as they prevent your hands from being injured from passing branches. They also provide reasonable protection for your clutch and brake levers in case of a tumble.
Check every nut and bolt
---
Over the course of a long journey, vibration and sudden bumps in the road try their very hardest to wiggle bolts loose on your bike. If you have a torque wrench handy and the owner's manual which specifies the correct torque values for your motorcycle, it is definitely worth going over all of the major nuts and bolts to make sure they are tight, but not too tight!
I would say the most vital areas to check are:
Wheel/axle nuts
Headset/yoke nut
Small sprocket nut
Engine mount bolts
Exhaust hanger bolts
Brake disc bolts
Sprocket bolts
Fork clamp bolts
Go and have the time of your life!
---
When everything is done, you should be able to look at every part of your motorcycle and know that it has been checked and optimized for the kind of journey you are taking. Now it is time to relax knowing everything on your motorcycle is prepared! Now go and get her dirty!