Even while the economic crisis was slowly creeping into our pockets, it remained clear that one of the things we are not willing to do is stop traveling. We instead explored all new destinations and new methods of traveling that helped us to realize that you do not need a backpack loaded with money to travel.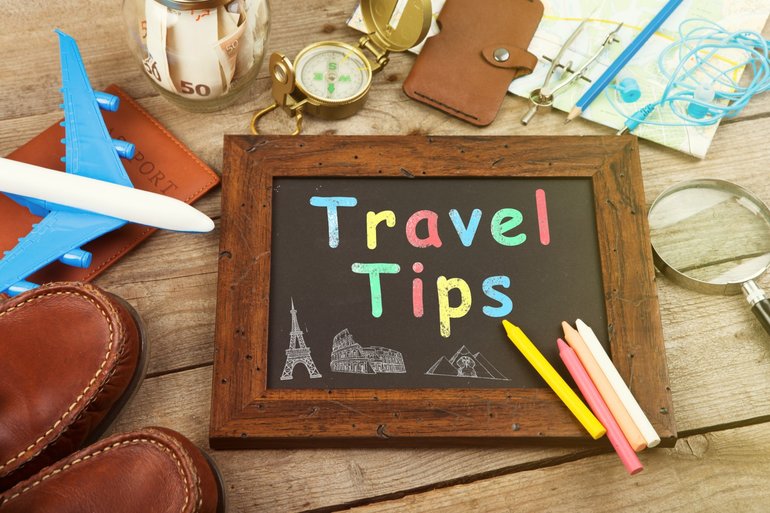 Doodle about travel tips on chalkboard
Here we present to you the most 20 useful travel tips that have enabled me and will allow you to travel more and spend less.
---
This type of services is usually a mirage. Paying to get on the plane first or to be more comfortable in the seat of the emergency exit is, in many cases, a hoax that some airlines use to get more money.
2. Rate the destination and choose for an ideal conversion of the currency
---
For example, two years ago traveling from India to Singapore was a bargain, nowadays it is not so much. Maybe a trip to the UAE would be better since their currencies have lowered its price considerably.
3. Do not remove water or snacks from the minibar
---
If you are still a lucky person staying in hotels with more than 3 stars, then a good way to save is to leave the minibar as you found it. We assure you that on the outskirts of the hotel you will find a place to buy drinks and snacks three times cheaper. If you do not have anything close, well shortly before finishing your tour, remember to go through a supermarket and buy the necessary drinks.
Pro Tip: If you do take items from the mini bar, replace the stock from a nearby supermarket before you check out.
4. Bargain
---
We know that haggling is an art that very few of us do well but in times of lean times, asking for a discount is the most normal thing in the world.
5. Location
---
Staying in a hotel in the center of, for example, Dubai or New York, may represent the ruin of our travel budget. But beware, on many occasions, the idea of going to the outskirts to save some money may be the opposite. In some cities, public transport (metro, bus or taxi) is expensive. So before making a decision, do you research and ask around. For this, there are hundreds of social networks of travel in which you can use to contact people who have visited the place you have in mind to know.
6. The sandwich for long tourist days
---
If you plan to spend a whole day touring a city among museums or parks, we recommend that you locate a supermarket where you can buy the necessary ingredients to bring prepared sandwiches or sandwiches to your walk. They save you from hunger and pocket.
Pro Tip: Eat outside well know amusement parks. At some Parks a cheeseburger will set you back $10USD!
7. Travel in a group
---
Unless it is a romantic getaway, organized group trips can be considerably cheaper, especially for getaways on the beach or a cottage in the mountains. The rent is usually much cheaper, and the food is also cheaper.
8. Dispense with tourist guides
---
Nowadays it is practically impossible not to find information about any city or remote town in the world through the Internet. That is why, unless it is very necessary to hire a guide, you can use a book of recommendations and tours.
9. Walk or ride a bike
---
If you go to a city that offers you facilities to move on foot or by bicycle, take advantage of them. Do not miss the opportunity to know a place walking or cycling through its streets. We assure you it will be an even more rewarding and healthy experience.
10. Rediscover Camping
---
We know that as the years go by, the criteria and demands for comfort change. If you have not been camping for a long time, it would not be bad to rediscover it and do it next summer. Whether on the beach or in the mountains, there are organized campsites that impress with the comfort and services they offer.
11. Rent a caravan
---
You'll be impressed with the models and amenities you'll find in today's caravans.
12. Sign up for the all inclusive
---
If your budget is very tight and you want to be sure not to spend more, you have the option of hiring a trip with a closed package, that is, all inclusive which means that 100% of your meals are covered. Remember that if they offer you "full board" this means that it covers all meals, but not drinks.
13. Activate a roaming service for you phone
---
Do not forget to activate your roaming service for your mobile phone service, so you can avoid any nasty surprises when you get your next bill.
14. Browse before buying
---
If you usually go to the mall and walk it up and down to find the best deals, then with travel you have it even easier. You only have to review all the options of travel agencies and search engines that will allow you to compare and get the offer that best suits you.
15. Verify which credit card to use
---
Especially for online shopping, on many occasions, it happens that they charge a surcharge if it is a Visa or Master Card.
16. Travel in low season
---
If your work allows you, find a way to escape during vacations in the low season. The offers are even better, and you will find fewer crowds at tourist sites.