If you're overwhelmed by Bangkok and are looking for some time away, solitude, and some unpolluted nature then Bang Krachao is a MUST DO. It is an island- yes a real island!- in the middle of the Chao Phraya River.
Getting to Bang Krachao Island is incredibly easy and spending the day there is incredibly cheap, which can be difficult to find in Bangkok. To get there, you will take the MRT blue line (Bangkok's subway) to Khlong Toei station (approx. 40 baht depending on where you begin your journey) then grab a taxi to Khlong Toey pier (approx. 50 baht). When you arrive at the pier you will see a well marked sign indicating where to go to get to Bang Krachao. The boat from the mainland pier and it's return is FREE as part of a project by the King. The boat is a super quick, approx 7 minutes, and is a scenic ride of the Bangkok skyline.
The boat will take you right to a bicycle rental where for 80 baht you receive a bicycle for the day, a map, and a bottle of water. There is a clear route if you stay on the road, but being the gone rogue travelers we are we exploded the small paths through the islands neighborhoods.
There is very little traffic if you stay on the main road and there is a clear bike line on either side of the road. However, the small paths through the neighborhoods are made specifically for bicycles and motor bikes/ scooters. Our favorite part of the paths was how thick the jungle was, how many beautiful flowers we saw, and how alone we were! We didn't see any other bicycles riders while on the paths and were passed by only a few locals on scooters. If you are looking for some serenity and isolation amidst the big city hustle, Bang Krachao Island will give you everything you are looking for.
Following the road the bike lanes will take you to a market, a fighting Siamese fish ring, a beautiful bicycle park, a temple, cafes, a tree house, and a few other sights. If you lose your map, or spill water on it (not speaking from experience…) there are maps along the road and it is easy to figure out the correct way to go.
If you are smitten with Bang Krachao island there are places to stay on the island. Bangkok Tree House is an amazing all natural tree hotel .The nightly rate is not necessarily cheap by Thailand standards, however, it is surely an experience you won't soon forget. The tree house's restaurant and cafe are open to non guests though if you would like to visit while you are exploring the island.
Returning back to main land is as easy as returning back to the bicycle rental and getting back on the free boat to main land. Ending at sunset gave us incredible view for our boat trip! We then easily got a motor bike taxi back to the MRT and headed back to our hotel.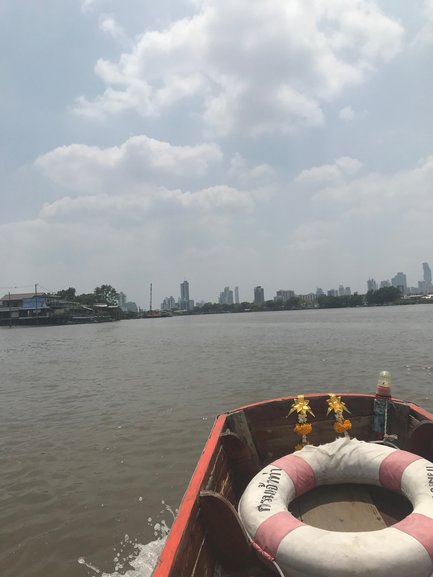 Views from the Chao Phraya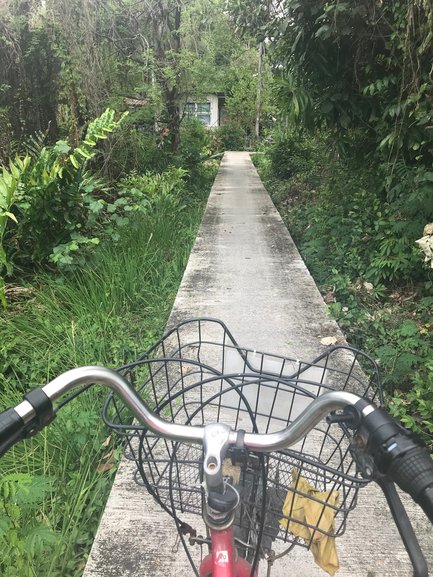 Bang Krachao Bicycle Day!