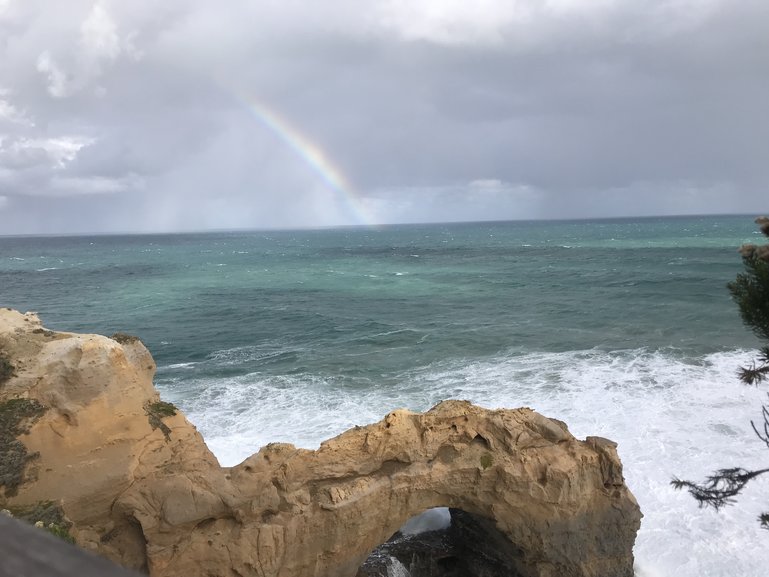 Great Ocean Road
So you're thinking about a working holiday in Australia? Sun, sea, sand - paradise, right? Hopefully this guide can nudge you in the right direction.
If you're aged 18-30 and planning on taking a gap year (or three), Australia should be very near the top of your list. With an abundance of stunning natural landscapes along the coast, the nonstop buzz of city living and the laid back outlook to, well, everything - it's easy to see why it's a popular haven for backpackers.
There are a vast amount of jobs available. From working in a cool, hip cafe in the suburbs of Melbourne, riding the waves all day as a surf instructor in Bondi, exploring new depths as a scuba diving instructor on the Great Barrier Reef, becoming a tour guide for your new home city, or even crushing grapes at a vintage wine cellar. The opportunities are endless. No matter how crazy the job is, you can probably find it somewhere in Australia.
However, the maximum time you can stay with one employer on a working holiday visa is 6 months. The rules are slightly different for those on a farm, they are allowed up to 12 months.
Farm work is one of the most common backpacker jobs, due to the ability to extend the visa for a second and even a third year. To stay a second year, 88 days of regional work must be completed. Furthermore, a third year would require 6 months of regional work during the second year.
Acquiring a visa
---
As a British national, acquiring a visa took approximately 10 seconds. However this isn't always the case, it can usually take up to a few weeks to get approved. Step 1 is checking that you're eligible for either the 417 or 462 visa.
I decided to get help with my visa from Visa Bureau. The company helps you set up a bank account, obtain a tax file number (TFN) and gives you a tonne of useful discounts for when you're over there. They also provide a helpful guide and offer themselves for support when you need it.
By no means is it a essential to go through a company, it just makes things a lot less stressful, especially if it's your first time.
Your TFN is to be applied for online once you enter Australia.
So your Working Holiday Visa has been approved. Now what?
---
Research and work out where you want to set up base as you arrive in Australia
If you want to be surfing every day, you're going to choose somewhere along the beach. If you want to be nonstop partying, choose a city. It really is that simple. Work out your paradise and follow it. One of the best things about working holidays in Australia is the flexibility to move around. If one place isn't working for you. Great, move onto the next. It's all part of the adventure.
Book a flight and a few nights accommodation in your chosen city
Once you've researched where you want to being your working holiday, the best flight comparison websites are Skyscanner and Kayak, allowing you to compare prices, dates and airlines.
For hostels, the best bet is always Hostelworld, they have a large variety of weird and wonderful places to choose from. However, it's always worth booking direct through the hostel website, it tends to be a few $$ cheaper and they'll sometimes offer weekly deals.
The hostel staff will be able to help you settle by giving you advice on where to go, where to apply for jobs and local recommendations.
If you want a bit of luxury, AirBnb (save up to £35 through my link) and Booking.com (save £15) are always options too.
Or, even better, stay with a friend or family member if possible.
Set up a bank account
Whilst on a working holiday, a local bank account is vital. Thanks to the power of the internet, you can now set up a bank account from anywhere in the world. It's a quick and easy process that allows you to transfer your savings from your original account before you enter the country. However, it's important to be wary of International transfer fees. I signed up for OFX where the first 3 transfers were free, which covered my initial transfer to my Australian account, then back to English account when I left.
Back to bank accounts, the three most popular are:
I opted for Commonwealth. They have a handy mobile app which encourages you to keep track of your savings and categorises your spending. Commonwealth also offer free ATM withdrawals, no account fees and Apple Pay. Commonwealth can also help set up a Super account (an Australian pension) which you can claim back when you leave the country.
Get yourself a SIM Card
You can also sign up for a SIM card before you enter the country. There are three main providers in Australia.
I opted for an Optus SIM. The plan I chose was a rolling monthly contract, so it was super flexible. You could easily change the amount of data you received each month and if you recharge before the 28 days are up, the leftover data rolls over. I was paying $30 for unlimited texts and calls (inc. international) and 10gb of data. I found the cell service to be pretty good in Melbourne and down the East Coast, the only place I had an issue was on Fraser Island!
Purchase travel insurance
Don't make the same mistake as me and wait until you're over the other side of the world to buy insurance. It is expensive. Travel insurance is super important, you never know when something could go wrong. In the UK you can use comparison websites such as Compare The Market or GoCompare.
If you are lucky to be from a country with a reciprocal health care agreement (RHCA) you can sign up for a Medicare card which allows you free health care whilst over in Australia. They run on a bulk billing system so there are no upfront fees.
Save, save, save
SAVE YOUR MONEY. It's Australia. Until you get a job, it's expensive. We're talking $18 for brunch, $25 for a night in a hostel, $10 for a pint. It adds up quickly.
I know it's cliché but cutting back on the Starbucks will help. £3 a day quickly adds up to £21 a week, £84 a month and so on. The coffee is a lot better in Australia anyway, you'll be doing yourself a favour.
It's also a good idea to get on eBay, Depop, Gumtree etc. and sell things you don't need anymore. You may not get as much as what you initially paid but selling the t shirts that you haven't worn in 5 years really do add up. I ended up leaving with an extra £250 by selling things I forgot I even owned, it's worth the investment!
The whole idea of a working holiday is to work to make money, but it's good to go over there with more than what you need!
I hope this guide helps! In the near future I'll be posting my best tips & tricks for adapting to life in Australia, city guides and more useful information!