A working holiday visa can be one of the best ways to experience a country while earning money and travelling. Depending what country you are from you just might be eligible to complete a working holiday in Australia. If you are thinking of taking some time off to travel and live abroad this might just be the adventure for you!
Working Holiday Visa in Australia
---
Australia is one of the best countries to complete a working holiday visa in. Not only is the country absolutely stunning with beautiful beaches, warm weather and a laidback lifestyle, but there are plenty of jobs and the pay is quite high compared to many other parts of the world. Perfect for earning money to fund your travels.
You can be serving lattes in the morning and spending your afternoons hanging out at the beach watching surfers catch a wave or catching one yourself!
Australia has every kind of landscape you could ask for. From some of the most beautiful beaches in the world, to rain forests, mountains, snow, waterfalls, hinterlands, you name it. This country really has it all.
I completed a one year working holiday visa in Australia and it was one of the best experiences I've ever had. I would recommend it to anyone who is eligible to do it.
Applying for a Working Holiday Visa in Australia
---
The application for a working holiday visa as a Canadian was a pretty simple process and I remember getting accepted in less than 24 hours. You can find information on the application process on the government page. Depending what country you are from you'll either apply for the 462 Visa or the 417 Visa. Canadians apply for the 417. The requirements for Canadian and Irish citizens changes recently as the age limit for the visa got raised from 18-30 to 18-35. Bonus if you are over 30 and didn't think you were able to apply! It still remains 18-30 for all other countries.
The Cost for a Working Holiday Visa in Australia
---
The actually price for an Australian working holiday visa is actually quite reasonable considering you get a whole year to explore, live and work in any part of Australia. As of 2019 the cost for the visa is AUD $530 if you are applying online which is the quickest way of approval. If you mail it in, the cost is AUD $450.
What Does An Australian Working Holiday Visa Allow You to Do
---
When you are fully approved and granted your Australian Working Holiday Visa you have one year from the date of approval to enter the country. Your visa is activated upon arrival in Australia and expires one year from that date. The visa allows you to work as much or as little as you like given you don't work for the same company for more than six months. There are a few regulations around this which you can find on the government website and I recommend doing as much research as possible before applying. My experience is based on applying from Canada and regulations could be different for other countries.
How Much Money Should You Bring
---
As much as you can is always the safest bet! There is nothing worse than getting to your last bit of money in another country and feeling that anxiety and stress of what your next move will be and how you are going to get by. I met so many backpackers who had almost nothing left and they somehow made it work and others had to head home early because they had no funds left. The last thing you want is to end up in a situation where you have to fly home early because you have no money or even have no way home for the same reason.
Save as much as you can and I would suggest at least saving up AUD $5,000 before leaving for Australia on your working holiday visa. You can get by on less given circumstances but to be on the safer side, always budget higher than expected so you don't end up in a bad situation.
I read online that when you get to the airport in Australia and are entering the country you can be asked to show bank statements to prove you have enough funds to sustain yourself. I had mine printed out in case but I got a "Welcome mate, enjoy your time in Australia!" All depends on who you get I guess, but have your bank papers or evidence available just in case.
Where to Stay When You Arrive in Australia
---
Before you plan to leave for Australia on your working holiday visa, its always a good idea to have an idea of where you'll be staying for the first few days or so upon arrival. Unless you get lucky and have some friends or family to stay with, hostels are always an affordable and budget friendly option. They are one of the best ways to meet other travellers and make new friends while abroad. Most hostels usually have job boards in the common areas to help with job hunting. Some hostels have travellers who are living there long-term while they are working and those people can be great resources for getting word on places that are hiring or any potential leads. I swear anyone who had any construction experience found a job right away.
Hostelworld is a great site for accommodation and acts as a resource where you can find reviews, pictures, locations and pricing to see what hostel best suits your needs. Finding a hostel that is easy to get to from the airport is key especially since you will most likely be in a jet lag induced coma when you arrive in Australia. Let's be honest, the flight is LONG almost no matter where you are coming from.
Where To Look For Jobs
---
There are some great resources available online when it comes to finding a job for your working holiday visa. Depending on the type of job you are searching for a few places to look are:
Seek- One of Australia's top job sites especially for skilled workers. I found two of my contract positions in Brisbane on here.
Facebook Groups- There are numerous Facebook Groups out there that are fantastic ways of finding work available including farm jobs, construction, nanny positions, hospitality and more. Check out *Backpacker Jobs in Australia*to start.
Gumtree - Good site for hospitality, temp roles, construction, admin and more
Indeed- Another top job site in Australia
Deciding What city To Start Your Working Holiday Visa In
---
This is all up to personal preference and budget. Australia has a few amazing major cities and all of them boast their own uniqueness and opportunities.
Sydney
Sydney is known for its beautiful beaches, big city lifestyle and of course the Sydney Harbour Bridge and the famous Opera House. If you love being close to the beach and living in a big city with warm weather then this might be the place for you. Sydney tends to be on the pricier side for housing rentals, but given the city is so big, there are plenty of job opportunities.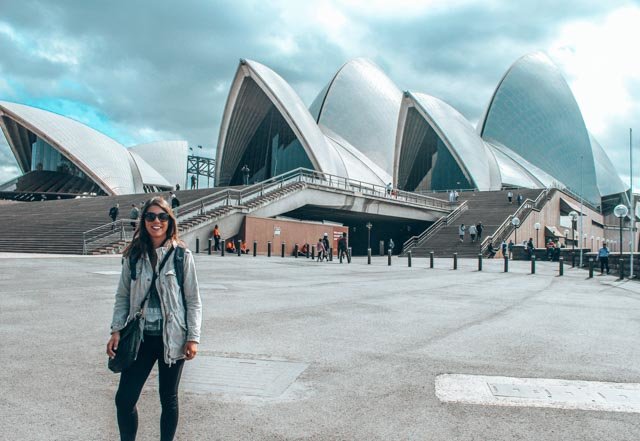 Sydney Harbour Bridge
Melbourne
Coffee, coffee and more coffee. If you are a coffee lover then Melbourne is the place to be. You can't walk down the street without passing endless coffee shops with some of the best barista coffee Australia has to offer. Melbourne is known its food and coffee scene. This metropolis has a European vibe in the air and there is always something happening in the city. From the quirky laneways and beautiful graffiti, Melbourne does not disappoint. If you love being by the by the beach, you can find St. Kilda Beach and Port Melbourne Beach not far from the CBD. Housing can be a bit on the pricier side and if you don't like cold weather refrain from living here in the winter. It does get pretty cold in the city known for its four seasons in one day.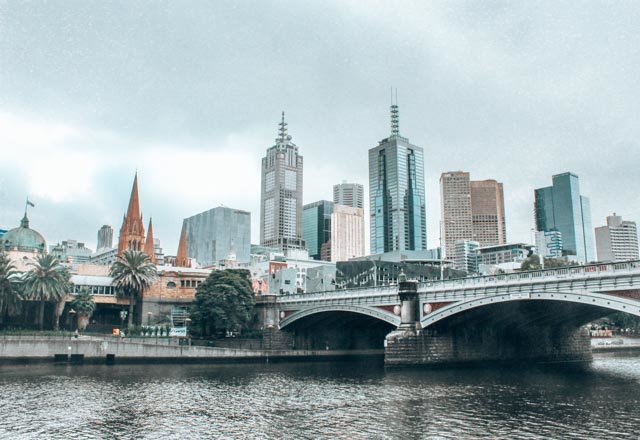 Melbourne
Adelaide
Located in South Australia, Adelaide is home to stunning coastline, beautiful beaches and not far from the famous Barossa Wine Valley. (Wine lover's paradise.) Adelaide has a population of just over 1 million people and the cost for housing is quite a bit cheaper than Melbourne and Sydney. I didn't spend much time in Adelaide so I can't overly comment on what its like to live in, but when I was there it seemed like a fun place. Not too big and the CBD seemed to have some funky bars and restaurants with a laid back vibe to city.
Brisbane
My personal favourite. I'm biased as this was my home base and where I spent the majority of my time living in Australia. Brisbane is known as being a big country town. Although it has a population of just over 2 million, you don't feel like you are in a big city. The CBD is just large enough in my opinion where you don't feel overwhelmed. With beautiful views of the Brisbane River and Story Bridge along with its own man-made beach and funky neighborhoods, Brisbane has a lot to offer. I found job hunting in Brisbane to be fairly easy and the city is easily accessible by public transport. Housing rentals are more affordable than Sydney or Melbourne and although there is no direct beach in the CBD, Brisbane is only an hour from the Gold Coast and just under two hours from Byron Bay. Another bonus to Queensland's major city is the sub tropical climate. Hot in the summer and doesn't get very cold at all in the winter. Coming from Canada this was a dream for me!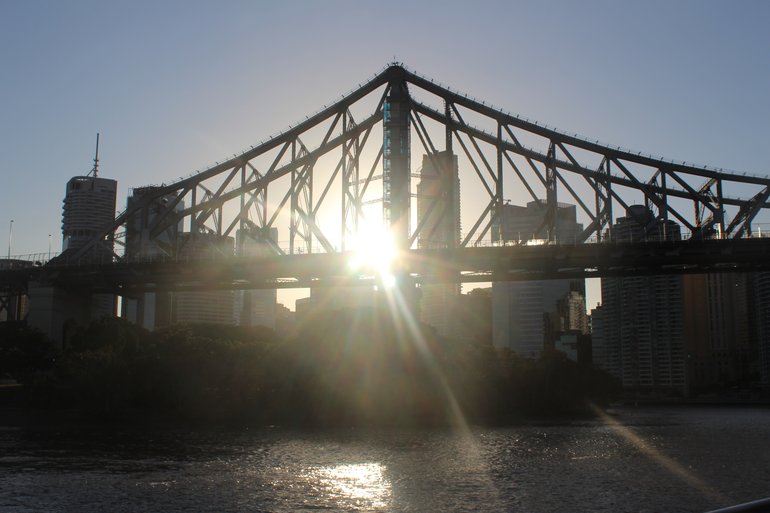 Brisbane
I just listed the major cities in Australia, but many backpackers also venture to other smaller cities including Darwin, Cairns, Hobart. Depending on what kind of work you are looking for you might also consider heading out to more remote locations for farm work, WOOFING, or other positions.
A lot of backpackers aim to complete their farm work for a Second Year Working Holiday Visa which you can apply for once you have completed 88 days or 3 consecutive months of agriculture related work within certain areas of Australia. I will be doing a post on second year visas in the future. In the meantime, you can find any information pertaining to a second year visa on the Department of Home Affairs Website.
Travelling Australia
---
And of course when you are moving to Australia to complete a working holiday visa, make sure you travel the country. You didn't move to the other side of the world not to see it. There are so many different ways to travel Australia. The best way in my opinion is to road trip. You get to see the so much more of the country while driving from one location to another and camping along the way. If you don't have anyone to travel with and solo travel is not something you want to do, people are always posting in the backpacker groups on Facebook looking for travel buddies, or you might meet people at hostels. Travelling forces you to get out of your comfort zone and trying something new can lead to some of the best adventures.
You can also purchase a hop-on hop-off bus pass with the Greyhound in Australia and through various travel companies which will take you in one direction. There are different packages you can purchase for the East Coast or West Coast. They tend to be valid for 6-12 months depending on the company. You can also book tour packages through various tour companies and they do all the planning for you. You get a set itinerary trip that will include accommodation, transportation, some activities and all with a group of other travellers. Be mindful costs for these trips tend to be quite a bit more than if you plan it yourself.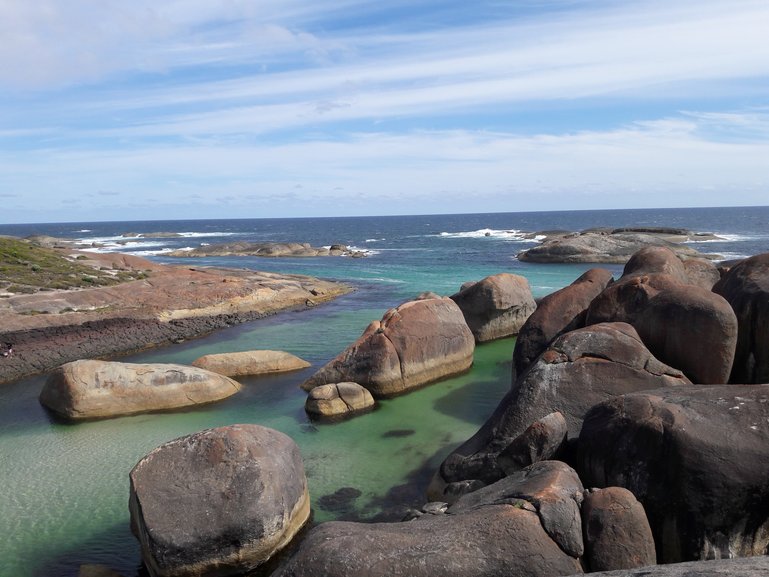 Elephant Rocks, WA
If flying is your choice of getting around, the main domestic budget airlines in Australia are Jetstar and Tigerair. You can also find cheap flights to amazing countries outside of Australia including Indonesia, Fiji, New Zealand and South East Asia. I met so many people who travelled outside of Australia while completing their working holiday visa because flights were so much cheaper compared to their home countries. Another fantastic website to check out for cheap flight deals is I Know The Pilot.
Completing a working holiday visa in Australia was one of the best choices I ever made and had the time of my life. That year abroad created so many amazing memories, tons of adventures and not only did I gain international career experience, I also met some fantastic people which lead to meaningful friendships. If you are considering moving to Australia for a year, don't think again and apply for the working holiday visa, it will be a life-changing experience!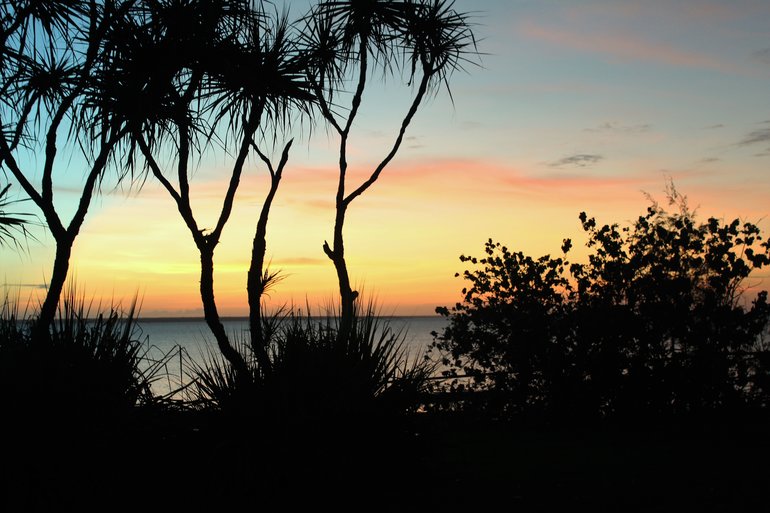 Darwin
Safe Travels,
Lori