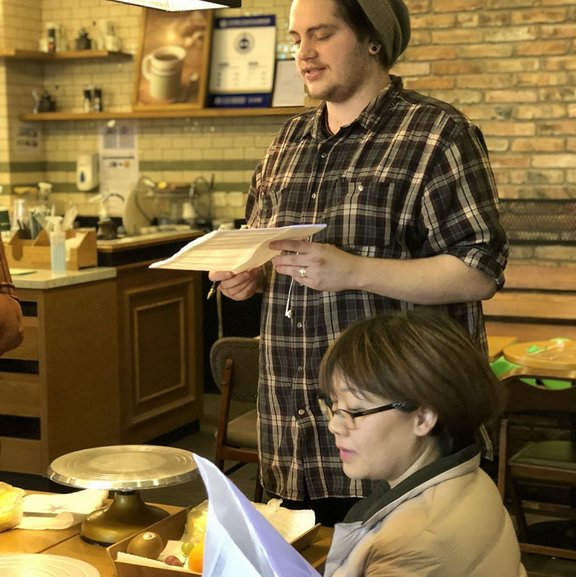 Teaching at a bakery
Everyone wants to travel. Yet when asked, most people will say that they don't have the time, knowledge, or money to be able to travel at all. Much less be able to travel on a long term basis. Keep in mind that this is being said while spending anywhere from $2.50-$10.00 on a single coffee. If you're questioning the 10 dollar coffee, trust me I've seen it. It was some sort of franken pumpkin spice latte with 67 shots of something or other from Starbucks. You laugh, but I'm not kidding and they get several of these coffees a day!
Alas I digress. Even with the crazy coffee purchases, there are still ways you can travel. Especially in terms of long term travel there are a multitude of ways. Two of the biggest questions I get asked are "What are the best ways to save money while travelling?" and "What are the best ways to make some money while you're travelling?". Obviously, my first answer is always, "Stop drinking coffee." After a small laugh, I follow up about the different ways you can save money while travelling such as "7 Reasons to Choose Hostels Instead of Hotels" and "The Trick to Finding Amazingly Tasty and Cheap Food While Travelling".
Making Money While Travelling
---
There are a myriad of ways to make money while travelling. With all the developments that have happened in the last year in literally every industry due to the coronavirus pandemic, the rise in remote job positions has exploded. I doubt that there is a company out there today that doesn't have some sort of position available that can be done 100% remotely. It all comes down to your personal skill set.
Between the remote jobs for the average company nowadays to the remote jobs of old. The hospitality industry to phone apps for odd jobs. Put down your coffees while we talk about TEFL. What it is, how to go about doing it, and why it is an incredible option.
What is TEFL?
---
TEFL is an acronym that stands for "Teaching English as a Foreign Language". It is one of the fastest growing fields in the world. For some reason the English language has taken the world by storm. English is the fastest growing language in the world. According to the British council there are 750 million English as a foreign language speakers and 375 Million English as a second language learners. (source) John Knagg, member of the British Council, says there are 1.5 billion English-language learners worldwide. Whether that's due to English just being a gorgeous language or Americans being too stubborn to learn the languages of others, we will never know.
With the worldwide boom in the learning of the English-language, the amount of the TEFL and ESL (English as a second language. Usually only in English native speaking countries) jobs available in the world are growing at such a rate that there may never be a deficit of jobs in this field. Though for the vast majority of these jobs you would need, at minimum, a TEFL certification.
How to Teach English as a Foreign Language
---
There are a lot of different aspects to going about getting a TEFL certification. You have the age old way of getting a bachelors in it; you could get a bachelors in anything and then get a CELTA certification; or you could become TEFL certified. No matter which method you decide to go with I highly recommend making sure that the course you go with is properly accredited by IATQuO (International Accreditation of TESOL Qualifying Organizations) or similar organization.
This accreditation is important as it guarantees that you will get a high standard of education by professionals in the field with a CELTA equivalent training. This "equivalent" means that it is a 4 week, 120 hour course (or longer) that, crucially, includes at least 6 hours of observed, assessed teaching practice, teaching real live students. If it doesn't hold these things then chances are it will not be accepted in the majority of countries as official. Therefore finding a job will be hard to do. My wife and I did our certifications through The Language House in Prague, Czech Republic and would highly recommend it.
Why is it such a great option?
---
Reading to the kids
Other than the fact that TEFL is a booming industry, why should you consider it as an option to make money while on the road? Isn't it more of a job than a travel aid? Yes it is a job, but a job that will allow you to have a home base anywhere in the world. You want to spend a year in Thailand, then one in Cambodia or Laos? No problem. Otherwise you could spend a few years teaching around South America or Europe.
The best part is that in most schools in most countries you should be able to get more than enough days off in any given teaching season to be able to do a good amount of travel and exploring. When the class gets time off so do you. You could spend Christmas back home or over in the next country discovering what Christmas is like there. Maybe you will find the next place on your list of places to live. Who knows what adventures await?
Another reason to consider this option is that even though this is hard work it is almost always worth it. It doesn't matter if you are teaching children, teens, or adults. As time passes you will watch your students English grow and flourish under your tutelage. It is one of the most rewarding things you will ever do in your life, trust you me!
In Conclusion
---
There are a lot of different ways to make money while traveling other than quitting coffee. Yet when it comes to teaching English as a foreign language, none can quite compete. Not only do you get paid well in an industry that has no foreseen expiration date, but you get to home-base in different countries all over the world. Countries that you can travel in and around when you have time off. As long as you have a properly accredited certification you should be able to find a job almost anywhere in the world. Although some countries require higher education than others. I'm looking at you UAE! Not to mention it is one of the most rewarding jobs you can ever have. I truly believe everyone should try it at least once.
What are your experiences with TEFL? Have you taught anywhere cool? What was that like for you? Let us know in the comments!