Since we have received many questions about the Cuban money situation in our guest house, we would like to share information about the two existing currencies, how to easily change money and how to avoid as much as possible the money tricks.
The two currency system: CUC and CUP
---
There are two currencies at the moment. The first one is the CUC, or other names are the Peso Convertible and, in Cuban slang, "La Fula". Historically this currency was set up in the 90's in order to alleviate the economical situation after the fall of the Soviet Union. The CUC serves as the currency for tourism and is pegged to the US dollar to stay stable. All businesses directly related to tourism (private and state owned) use the CUC. You will pay with this currency in the most bars, restaurants, guest houses, hotels, shops and for excursions.
The other one is the CUP or the Peso Nacional. Cubans that work for the government get paid in this currency. Many tourists think that they can't use this money, but this is false. It can actually be more useful for budget travelers, because with this currency you can buy fruit and vegetables from the street vendors and cheap street food like pizzas. Also, there are the typical Cuban restaurants with menus only in CUP. These were originally only designated for the Cuban people, however tourists are also more than welcome to eat there as well. Sometimes restaurants have two menus both in CUC and CUP, but push them, of course kindly, to have the CUP menu. Most likely this is much cheaper… You can find many of these restaurants in big cities like La Habana, Camaguey and Santiago or less touristy towns like Cienfuegos, Santa Clara or Sancti Spiritus.
How to get money while in Cuba
---
You can withdraw money with either Visa or Mastercard at a Cuban bank in all the tourist hotspots like La Habana and Trinidad. However, for the American tourists we have to warn that the use of American credit/debit cards are still not allowed in Cuba. Normally, any Visa and Mastercard from a bank that is not linked with an American Bank will work. In order to avoid any money problems while in Cuba, we recommend you to check your bank affiliation before arrival. If any money emergency arises you can have money wired through Western Union, which is located in all money exchange offices called CADECA.
Also PayPal has no use here. If you open your PayPal account in Cuba, it will automatically block you and you will have problems to open it when you are back in your home country.
For changing money you either go to the Cuban Central Bank or to the CADECA money exchange offices. Normally for shorter queues, the CADECA will be the better option. Changing American Dollars is expensive, because there is a 10% penalty fee that you have to pay. So, we recommend to the American tourists to change their Dollars to Euros before arrival and change these to CUC while in Cuba. Also you can change either the CUC or the currency from your home country to the Peso Nacional. The exchange rate at the CADECA is 24 pesos for 1 CUC.
El truco cubano…
---
Cubans are generally wonderful and helpful people, but some Cubans try to earn more by making up money tricks. In order to avoid this as much as possible, you should be aware about several things.
Firstly, the signs and the colours of the two currencies are only slightly different. Like the American Dollar, the S with two vertical lines is the CUC and the S with one line on the other hand is the Peso Nacional. The difference of the bills is that CUC is more colourful and has pictures of important monuments of Cuba. The bills of the Peso Nacional are monochrome and have pictures of Cuban historical heroes.
Secondly, you should keep the exchange rate in mind. As mentioned above, at the CADECA money exchange office you will get 24 Peso Nacional for 1 CUC. On the streets however, the rate can be sometimes 23 Peso Nacional to 1 CUC. Just to give you some examples of normal street prices, a street pizza never costs 10 CUC. The real price is 10 Pesos Nacional or 0,50 CUC. Neither a banana costs 1 CUC, but 1 Peso Nacional or 0,05 CUC. When prices are stated in one currency, preferably you will pay with that currency. You should be also alert when you pay in CUC, because sometimes the cashier or vendor could give you change in Peso Nacional.
Many tourists get a bit lost when they want to buy drinks and snacks, since many shops tend to be empty or are hidden away somewhere in the city. Smart phones don't really work here, so do it old school and ask locals where to find them. Unfortunately money tricks happen in these shops as well. Some of our guests told us that they bought their water at different prices, but this can't be true. All shops are state owned and the prices are always the same for every product and throughout the whole country. The trick is that the staff don't label the common items with the real prices.
With good reason some guests got very annoyed when it happened to them. Unfortunately, the financial situation of many Cubans has caused them to believe that these tricks are the only way to survive. Also, the tourist is not the only victim; Cubans trick each other as well. Luckily many of these scams are quite simple and easily avoided. Cuba is one of the safest country in the world and street violence is almost non-existent.
So now being warned, off you go and enjoy Cuba!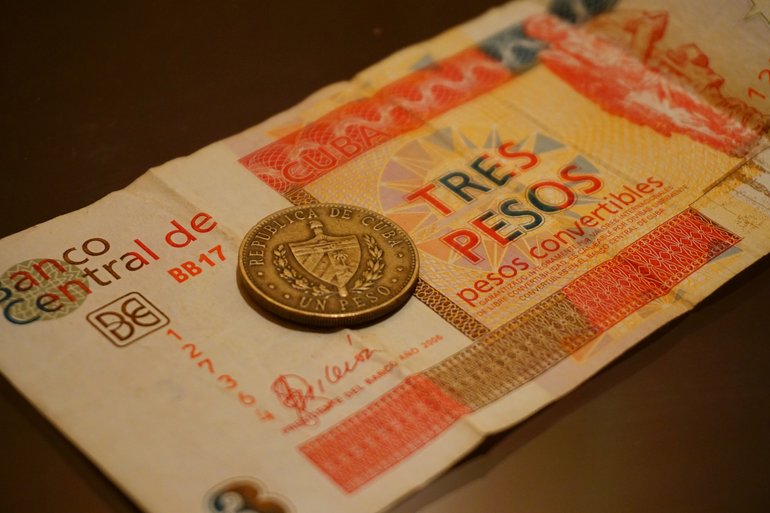 Cuban Pesos