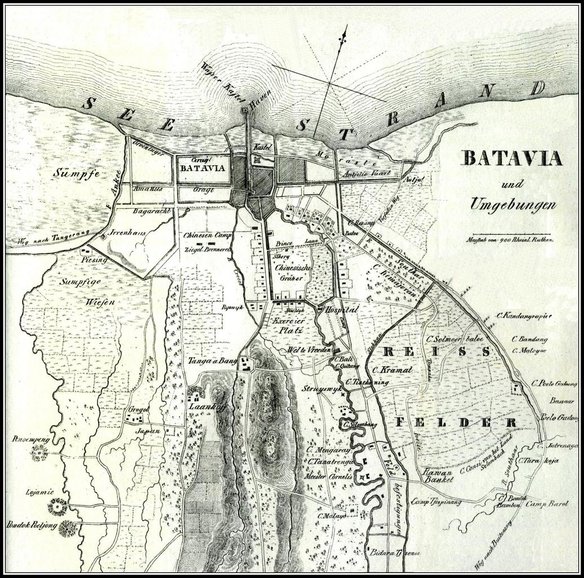 Batavia map
Kota Tua Jakarta is a small area in West Jakarta and North Jakarta which has an area of 1.3 square kilometers across the road of Pinangsia, Jalan Roa Malaka and Jalan Taman Sari.
because of its strategic location and abundant resources in the 16th century by Europeans this region was dubbed the "Queen of the East", and was the trade center for the Asian continent.
The inhabitants of Batavia at that time were called "Batavianen", later known as the "Betawi" tribe, consisting of ethnic "kreol" who were descendants of various ethnic groups who inhabited the city of Batavia including China, Java and Europe.
The city was designed in a Dutch-European style complete with fortifications (Kasteel Batavia), city walls, and canals. The city is arranged in several blocks separated by canals,the city of Batavia was completed in 1650. later it became the headquarters of the VOC in the East Indies.
As an important settlement and as a city center and trade center in Asia since the 16th century, Batavia is home to a number of historic sites and buildings in Jakarta,if you are interested in a blend of Neo Gothic European and Chinese architecture,history,photography,arts,culture and even traditional culinary of Jakarta which combines the taste of Java,China and Europe, so this place is highly recommended when you visit the city of Jakarta.
If you like photography and art and architecture, we summarize the following a list of recommendations for interesting places to visit in the old city of Jakarta:
1. Fatahillah Museum
---
In the Dutch colonial period, this building functioned as a town hall known as Stadhius, and functioned as a court, civil registry office, Sunday worship place, and the place of the Municipal Council.
2. Sunda Kelapa Harbor
---
Trade relations with these four countries began in the 12th century (Europe, India, China, Arabia) until the 16th century, which sailed to Batavia with handicrafts in the form of ceramics, silk and cloth and perfume to be exchanged for spices, Sunda Kelapa Port managed to score a history of gold because it became a very busy trading center with buying and selling activities between countries.
3.Bank Indonesia Museum
---
This place was originally a hospital called Binnen Hospital which later in 1828 was converted into a bank named De Javashe Bank.in 1953 the bank was nationalized to become the Central Bank of Indonesia or known as Bank Indonesia. what made this building unique was its architecture,one of which was 324 stained glass, all of which were made at Atelier Jan Schouten Delft in the Netherlands period of 1922-1935.
4.Museum of Fine Arts and Ceramics
---
this building was built during the reign of Governor General Pieter Miyer, designed and built by an architect named Jhe. W.H.F.H. van Raders in 1870, was also used as a court building and Netherland Mission Mission (NMM) by the KNIL (Koninklijke Nederlands Indische Leger), then on June 10, 1977 the building was inaugurated as the Ceramics Museum by Governor Ali Sadikin and at the beginning of 1990 the Ceramic Art and Museum Center was united and officially became the Museum of Fine Arts and Ceramics which was managed by the Regional Government of DKI Jakarta Province, there are several facilities that you can find, like the Multipurpose Room, Ceramics Workshop, and Painting Workshop and one more interesting thing in this place is a means to showcase the works of Indonesian artists since the 1800's to the present.
5. Kota Intan Bridge
---
this bridge is called Engelse Burgatau or 'England Bridge' which was built in 1628.which was built in 1628 by the government of Vereenigde Oostindische Compagnie or VOC, and is the oldest bridge in Indonesia, why is it called the Bridge of England, because when the bridge was built there was a stronghold of British troops on the east side of the bridge, in the 17th century ships were still able to sail further upstream of the Ciliwung River by lifting the middle of the bridge up, and even more interestingly from this bridge was, this bridge still exists today and we can visit and even step foot on the bridge but the wood has been replaced with steel.
Are you interested in visiting the old city of Jakarta and taking part in Indonesian history?