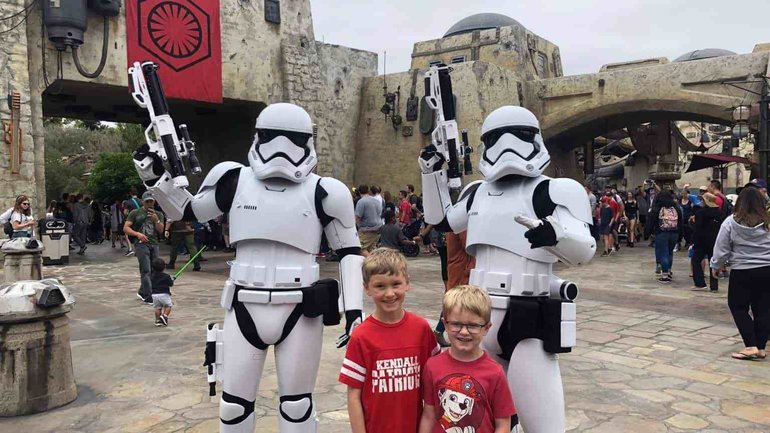 Disneyland Storm Troopers
Disney trips can run you about the same amount as a semester of college. You should probably pick your favorite child now.
It will be expensive no matter what, but there are several ways to save a substantial of money on Disney trips (beyond packing sandwiches on Wonder bread and lugging a cooler around all day). Here are the top five:
5. Use a Travel Agent
---
For Disney Cruises, a travel agent will often offer you a substantial onboard credit to book with them at no extra cost. The cost of the cruise is the same, but you can use the onboard credit for tips, shore excursions, alcohol (amen), and anything extra you purchase onboard.
4. Book a Future Cruise Onboard
---
While you are on your Disney Cruise, book another Disney cruise. Disney Cruise Line offers ten percent off most future cruises when you re-book onboard. If you aren't sure when you want to travel again, you can purchase a placeholder for $250. The placeholder is good for any sailing within 24 months of the date you purchase the placeholder. If you do not sail, the $250 is refunded.
Bonus tip: Purchase the placeholder and wait for a new batch of sailing to come out, because the cruise is always going to be the cheapest on opening day.
3. Purchase Discounted Theme Park Tickets
---
Do not pay full price for tickets. There are discount ticket brokers, such as Undercover Tourist, that sell ticket packages for less. Shop around.
2. Purchase Disney Gift Cards at a Discount
---
Disney Gift Cards can be used for all things Disney, from tickets to food at the theme parks. You can find discounted Disney gift cards at several stores, sometimes for as much as 20% off. It requires a lot of effort because you will need to manage dozens of $50 and $100 gift cards. It is reminiscent of money laundering, but it is worth it.
1. Rent Disney Vacation Club Points
---
You can rent Disney Vacation Club points from a sucker someone who purchased a Disney timeshare but does not wish to use it. These prices are often as much as 50% off Disney's rack rate. David's Vacation Club Rentals is an example of a company that offers this service.
Disney is expensive, but the family memories are priceless. Visit Disney. You will not regret it.