Khao Sam Roi Yot is a national park in Prachuap Khiri Kan Province. It is right along the gulf on the Eastern coast side of the country. You might recognize it or know of it from the famous picture of a temple inside a cave. To get there take a can from Bangkok's Mochit Van Terminal, which will take approximately 3-4 hours. Vans run very often so no need to buy in advance or worry about getting to the van station at a specific time.
Khao Sam Roi Yot is made up of 9 attractions, known most famously for the temple inside a cave called Phraya Nakhon Cave. Seeing this temple is most often done via day trip from Bangkok and does not include the other attractions of the park or staying in the town of Khao Sam Roi Yot. This is a shame because, while Phraya Nakhon Cave is amazing, each attraction of the park is well worth the visit and not able to be all seen in just one day.
I recommend staying at Blue Beach Resort and renting a motor bike from them. The owners are incredibly kind and generous!
Khao Sam Roi Yot must be seen via motorbike as it covers 90 km. However, the roads are empty except for cows and monkeys. It is an ideal place to motor bike as it is very safe and you are able to stop to take pictures. The views while driving are insane with mountains, marshland, and coastline. You will start your day at the visitor center where for 200 baht you get a one day ticket to all of the attractions. From there you will make your way to each of the attractions.
My favorite of the attractions was Khao Daeng. Which is a mountain with one of the best viewpoints I have ever seen. I loved this hike so much I did it both days I was in Khao Sam Roi Yot. Both times I found myself to be almost completely alone, there are park rangers around so it is not dangerous, which was very special to be able to take in the views at the top by myself. It is truly in the running for one of the most beautiful places I have been in my life.
The only place there was many other tourists was Phraya Nakhon Cave which was packed! There was also a field trip of child Monks to visit the cave which was very cool to see. It is definitely a breathtaking view, and also a sneaky strenuous hike!
The town of Khao Sam Roi Yot is pretty quiet. It is just one road across from the beach. But there are a few good cafes (with homemade bread) and an amazing Indian food restaurant. There is also a very good local night market which is very budget friendly.
I highly recommend visiting Khao Sam Roi Yot for an authentic and serene Thailand experience.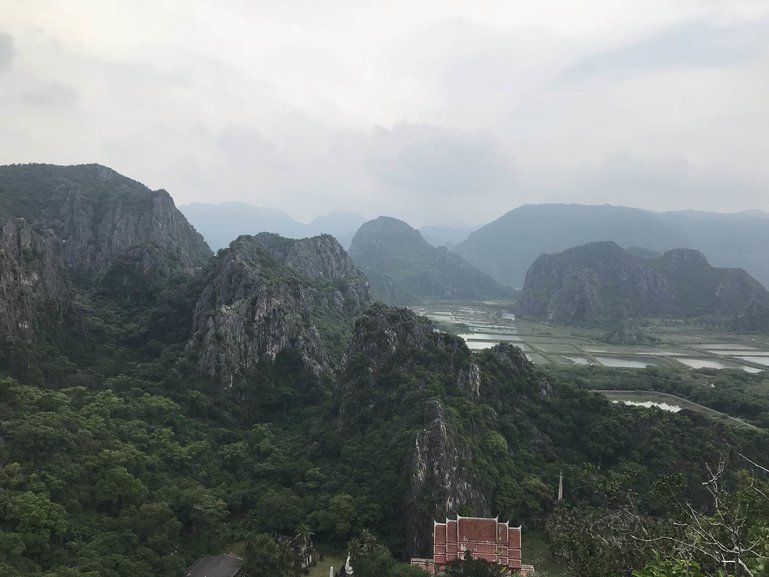 Khao Sam Roi Yot Views