At the southern tip of Koh Lanta you will find Mu Ko Lanta National Park, a quiet and treasured area of beauty that is well worth visiting whilst on the island. The national park is home to a large group of mischievous monkeys and visitors are attracted by its breathtaking views and peaceful nature trail through the jungle.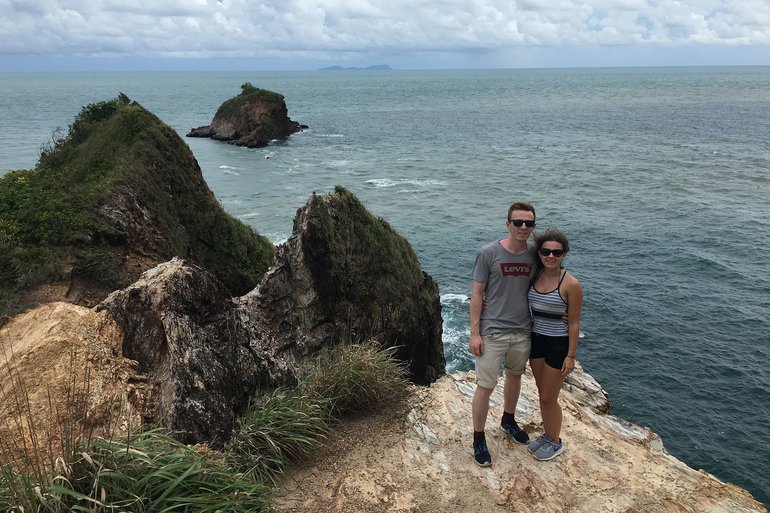 Mu Ko Lanta National Park
To get there, simply follow the main costal road south until you see signs for the national park. We rented a motorbike to explore the island and it took us around 30 minutes from Khlong Nin Beach, driving along the smooth scenic roads.
Entrance to Mu Ko is 200 baht and an additional 20 baht for motorbike parking. We spent a couple of hours here, giving us enough time to visit all points of the national park without rushing. Once you have driven down the steep hill at the end, the main entrance can be found opposite the car park.
This area was being patrolled by hungry monkeys when we visited, so make sure you keep any food hidden away and your belongings with you at all times. We witnessed a monkey snatch a woman's handbag and dash up a tree, but luckily a very large stick was just enough to rescue it back!
Our first stop was the beach where we found a slightly more relaxed group of monkeys that were happy to pose for pictures. From here, we made our way to the nature trail which began with brilliant views of Ta Noad Cape and its picturesque lighthouse. The walk through the jungle lasted around 30 minutes and we took it steady, enjoying the peaceful noises of the surrounding wildlife. The path was quite challenging in places and will be slippery if wet, so be extra careful and don't forget the mosquito spray!
After the nature walk, we headed to the lighthouse which can be found back near the entrance. To reach the top, there is a short climb over some rocks and we would recommend wearing trainers for this one! The lighthouse marks the southernmost point of Koh Lanta and has beautiful panoramic views of the coast. This was possibly our favourite part of the park and we got some beautiful landscape shots looking out over the sea.
Make sure to add Mu Ko Lanta National Park to your list of things to do in Koh Lanta!