Koh Lanta is a large and relatively undeveloped island located in the Krabi province, renowned for its beautiful landscapes, relaxing beaches and laid back lifestyle.
When we heard that the island offers a quiet romantic getaway, we were ready to leave the bustling streets of Phi Phi and hop on a ferry! We chose Klong Nin Beach as our base for four nights, situating us in the middle of the west coast which was perfect for exploring the whole island in under an hour.
Klong Nin Beach
---
Our hotel, Srilanta Resort was a 40-minute drive from Saladan Pier and was excellent value for money. The room was comfortable and luxurious, having everything we needed for a relaxing stay. The three impressive pools were situated on the beach, which was perfect for a romantic stroll in the evening and offered the most amazing sunsets! Most nights, we watched as the sky turned a magnificent orange and the sun lowered behind a faint silhouette of Phi Phi Islands in the distance – a truly beautiful scene!
However, a downside to our location was that the surrounding area was incredibly quiet, with only a handful of shops and restaurants within walking distance. The beach was equally deserted and the most of the bars were closed for low season. We didn't mind this as we were looking for a peaceful stay, but the tourist area of Long Beach would be the place to stay for wider range of nightlife and restaurant options.
Exploring the Island
---
To explore the island, we rented a motorbike from our hotel for 250 baht per day. Neither of us had driven one before, but luckily the quiet roads of Koh Lanta were perfect for us to get familiar with the bike fairly quickly. The cost to rent was great value considering the miles we travelled during our short stay!
Our first place to explore was Mu Ko Lanta National Park, located at the southern tip of the island.
The nature trail is a great place to see the wildlife as you trek through the jungle, read our full post here. Next we planned to visit Khlong Chak Waterfall, but we were hit by heavy rainfall on our way and were advised not to attempt the slippery climb.
The following day, we visited Long Beach to see the island's most popular tourist destination. From Klong Nin, it took around 30 minutes to drive and the beach was clearly signposted from the main road. We arrived expecting to see the area thriving with tourists, but surprisingly large parts of the beach were completely empty! Although we only came across a few other people, we could see why this spot gets popular in the high season. Long Beach has an incredibly relaxed vibe, with soft sand to sunbathe and bars and restaurants to keep you refreshed all day long. The stretch of sand also seemed to go on forever – a place certainly deserving of its name!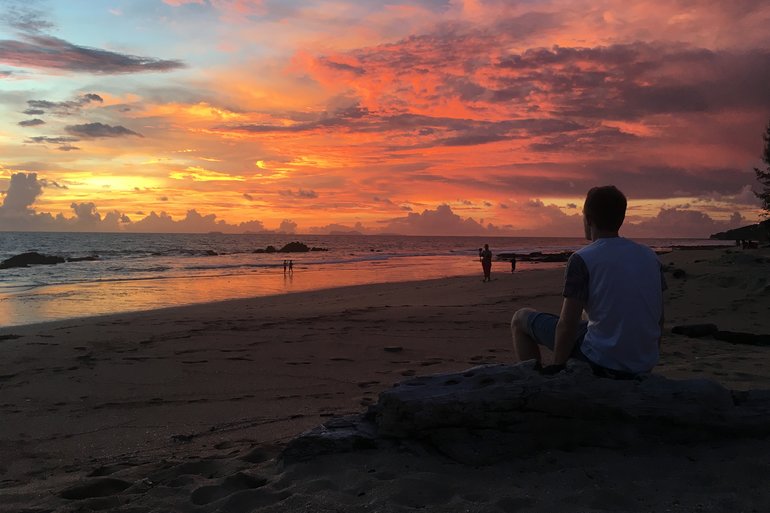 Koh Lanta, Thailand
We also made sure not to miss a trip to Lanta Old Town during our stay. We headed here after Long Beach which took around 30 minutes to drive over to the east coast. The small town has hardly changed over the years and still remains a fishing village for locals, thriving with culture and history. There are lots of wooden houses, shops and restaurants on stilts over the waterfront and we enjoyed a refreshing drink here after a long day of exploring.
Koh Lanta is a perfect destination for couples and those looking for a relaxing, quiet break. Visit during low season to get excellent deals on high-end resorts and stunning beaches nearly all to yourself!