The 5 best Japanese restaurants to visit in Phnom Penh is probably very subjective. I'm married to a sushi junky, I swear he was meant to be born in Japan, so we have been making our rounds to quite a lot of the Japanese restaurant. Surprisingly, there are quite a number of amazing Japanese restaurants in Phnom Penh, i guess this has to do with the significant number of Japanese expats as well. It was a really tough choice, but here's my all rounded (not just sushi) pick of the 5 best Japanese restaurants in Phnom Penh.
1. Jidaiya
---
I must say, this is my favourite Japanese yakitori joint. Tucked quietly along Street 278, Jidaiya captures the charm of an authentic Japanese izakaya. Perfect to hang out with colleagues on a Friday night, drinking beer and having your fill of yakitoris. Jidaiya serves a range of delicious skewers and okonomiyaki in true Japanese style. Also, don't forget to try their eggplant dote-katsu and chicken heart yakitori (not for the faint-hearted).
Jidaiya Yakitori
House 15B Saint 278, Phnom Penh 12302, Cambodia
Facebook: Jidaiyapp1010
Opens daily, 11am – 2pm, 5pm – 12am
2. Katanashi
---
Katanashi is a Japanese fusion tapas izakaya that gives an interesting spin to traditional Japanese bites. In addition, they have a really fun edamame game where you get to literally hand pick as much as you want! Do note that this izakaya is really popular with both expats and locals. Therefore, the place gets packed really quickly on Friday nights and even on weekdays.
Katanashi
51 Street Village 5, Commune BKK1 District Cham Kamo, Phnom Penh 13244, Cambodia
Facebook: katanashipp
Close on Mondays
Open on Tuesday – Sunday, 6pm – 1am
3. Sushi Lab
---
Sushi lab offers amazing omakase sets. They have two omakase dinner sets, $77 and $99. The $99 meal comes with the full works, 3 appetizers, 3 kinds of sashimi, 8 kinds of sushi and other side dishes. What's great about Sushi lab, is that they use freshly imported sashimi or locally available fish, this ensures that all their sashimi served fresh.
For the most cost conscious option, you may choose their lunch omakase which only goes for $25 for 10 different types of sushi. For sushi and sashimi this fresh, it's definitely worth it!
Sushi Lab
Cambodia, KH Phnom Penh #144E0 St. 51, BKK1
Facebook: sushilabpp
Close on Sundays
Open on Monday – Saturdays, 11.30am – 2.30pm, 6pm – 11pm
4. Kami Sushi X BBQ TK
---
Kami Sushi has an extensive range of sushi, sashimi and all other Japanese staples at affordable prices. It's your go-to Japanese restaurant to statisfying any Japanese cravings. The sashimi are fresh and Kami Sushi does carry some unique sashimi that can't be found in any regular sushi or sashimi restaurant.
Kami Sushi X BBQ TK
#23, St.315, S/K, Phnom Penh, Cambodia
Facebook: kamisushifusion
Opens daily, 11.00 am – 2.30pm, 5.00pm – 10.00pm
5. Mo-Mo-Paradise
---
Mo Mo Paradise is an all-you-can-eat shabu shabu and sukiyaki buffet. They have an amazing an assortment of US beef, lamb and pork slices, as well as a well-stocked vegetable bar. Plus, you can choose from 4 different types of soup bases, but the shabu shabu and sukiyaki soup base comes highly recommended. Do order their meatball side and you will enjoy a live meatball making demonstration right at the table.
Mo-Mo-Paradise
219 St. Pasteur (51) Corner St. 306 Phnom Penh, 12302, Cambodia
Facebook: momoparadisekh
Opens daily, 11.00 am – 2.30pm, 5.00pm – 10.00pm
Mo-Mo-Paradise – All you can eat buffet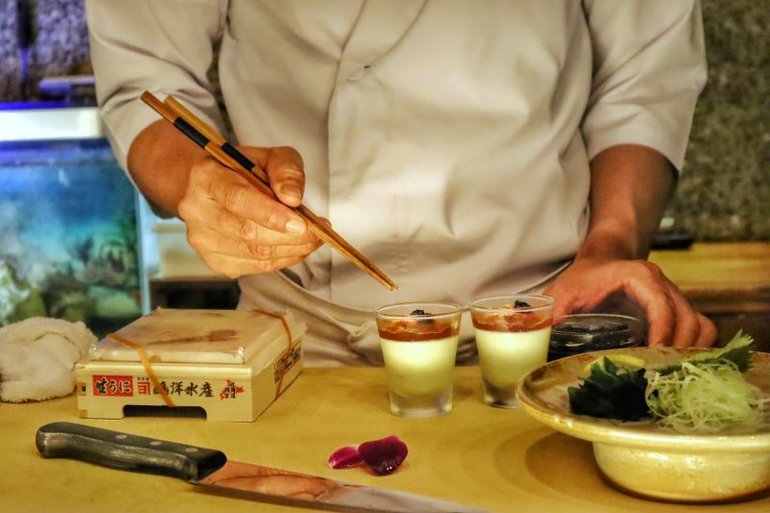 Japanese Food in Phnom Penh
The list is extensive and I am sure there are other Japanese meals out there waiting to be discovered. If you have any good ones, do drop me your suggestions!