Finland is a small country in the north, in Scandinavia, with 5,5 million inhabitants. It's a peaceful place with tens of thousands of lakes and forest, everywhere. Don't get me wrong, we do have a civilization here, and actual cities, but in a small and cozy way. Oh, yeah, if you didn't yet know, I'm from Finland. And since I'm holidaying here now, I thought I could give you some travel tips.
Places to go and stay
---
Finland's capital is Helsinki, and it's a really lovely city and a place where you probably land when arriving in Finland. For capital, it's quite small (about 650 000 inhabitants), but has great city vibes. Helsinki is always a good choice, I think. I'm going to tell you more about Helsinki in my upcoming posts because even though it's the most obvious choice to stay in Finland, I'm going to give you a more unconventional choice.
Far up in the north is Lapland, of course. There you can find the real Santa Claus. Yes, Santa Claus comes from the north pole and from Finland, to be exact. And, if you were to travel to Lapland, know that you can actually meet Santa Claus while you are there. Cool, don't you think? Now, this might come as a shock, but I've never been in Lapland, so I really can't give any tips on Lapland.
So, let's travel back to the south, southeast to be exact, because the place you should see in Finland is, of course, my home town, Imatra. It is situated about 240 kilometers from Helsinki and less 10 kilometers away from the Russian border. The best way to come to Imatra from Helsinki is by train, and it takes about 2 hours. I told you that Helsinki is a small city, but Imatra, Imatra is tiny, and that is one of the biggest reasons to include Imatra to your travel itinerary. What is Imatra all about?
What to see and do?
---
At the city center, you can find Imatrankoski Rapids on river Vuoksi. The rapids is blocked by a dam, but it's opened once a day during summertime, and you are able to see it in its full force, well, almost at least. As mentioned, there is also river Vuoksi, and you can, by the way, go around it. It's 7,4 km long and easily accessible by foot or bicycle, for instance.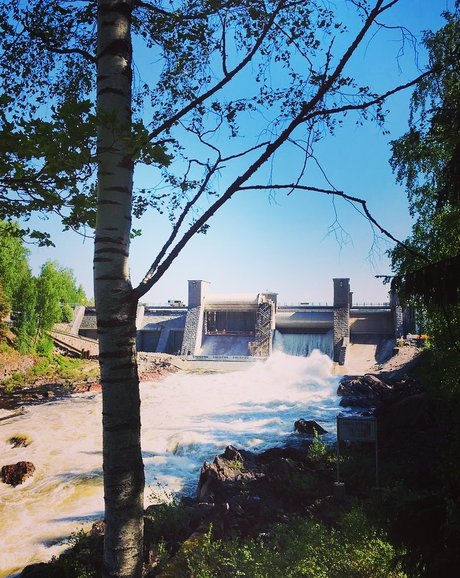 Imatrankoski rapids, picture by Carita Honkanen
What would Finland be without a sauna, and what you would need to know about saunas before coming to Finland? We Finns, we love saunas. They are an important part of our culture. Our saunas are preheated to 80-110 °C and, no, no-one wears any kind of clothes or towels or anything in sauna. And just so you realize, how crazy we are about saunas, there are 5,5 million people living in Finland, right, and it's estimated that there are over 3 million saunas here. As said, it's a really important part of the culture. Guess what? There is a sauna raft on the river Vuoksi, which can be rent. It runs through the city all year around.
For accommodation, I don't have the experience. But, if I would need to stay at a hotel in Imatra, my choice would be Valtionhotelli, of course. It is a hotel, that looks like a castle, and is the only really old building left in the city. Right there, on the side of the Imatrankoski Rapids and Valtionhotelli, is Kruununpuisto Park, which is the oldest national park in Finland (founded at 1842).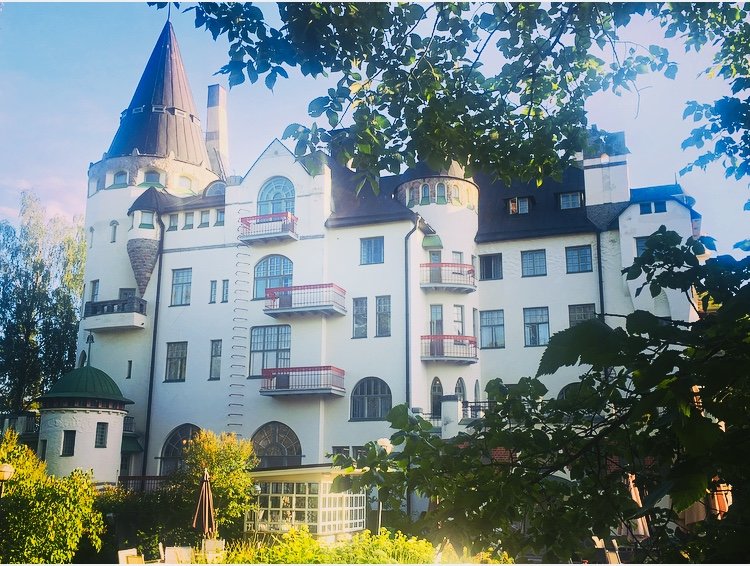 Valtionhotelli
Finland is a land of tens of thousands of lakes. The biggest lake in Finland can be found from Imatra, and it's called Lake Saimaa. It's situated on the west side of the city. If you are going to the lake, you might be lucky enough and see the Saimaa ringed seal. They are among the most endangered seals in the world, with a population of only about 400. The only existing population can be found in Lake Saimaa.
If you love cross-country skiing, you're may be interested in knowing that you can find 5-kilometer long ski track in nature, which opens in October. Usually, we don't really have snow on the ground at that time of the year yet, but the snow on the track is real. It has been stored over summer and makes it possible for people to start their skiing season as early as October.
During one weekend in summer, Imatra is a very happening place. It's the weekend of International Road Racing Championships. This race has a long history along with the city, even though it has only been in its current form for four years. If this is something that interests you, be sure to follow the news here. There you will find the latest news about this event.
As an option for fast riding bikes, the best thing that Imatra has to offer is peace and quiet. Even at the city center, a forest is always just a few steps away.
Here are a few things you could do while visiting Imatra. There are a lot of activities and places to see nearby, so these are really just a few examples.
So, I guess, I see you in Imatra.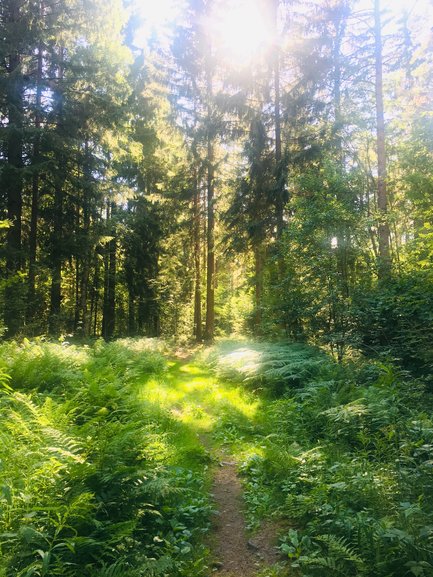 Only a few hundred meters away from the city center