There is something about being in an airport that somehow speaks to me. For most people, this is the worst part of the trip. The crowds, the walking, the shuffling to and fro. In any other circumstance, all of this would be my nightmare. I get claustrophobic in crowds, my impulsivity gets jittery having to sit around and wait, and I don't like being given the run-around.
Until I get to the airport. It's not that it doesn't bother me per se, it's more that it's on the back burner to the anticipation of where I'm going and what I'm going to see and do when I get there. Even if I'm going on a work trip, just the idea of going somewhere different, staying at a hotel, exploring my surroundings, and if I'm being honest, a little alone time away from the chaos of home. Plus, I'm an avid people watcher and you just never know what you are going to see at an airport!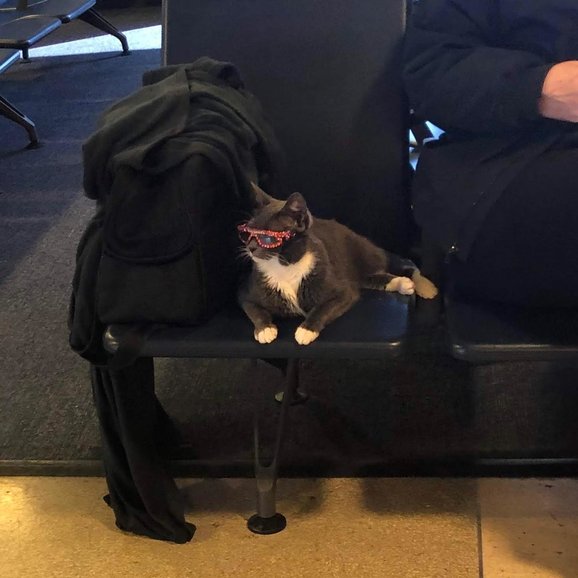 This pretty kitty stopped me in my tracks while boarding a flight at NY's La Guardia Airport!
I have done this enough to get a semi-routine down. TSA pre-check is one of the key elements to maintaining sanity. Even if you don't travel that often, the $85 for a five-year membership is absolutely worth it. Some airline credit cards and loyalty programs will actually pay for your application fee in the form of a credit (you can check out https://www.tsa.gov/precheck/credit-cards-offer to see if you have one of these qualifying cards).
Once through TSA, it's time to head to the gate, but not without scoping the restaurants (or coffee shops) on the way. There may not be a good quick option or the very important coffee shop near my gate, so once I get to it, I want to know if it's worth it to backtrack. I always check out the gate before heading for the food, drink, or snack that I'm craving. The best is if I'm heading back home in the afternoon because then I find a Vino Volo or similar (wine bar for those not familiar) and have a flight before my flight!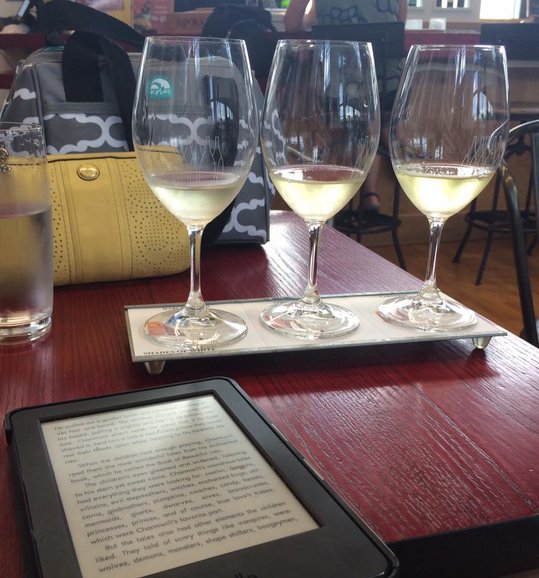 Another important trick is to download the airline app and make sure your loyalty number and/or flight is loaded. Even if it's not an airline you take often, download it then you can remove it after your trip. Set up notifications on your app so that if there are any changes like delays or gate changes you will get an alert. I also set up text message notifications. Is it annoying to get the same notification a couple different ways? A little, but I'd rather that than miss anything. I once had a flight change my gate no joke, 8 times. I felt like a ping pong ball! But I got a notice on my phone before they announced it over the speaker (and sometimes they didn't do that) so I could get to the new gate sooner and snag the good seat.
Once boarding has started, and I can not stress this enough, stay seated! There are very few reasons you need to get up early in the boarding process - you require extra help to board, you're first-class and are one of the first called, you have a carry on suitcase and you are on a sold-out flight and are vying for overhead space, or you are on an airline that assigns boarding classes versus seat assignments. If any of the above do not apply to you (and you can't gate check your suitcase for some reason) then you should be sitting your butt down and waiting. The good news is, most everyone else is standing, so you can at least move up to one of the closer seats, but there is no reason to stand around in the crowd, often spilling over into the main walkway only to wait. Besides, I would like to put off getting into that tight cramped metal tube for as long as possible. I prefer to be one of the last on the flight and since I usually am an aisle seat, I'm not putting anyone else out by making them stand and get out of my way.
Once it is time to board, be prepared. I have my boarding pass on my app open and keep tapping it to make sure it doesn't time out. If I'm gate-checking my bag, it is already tagged and ready to leave at the end and of course, I have my smile and thank you ready for the hard-working gate agents and flight attendants. The most important rule to follow for me though - to "knuckle" the outside of the plane on the way in. I don't know what would happen if I forgot this silly little superstition, but I'm not about to find out!
Do you have any airport routines or rituals? If so, drop a comment below or on my social media and let us know!