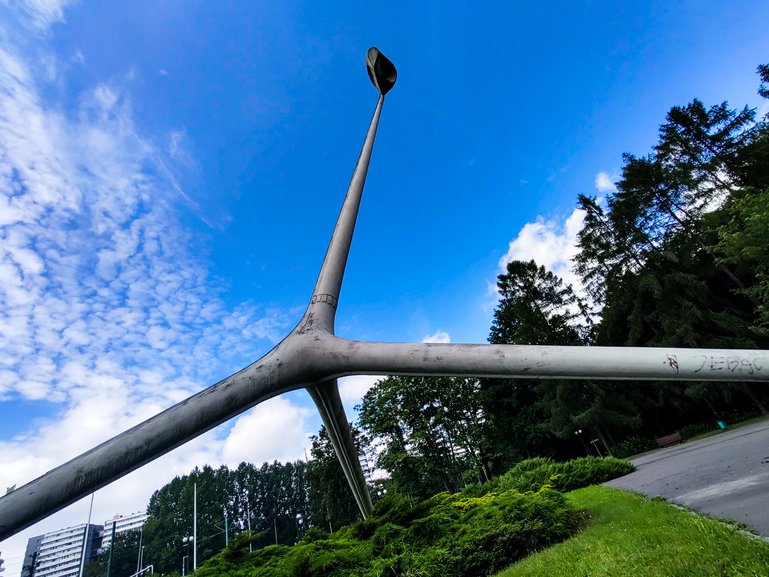 3-legged giraffe. Symbol of Silesian Park
Silesian Park, by some remembered as WPKiW (provincial park of culture and leisure) is one of the largest city park in Europe. Located on the border of 3 cities: Siemianowice Śląskie, Chorzów and Katowice, the Silesian Park covers 620 hectares. 3 000 000 people visit this vast green area yearly, it's especially crowded during the weekends. No wonder. Plenty of attractions, fresh and clean air in comparison to the one in this industrialized region encourages people of all age to pay a visit.
Before And After
---
Before 1950 the area was huge and terrifying. 75 percent was covered by heaps, post-mining waste, poor shafts, sinkholes, marshes and dumps. A lot of work was put to create the park as we see it today. The decision to create this green oasis was made in December 1950. The promoter and initiator of its creation was General Jerzy Ziętek. In July 1951, construction began, the intention was to restore life to an environment devastated by industry. The park was built in a triangle of three cities mentioned above.
My Memories
---
Taking into consideration I lived 3 kilometres away, I basically spent my childhood and adolescence there. It's nice to see new ventures taking place in the park, but a tear in the eye is spinning, when I see those destroyed, abandoned or razed to the ground places. Almost every day during the summer season I went to the swimming pool Fala (Wave). The cosy restaurant Przystań (Marina) doesn't exist anymore. And the symbol of the park Kapelusz (Hat) is totally neglected. I had some really good memories connected with those places. Unfortunately now I feel sad to see what happened over the decades.
Current
---
The park is kind of a place you can spend the whole day in, especially when you travel with kids. It's comparable by size to Prater in Wien. It's always hard to move forward once you enter. The Silesian park offers many attractions not only for the tourists, but also for locals or city dwellers. Hundreds of kilometres of bike paths, rollerblade lanes or running tracks are used on a daily basis by city residents. For those who visit the park for the first time I suggest those top 6 places.
Silesian Stadium
---
Silesian stadium is one of the first object built in the park. It was opened back in 1956. The stadium can brag about its largest athletic arena in Poland, the largest and the best open music stage in Poland or modern football arena. It has 54 378 seats. Can take up to 85 000 people during music concerts and has 7500 square meters of grassland. The stadium website shows great shoots from inside and outside as well as says the full history about this object.
Cableway Elka
---
A 10-minute ride around 20 meters above the ground covering 2,2 km can get you in a happy place. There're two stations: stadium and amusement park. You can either choose to ride in a gondola, which fits wheelchair or a stroller or in a 4-seat lift chair. It's fun to watch the main promenade in the park, Legendia amusement park or Stadium from the bird's eye. It was first opened in 1976. The total length of the railroad in the years 1967-2007 was 6 km. The route consisted of three sections connected in a characteristic triangle. Additional station made Planetarium, which after rebuilding in 2012 was not included.
Zoo
---
ZOO covers as much as 50 ha and is a home for almost 300 different species. It's just impossible to walk it all along and across in one day. Almost every time I'm there I discover new and unique animals I haven't noticed before. Certainly, every time we're visiting ZOO in Chorzow, we find our way to go to the rock valley of dinosaurs. For many years, the Silesian zoo has been a member of the European Association of Zoos and Aquariums (EAZA), which brings together the most important zoos in Europe.
Legendia: The Biggest And The Best Amusement Park
---
Legendia is the oldest and the biggest amusement park in Poland. It was first opened back in 1959. It's situated near a lake and surrounded by a nature. In addition, the main entrance is right in front of the tram station. There're also several car parks nearby. Because my kids are way too small for this type of entertainment, I haven't visited it yet. According to information on the website however, there're more than 40 attractions for all age groups. Among them famous Ferris wheel, Lech Coaster or Diamond River – sliding to the water from 12 meters above the ground.
Skansen: Upper Silesian Ethnographic Park
---
Upper Silesian Ethnographic Park in Chorzów is a collection of XVIII or XIX century cottage houses, huts or chapels brought back in one place from different parts of Silesia region. Cyclic events always gathered the most people. Unfortunately, this year famous potato days, festival of harvest or crafts days were all cancelled due to the virus.
Planetarium
---
It's the largest and the oldest polish Planetarium from 1955. Its heart called Universal Projection Planetarium recreates the appearance of the sky from anywhere on Earth at any time, imitating a real firmament. The 23-meter big dome makes an impression. The auditorium can fit up to 400 people. In the complex of buildings, there is also an astronomical observatory, a several-meter sundial, a climatological station and a seismological station. Till the end of 2020 the Planetarium is closed due to rebuilding and modernization. I'm excited to visit new and even bigger Planetarium: Science Silesian Park in 2021.