I have a fondness for Tea. I adore scones. I also love all things British, some might even say obsessively so…. It makes sense that I love afternoon tea. It combines so many things that I love, all on a beautifully well designed, tiered serving tray. Sometimes I think it may be in the details, my love for afternoon tea. I have some food issues. Food touching other food issues. So, imagine how happy it makes me when an afternoon tea arrives and everything is on a separate tier!! The sandwiches never touch the desserts, the scones stay on the plate with the jam and clotted cream. It's brilliant. Those Brits know what they are doing.
So why would you think that someplace that emphasizes gambling, drinking, bar hopping and a whole host of other adult pursuits, could offer something so civilized as afternoon tea?
Well, Las Vegas is not uncivilized, it just offers a variety of adult-themed activities, and I think an afternoon tea may get lost in the alcohol haze that is a Vegas vacation!
But, if you are planning a Vegas vacation and want a quiet, romantic afternoon with your significant other, if you are on a girl's trip and want a fun gathering, if you are on a family vacation with your kids then afternoon tea could fit in with any of these scenarios!
My birthday is in June. In the direct heat of the summer, so an indoor adventure is always appreciated. My daughter wanted to take me to afternoon tea on my birthday and there are several good options to choose from. I will go over our choice for afternoon tea; Mandalay Bay's Ri Ra Irish Pub, in-depth but I've also researched a couple of other options should Mandalay Bay not be convenient for you.
Ri Ra Irish Pub Afternoon Tea
---
My daughter Ally, the sweetest granddaughter; Avery and I had reservations on a Saturday afternoon. Ri Ra Irish Pub is located inside Mandalay Bay Resort, in the Shops at Mandalay Place.
The pub itself is such a treat. It was constructed from a pub restored in Ireland then shipped to Mandalay Place. So when I say that the environment feels very authentic, it's because it is! I heard that they hire mostly Irish people to work here. The hostess did have an Irish accent but our waiter was Australian and even looked like one of the Hemsworth brothers, I forget which one but too bad I didn't manage a picture of him, he was not only a fantastic server but not bad to look at.
Okay, enough about hot actor lookalikes who double as servers on the Strip! Our tea!!
Afternoon tea is served daily at Ri Ra until 4:00 pm, I would always check the website to make sure they have not changed the times or other details. They offer two choices, the only difference is the sandwich options. The one we chose sounded like we would like it better, it was also a few dollars cheaper. I would recommend that you check the site or ask if you call what the current prices are. When we went they were $24 or $35 per person for standard afternoon tea, these are fantastic prices, by the way. You can also add champagne to your tea. We made reservations but were told it only takes them a short time to organize so reservations may not be needed. This is a great option if you have it on your list of things to do and an hour or two opens up, just swing by or give them a call.
With the pub being very authentic, as you would imagine it may not be the best environment for a peaceful afternoon tea. That's what I thought too. But I was pleasantly surprised when we were led through the pub to another room, which was completely private! The decor was pretty awesome, I felt like we were transported to Dublin, circa 1970. Super retro and cool.
Each time I've been to a formal or semi-formal afternoon tea, it's the experience of afternoon tea itself that I remember. How the tea is served is very special, I mean I don't often brew a pot of loose tea at home and serve it in my china with milk. As Americans, we open a tea bag, boil some water and that's that! It's a shame because I love the process of Afternoon tea.
We chose Irish Breakfast for our tea, a very strong black tea, which is my favorite kind! It tastes great with milk or without. I enjoy my tea with milk, no sugar. And I put the milk in after, in case you are interested!!!
After tea was served, everything else was brought out, the sandwiches, scones with jam and clotted cream and a beautiful assortment of petite desserts. The sandwiches were fantastic, we preferred the more simple option of egg salad, ham and tomato and Irish cheese. I would choose those again. Everything was fresh and the homemade bread on the cheese sandwich was spectacular.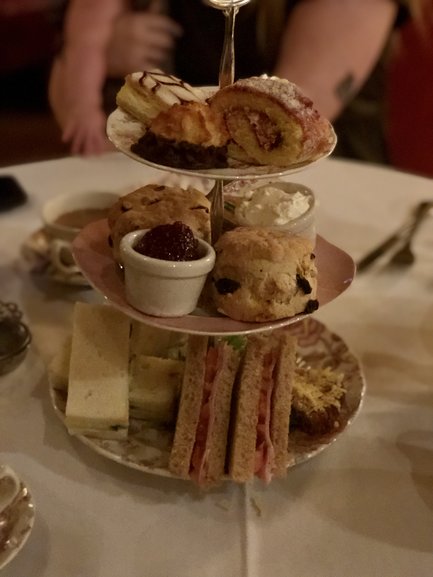 Afternoon Tea at Mandalay Bay, Ri Ra Irish Pub
Scones are my favorite. I make scones often, probably every other weekend. So I know a good scone! These were just right. The jam was good and clotted cream, which is a real treat since I've only had it in London, was downright fabulous, every single stitch of cream was gone when we were done.
The petite desserts were delightful. We did take several desserts home as we were pretty stuffed. Especially with all the tea we drank!
Our server was super attentive. We had many, many servings of hot water for our tea, the milk was plentiful and was even kind enough to take our picture.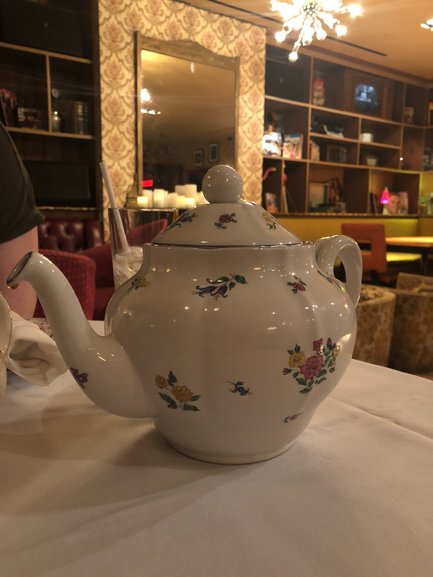 The Tea Lounge at the Waldorf Astoria
---
The Waldorf Astoria's Tea Lounge is set 23 floors up, with amazing views of the Las Vegas Strip. They also offer a variety of tea services, from a children's tea to a full English Afternoon Tea. There are many options here. All with the impeccable service and quality you'd expect at the Waldorf Astoria. The Tea Lounge is open daily from 11 am-4 pm.
The Aria Lobby Bar Afternoon Tea
---
I've sat in the Lobby Bar here on many occasions. I quite like the atmosphere. The seating is very comfy, and it's one of those open and airy bars, as it opens right up to the lobby. It's a great spot to people watch.
I've seen the signs for afternoon tea and it seems they have hired a Tea Sommelier, yes you read that right. An expert on tea! I think that would be a wonderful job.
You can enjoy award-winning teas paired with elegant desserts for what I'm sure would be a memorable afternoon tea. They offer an Afternoon Tea and a Royal Tea Tree. Current open times are Friday through Sunday from 12-4 pm and it is in the Lobby Bar, so it is 21 and over only.
The Petrossian Bar at Bellagio
---
A beautiful setting, right off the lobby and casino floor, this bar is stunning. A perfect setting for an afternoon tea in Las Vegas. They offer a full afternoon tea featuring petite pastries, open-face sandwiches, scones and clotted cream and of course a full array of imported tea. The elegant tea is brought together with live piano music.
This 24-hour bar offers afternoon tea from 1-4 pm. Again, it is located in a bar, so 21 and older only.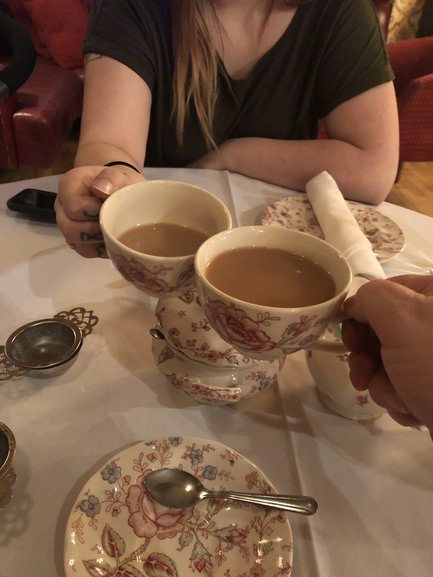 Afternoon tea may seem an odd choice for something to do in Las Vegas. But, it makes for a truly remarkable and unique experience during your stay here in Las Vegas.