Ever been to Manchester? Want too? Why not check out my hometown and this historic city!
All great things happen in Manchester, The Rolls Royce was founded where the Midland hotel stands, Industry Revolution with the opening of Bridgewater Canal in 1761, the Suffragette Movement started in Manchester with Emmeline Pankhurst founding the Women's Social and Political Union in 1903 as well as Alan Turning work during World War and creating the first ever computer which is still in Manchester!
Still not sure why you should come to Manchester?
Why not check out the "home of football" with Manchester United and Manchester City playing here, why not catch a match or do the stadium walking tour? Plus visit the football museum and spend an afternoon learning about the beautiful game. Whilst you're here you should check out other museums such as Science of Industry Museum (the first ever computer is here), Whitworth Art Gallery, John Rylands Library and The Peoples History Museum. Manchester is also the home to some famous music bands such as Oasis, Stone Roses, New Order and The Smiths.
What about the evenings? Don't worry, we've got you covered. Why not check out theatres such as the Palace or the Opera house or why not catch a gig at the AO Arena, O2 Ritz or The Academy. Or why not have a night at the famous comedy club, The Frog and Bucket! I've always loved the Frog and Bucket and its never disappointed. Fancy a few drinks afterwards? Why not?! So why not check out The Northern Quarter (especially St Stevenson Square), Spinningfields, Deansgates or Canal Street. There is something for everyone and you'll have a fab-u-lous night.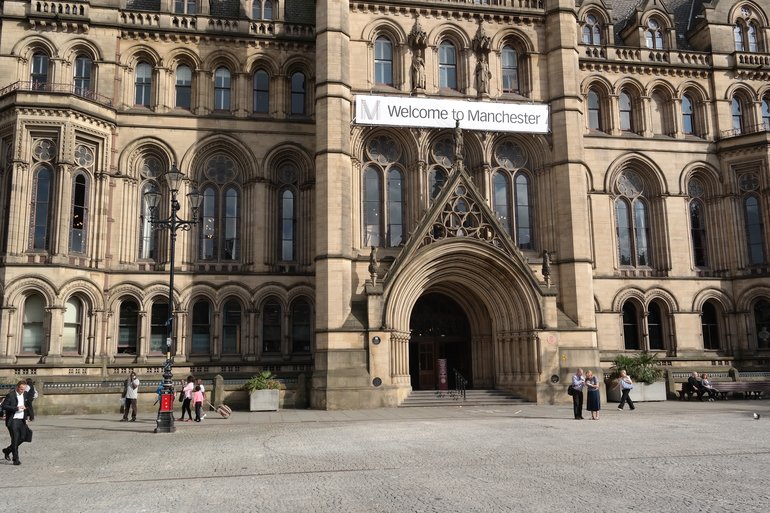 welcome to manchester
I hope you definitely maybe come to Manchester!
Crazy travel woman!