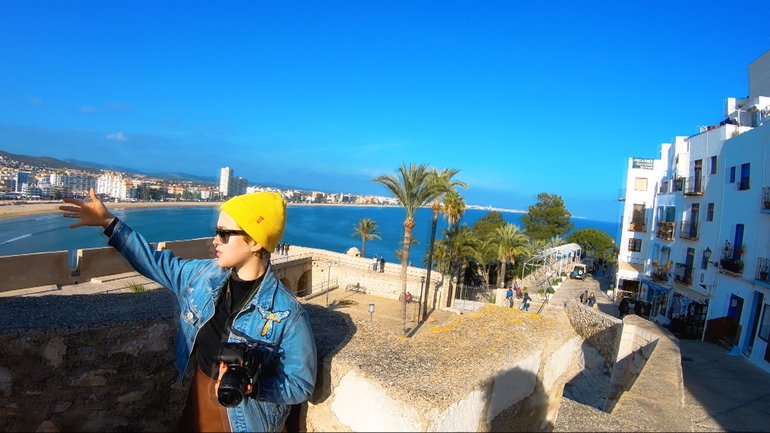 Europe is a beautiful place for any activity you might dream of as your travel goals. There's plenty of national parks, wonderful cities and charming villages there. Indulge yourself in varied cultures of our favorite destinations. Whether you go for backpacking, a road trip on a motorbike or a car. You will find yourself discovering new locations every time you're there. As you might know, traveling for extended periods of time can get expensive. And if you're not careful enough, you might end up running out of money. Never a good experience, to be honest!
We did quite a bit of travel and there are some easy solutions to save while traveling. You don't have to feel bad for trying to get more out of your travel budget – memories are what counts by the end of the day! I would like to share a few tips I find helpful – tried and tested myself.
I hope you will find them useful – this list will be updated on the go!
Plan it yourself, but check last-minute deals as well
---
Planning ahead allows you to have better accommodation options, flights, and transfers. Sometimes you might score a great last-minute deal with a limited package. For me flights + hotel deal in Greece worked quite well – you don't have to opt-in for anything else! It provides more freedom than a full package holiday.
What you should always keep in mind is to try and be as flexible with travel dates as possible. Outbound or return flights on the weekend are always more expensive. Try to arrange your life and work to leave and come back in the middle of the week to save money.
Travel in a pack
---
Sharing is caring, and sharing is saving! If you book multiple people for attractions or renting a car – the more people you share it with, the less you have to pay. Also, bringing your friends on a holiday is a great bonding experience for all of you. Great times guaranteed – and more memories, too.
Book tickets in advance
---
All cheap airlines' first release tickets are the best deal you can grab. Keep in mind that going to a different airport might get you cheaper tickets. It might be jeopardized by the cost of transfer and the distance to the airport. Find a sweet spot and remember, that your time has its value, too! Especially with layover times, when your destination doesn't have any direct flights. Think Asia, United States or less popular destinations (like Guadeloupe).
Explore local markets and street food
---
Travel sometimes gets challenging with keeping your body nourished and hydrated. And it might affect your mood. There are so many new things to discover and explore… You might find yourself forgetting about this at all, and at some point, you're starving. Try to avoid international chains for a quick bite, like McDonalds or Starbucks. On the other hand, they are quite good for different reasons. They usually provide good standard – free internet and toilet facilities.
Local cafes and food markets are the best places to get to know local cuisine in the rawest way possible. Look out for vendors where a lot of locals hang around – and they might not be attention-grabbing at first!
Stay on a campsite (in cities, too!)
---
If your priority is to save on travel and get the most of your trip, you might compromise on the accommodation. There are many campsites in the city. This is a really interesting way to make your trip more memorable, too. It's very easy to make friends here – potentially people you might go out and have fun times with. And how epic that sounds you stayed on a campsite in Prague?
If you're not a fan out of outdoors, but still want to save money, go for a bed in a dorm room. Think that you will be out with people for the whole day anyway. If you're lucky or traveling in the low season, you might have a whole room just for yourself.
Couchsurfing
---
Couchsurfing is an amazing network of people who are willing to let you sleep in their house for free. A couch, mattress, or a tent in their garden – but it really depends on how lucky you get. Some people live in big houses with spare rooms, which they will be happy to lodge you in. It's very community-driven, so I would recommend being ready to spend some time together. You may pay your way back (although it's always free!) by cooking a meal, going out together and taking the bill. Hosts on Couchsurfing are usually very keen to get to know you and show around their city or town. And having a local guide is another priceless thing to get to know the area.
Enjoy what's free
---
Every city or a natural area has free (or low fee) attractions and I really recommend you to explore those. It's a great way to spend and enjoy your time without spending any money. Make pictures, observe the natural energy flow of the place, be more heedful. Street art is present in almost every city – what if you could try to capture as many art pieces as possible?
What's free? Parks, graffiti and other street art, random street exploration. A little chat with a local, "motif" hunting (for example all little dogs in the city or intricate details of gates). Some museums are also free.
Check free admission times for museums
---
Some museums offer free admission on particular weekdays. It's usually at least popular times and days – like mornings in the middle of the working week. Always check on the official website and look for a free entrance (or a discount!).
Memories, not stuff
---
I certainly grew out of buying souvenirs for myself quite quickly. And tend to buy less and less with every next trip. (The other reason is I almost never pay for checked-in luggage and travel light). No space is a great excuse. Although it's nice to collect something (like patches, magnets or stickers). Don't limit yourself if you really like it! I try to indulge myself in the culture while I'm on holiday. Instead of storing things memorizing that I may, but may not, come back here again.
Walk more and share transport
---
Taxis, coaches and any other ways of transport of demand are multi-billion industries. They earn money by providing you comfort with easy transport links. However, this comfort comes with a price. Try to use public transport as often as possible. This way you get to know how to explore your destination on foot and enjoy it more. This will save you money and you will be surprised how many hidden gems you can discover. If you need to leave the city, use BlaBlaCar *. I used it very often in Europe – both to take people on board when I was driving or to join someone to get places. My favorite journey was on the white, early 90's van with a leaking motorbike (but I'm strange). Usually, people have really nice cars. Also are very accommodating with breaks and forgiving to a cheeky beer if you're a passenger.
* Blablacar is a carpooling service. They're connecting you with people going to the same destination. Usually works out better for price, timing and flexibility way better than a train or a coach.
I hope you enjoyed and find my tips useful. I always think that compromising on things you will not get the most joy per price is worth it. That's fancy hotels, M-starred restaurants other luxuries of the bill. Personally, I'd rather have a few more days traveling instead. Remember to always have some savings, too – in case of any unexpected events!