My greatest fear when traveling abroad is that the airline will lose my bag. While I have had the good fortune to never had this happen to me its best to prepare for the worst if it should happen in the future. I am going to share with you what I typically pack in my carry on just in case the airline was to lose my luggage.
It is a good rule of thumb for the carry on bag to be a soft-sided bag that can fit in an overhead bin or under the seat. Most airline guidelines state that a carry on is 9 inches (ca. 23 cm) deep, 22 inches (0.56 m) tall and 14 inches (0.36 m) wide. I would suggest using a soft-sided bag instead of a hard-sided bag because a soft-sided bag can be placed in a smaller space if need be. Below is a photograph of what I would pack in my carry on minus my toiletries and underwear.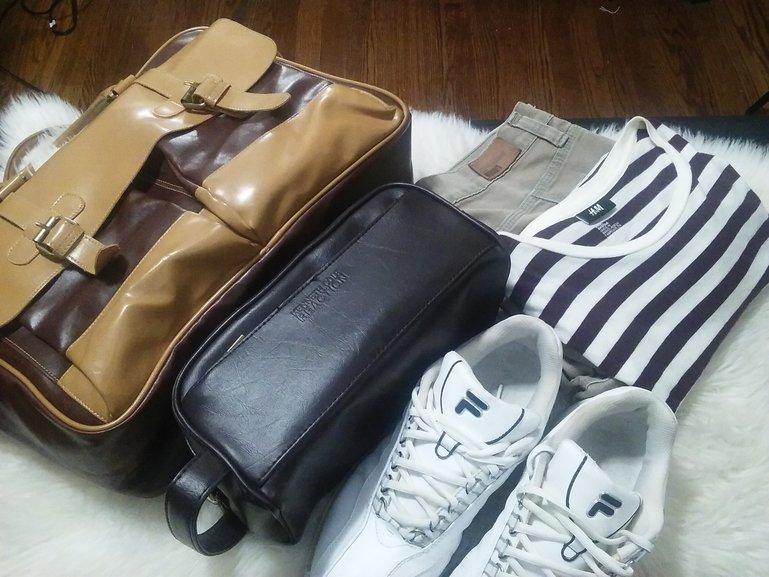 Hygiene items such as toothpaste and toothbrush should be packed along with deodorant. I would suggest a travel size for two reasons. One, you will get through airport security checkpoints without a hassle due to size and secondly, they will take up less space in your carry on. You do not need to take shampoo, conditioner, or body wash because most hotels supply those as amenities during your stay, or they can be bought at a local store.
Last but not least I pack a change of clothes for one day. In most cases, jeans, a t-shirt and a pair of clean socks will suffice. You can wear the shoes that you wore on the plane. If you do find yourself in a situation where the airline has not found your luggage you can always wash your clothes at a local laundry or take advantage of the laundry services at the hotel you are staying at.