Thailand is a country of beautiful, exotic landscapes, world famous food and vibrant culture. I find it both fascinating and bizarre, and we always end up going back to Thailand again and again, as there's always something new to try, or a new place we want to explore.
Thailand is an exciting and overwhelming country to visit, especially for the first time and also SO much fun. So if you're planning on visiting the Land of Smiles for the very first time, I've put together these Thailand travel tips for first timers – the basics to know before you go.
The delicious street food, the unique smells, the white sand beaches, swimming in turquoise waters, the lush jungles, the adventure activities, the cheap beers, the all-night beach parties….sounds like paradise right?
But what about the humidity, the relentless bugs, the diseases, the cultural no-no's, the strict laws, the scams and the language barrier?
Don't worry, we have been to Thailand many times – including when we lived there for six months – and we have got you covered with these Thailand Travel Tips.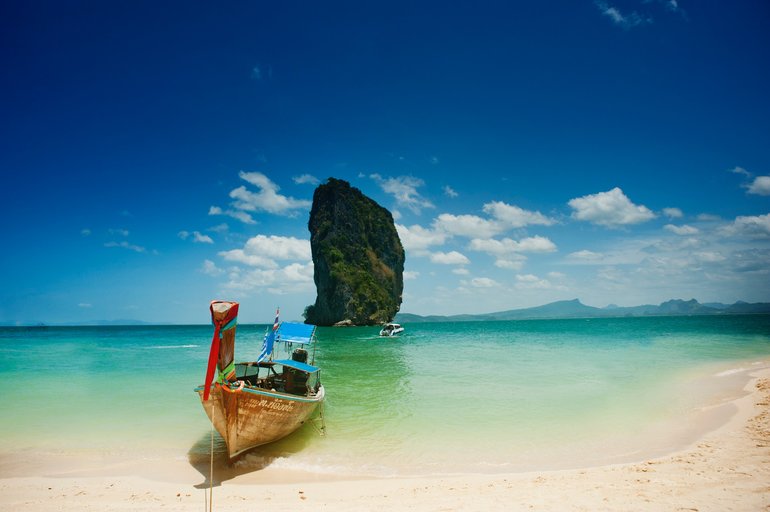 1. Mosquitoes
---
Always, ALWAYS wear mosquito repellent or spray – day and night. Dengue Fever is real in Thailand. And the mosquitoes that carry Dengue are active both day and night.
I have met many travellers who have contracted Dengue Fever, and I have it on good authority that it is not 'just like having the flu'. Also known as "bonebreaker disease", it is a horrible disease that very often requires hospital treatment.
And if you don't get it treated properly, Dengue fever can cause havoc on your immune system for months afterwards.
Also don't wear anything black or dark coloured (the lighter coloured, the better). Particularly any clothing that is both black and tight fitting, such as yoga pants or sports leggings.
Strangely mozzies seem to get extra excited over this and will target you as their dinner date – except you're the dinner.
A few years ago, the Thai Deputy Health Minister even issued a public warning for the public not to wear dark clothing – specifically tight black leggings – which were a recent trend amongst young females.
A Dengue outbreak had seen cases rise by 40% and a large percentage of the fatal cases were young people, causing the Health Authorities to urge people not to wear dark clothing.
2. Humidity
---
Thailand's humidity is intense. It's even more intense in the rainy season that runs from June to October. So wear light, breathable clothing, made of materials such as cotton, linen, rayon or any breathable activewear.
Also make it light coloured if you can, so it doesn't absorb the sun. I promise, you won't want to wear your black, denim shorts.
Accept that you will sweat a lot and you'll probably shower and change your clothes multiple times a day, until you get used to the humidity. Which is never!
3. Sun
---
Wear sunscreen. You should wear it everywhere you travel, but the sun in Thailand is really hot and takes you by surprise. I seem to burn more intensely here than in other countries. It's pretty much humid all day and night in Thailand, but to avoid getting burnt stay out of the sun between 11am and 3pm.
Bring sunscreen or sun lotion with you, as it's pretty expensive in Thailand and difficult to find without whitening lotion in it.
4. Scooters and Motorcycles
---
If you rent a scooter or motorcycle, make sure you're an experienced rider. By that I mean, that you know how to ride a scooter or motorcycle and that you have a licence to say you can ride one!
It's no joke, Thailand ranks the second highest country in the world for motorcycle accident fatalities.
Over 12 people die from motorcycle or scooter accidents every 6 hours in Thailand, every day of the year and a high percentage of those accidents involve travellers or expats.
Most travel insurance policies won't cover you for motorcycles accidents, so check your policy.
If you do rent one, be wary of vendors who rent you a scooter and keep your passport for 'insurance'. And always take photos of the scooter in its current condition before you ride it.
5. Don't Drink the Water
---
Don't drink the tap water in Thailand. That includes brushing your teeth in it. Drink filtered or mineral water and use it for brushing your teeth too.
Although bottled water is one option, in the name of David Attenborough, please don't contribute to the increasing plastic pollution crisis of the world! Instead, take a refillable water bottle with you and use it.
There are actually lots of places to refill a water bottle in Thailand. Ice in drinks tends to be ok as most vendors buy it in bulk, but if you suspect it's been made with tap water, leave it out.
6. Currency & ATM's
---
The ATM fees in Thailand are high, no matter which bank's ATM you use. The fees will make your eyes water, especially when they rack up over a trip. So try to avoid using ATM's by exchanging currency before you go and taking some cash with you.
When you need some more cash, buy it in Thailand at a currency exchange shop or bureau such as SuperRich.
7. Eat Street Food
---
Thailand is famous for it's delicious and vibrant street food culture – in Bangkok especially. Although some travellers avoid eating street food, because they worry about getting ill from it.
Don't miss out! Eat the street food.
It's delicious, fresh, fragrant and it's cheap. Food in Thailand will only be a problem if it has been stored incorrectly, undercooked or left sitting out.
DO eat where the locals eat, eat from a food cart that has long queues (high food turnover means fresher food), eat food that's cooked in front of you, or order something that has to be cooked fresh.
DON'T eat food that has been sitting out for a long time or that looks like it has.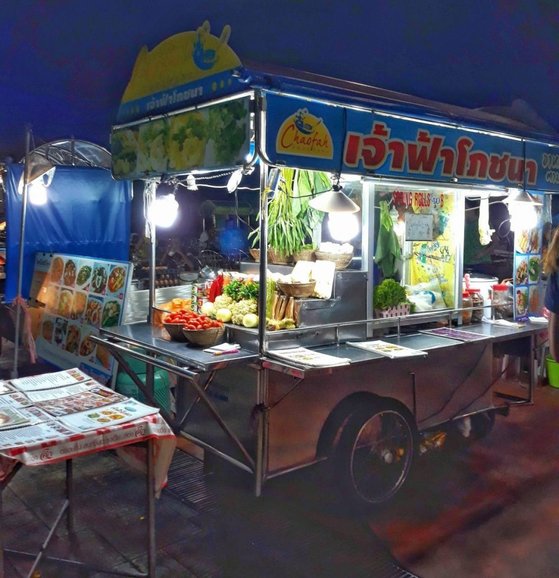 8. Learn Basic Cultural Etiquette
---
Learn some basic cultural etiquette for Thailand and specific cultural etiquette for religious places like temples. It's not only courteous and respectful to learn some cultural etiquette, but it will also make your life easier. Here are just a few to get you by:
- Never say or do anything to disrespect the King
- Always remove your shoes when going inside
- Never touch someone's head
- Don't get confrontational or lose your cool in public
- Always cover your shoulders and legs when visiting temples
9. Taxis
---
There are lots of taxis in Thailand and taxi drivers experiences are a popular topic among travellers. Thai taxis are notorious for trying to rip you off by saying the meter isn't working, or by giving you an inflated, fixed price – that magically increases when you arrive at your destination.
Some people say the block coloured taxis are better than the split colour taxis and so far from my experience, this seems to be correct.
ALWAYS ask the taxi drivers to turn the meter on before you get in, say "Meter, Meter?" Most will shake their head and huff and puff about it, but reluctantly will turn it on. (They'll get over it).
If they refuse, just get another taxi – there are plenty. Especially in Bangkok.
Regarding taxi apps, there is no more Uber in Thailand due to a merger of resources with the popular taxi app Grab. Get the Grab app and use it for taxis anywhere in Thailand. It's really cheap and because the price is set in the app, you won't have to debate with the taxi drivers.
Plus you'll find many cafes, bars or guesthouses & hostels, will have a Grab discount code you can use – just ask for one wherever you're at.
10. Don't Do Drugs
---
Don't do drugs in Thailand or try to take any into the country. JUST DON'T. That goes for any drugs – including weed.
Thailand still randomly serves the death penalty for certain crimes – including some drug related ones. It's just not worth it.
Have a beer instead.
Happy Travels :)