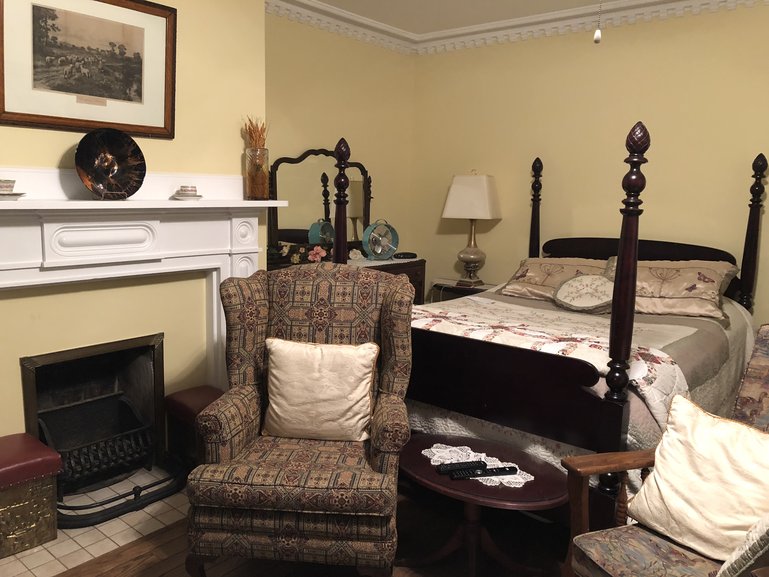 Perfect cozy, period room inside Elmcroft Place in Fredericton NB, found on Airbnb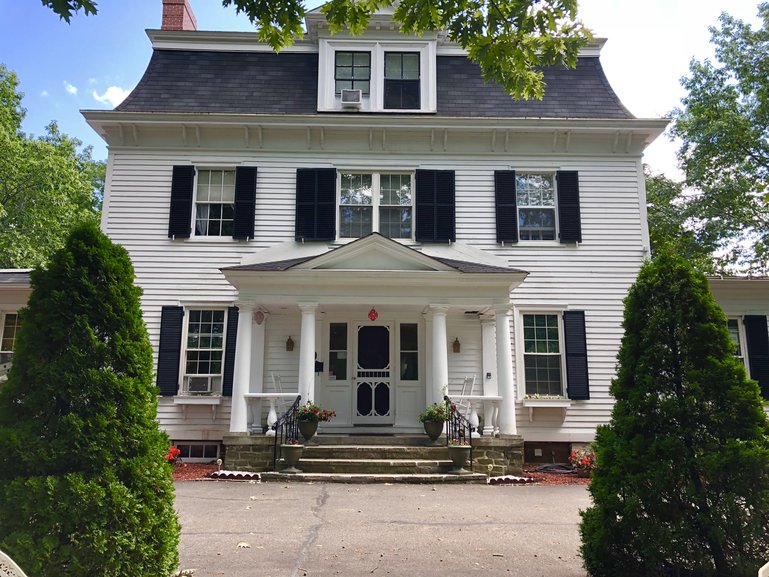 Elmcroft Place in Fredericton, NB is one of my favourite Airbnb finds.
The perfect get-away needs the perfect accommodation. Before you look for yours on a site like Airbnb or VRBO, be sure you're ready to do your homework. These sites open up an amazing array of accommodation options, and you just might find the perfect place. But there are a few things you need to know before you book.
It's just a platform
---
When you book accommodations through a website or app like Airbnb, it is just the door through which you enter. It is a very powerful and effective marketing tool used by millions of individuals and investors around the world to put their rooms in front of you, the visitor. The online platform has no other connection with the accommodation provider.
Yes, there are some protections built in to the shot term rental platform for both the host and the guest, such as reviews and some insurance. But just because a room or a home is listed is no guarantee that Airbnb endorses it, or that you're going to get a safe, quality stay. This is buyer-beware territory. You can find a great stay, but you need to do your homework.
Money-back guarantees don't help you in the middle of a bad stay
---
There is no "front desk", or business entity to appeal to. You could be on your own. You can always apply to get your money back, but when you arrive in a foreign city, or even a foreign country, or you arrive in high season where accommodations are scarce and expensive, and your booked accommodations don't measure up, this is small comfort.
Do you really know what you're getting? Listings must be interpreted
---
Online platforms do a good job of listing what each rental accommodation includes. But checklists are subject to interpretation. When a listing says it has 2 beds in 2 bedrooms, is that accurate, or is the pull-out couch in the living room counted as a bed/bedroom? A close read of the listing and the photos may be necessary.
Do your own audit of the information on the short term rental platform. Compare the photos of the listing with the amenities promised. Do the pictures show the number of beds and bedrooms promised? Does the listing align with the photos? If in doubt, confirm with the host before you book.
Ask questions of your host
---
You can — and you should — communicate with your host before and after you book. The website listing will be chock-a-block with useful information, but you never know whether things have changed and whether the host has updated its listing. By reaching out to your host in advance, you can get a sense of how responsive they are by how quickly they get back to you.
Your host can give you some indispensable advice even before you arrive, like the best way to get into town from the airport/train station. They can help you plan your trip in advance by telling you how close the local amenities and infrastructure are, like the local grocer or the metro station.
Read the reviews with a critical eye
---
Some of us are just too darned polite (I'm Canadian, eh?) to give someone an outright bad review. They might just skip the negatives and focus on the positives. Therefore, make sure you consider the star ratings as well as the comments themselves. Positive comments accompanied by some 3-star or lower ratings might be a sign that there's something someone is not telling you.
I'm guilty of this myself.
I booked a room in a private home through Airbnb from a lovely woman. As she showed me my room, her off-hand comment was: "Oh, by the way, I also have a long term renter in the room beside yours. She's a little bit crazy, so I'd suggest you steer clear of her." OK then! Good to know. My suite had no lock on the door, so I jammed a chair under the doorknob. And the bedroom window had no curtains. Because it was a basement suite, anyone could see in. The window opened on to a very private back yard, but somehow that wasn't much comfort.
When I wrote my review of my stay, I focussed on how lovely the host was, but saved my advice on window coverings and door locks for the private message to the host.
It's not a hotel, with hotel amenities
---
Hotels offer amenities that many Airbnbs can't. But if you don't want or need those amenities, why pay for them? Know your own needs and comfort level. Airbnb accommodations are not hotels, and the services they offer differ. There is no concierge; no front desk. (Most local hosts, though, are more than helpful, and delighted to help you see their community like a local.)
There is no maid service, so you'll have to make your own bed (or not). Fresh towels won't automatically appear daily. If you've come to be pampered and not have to pick up after yourself, Airbnb may not be for you.
Don't expect a pool or a spa. There may or may not be a lock on your door. There may or may not be amenities you expect as standard, like shampoo and soap in the bathroom. Indeed, you might be sharing a bathroom. One of the things I like about renting an Airbnb is that, if you do your homework properly, you can cherry pick those things that are important to you and get exactly what you need. Nothing more, nothing less.
Likewise, what the host expects from you may be different than what you're used to if you normally stay in a hotel. Read the house rules carefully. Some accommodations charge a cleaning fee if you don't do basic clean up on your way out the door. Some expect you to wash your dishes and take out the garbage. Not a big ask, but you could get hit with a surcharge if you don't follow the house rules.
That said, there are many things to commend an Airbnb-style short term rental that you just can't get (easily) in a hotel.
* Space: You can rent a whole home if you want to, giving you room to spread out and make yourself at home.
* Kitchen: This is especially important to a travelling foody. How better to sample the flavours from the local market than in your own kitchen. And sometimes, your don't really want to fork out $20 for the hotel buffet breakfast when a yogurt, fruit and a cup of coffee from your own kitchen will suffice.
* Local knowledge: Most people who rent rooms in their homes are wonderfully gracious people who are proud to share their community. They'll provide advice from a local's perspective, and help you stay clear of the tourist traps.
Your host might be breaking the law
---
At the time of writing this, short term rentals, like those marketed through platforms like Airbnb, VRBO, or HomeAway are attracting the attention of North American municipalities grappling with how to deal with the sharing economy. Some municipalities license and regulate these rentals. Others do not… yet.
What this means for you as a traveller is that you may not know whether there are any standards or regulations that the host must adhere to. For example, are there basic fire safety protections in place, such as a second exit from the room or building in the case of fire? Are there any smoke detectors or fire extinguishers? Is there sufficient ventilation for the number of guests that the host says can be accommodated?
If your accommodation isn't licensed, it Is not required to adhere to any particular safety standards. Be sure you know what you're getting into when you book. Licensing is no guarantee that your accommodation will be safe and comfortable, just like a lack of licensing is no indication that the basics will be missing. But licensing suggests that someone might be paying attention.
I recently stayed in an Airbnb in Toronto, a city which was, at the time, in the process of putting regulations in place. The listing suggested that 5 could be accommodated, and we were 5 adults, so we booked the suite. There was no ventilation, and no windows in this basement suite. A hot Ontario summer, combined with the body heat of 5 adults and multiple showers turned this otherwise pleasant little suite into an airless, unbearable confine. On top of that, there were no smoke detectors or fire alarms, and only one way in and out of the suite. All these "deficiencies" made for a less than comfortable stay.
Not all hosts are created equal
---
Hosts vary widely. Some are homeowners wanting to bring in a little extra cash. Others thrive on the idea of meeting new people and introducing visitors to their community. Others are small-scale or large-scale investors who buy properties just to rent the out as short term rentals.
Much of the talk and media coverage around Airbnbs has focussed on the risks to the home-owner. What if someone trashes the house when they stay? What if the guest is of less than savoury character? While less reported, what happens when the shoe is on the other foot, and it's the host that's difficult to deal with, or worse, a little bit scary?
Check how the host handles feedback. It may be difficult to tell the character of the host from the listing, but there are things that could give you some insight into who you're dealing with. Guest reviews can be a good indication. Take a look at how the host responds to feedback. Are critical reviews ignored? Are they met with defensiveness? Logic? Solutions? Humour? Kindness? Apologies? How one handles problems and criticism is a good indication of character.
Never do a side deal
---
Airbnb and other online platforms take a fee for the service they provide. This can make it tempting to take the deal offline. Don't do it. Especially if the host suggests transacting the deal offline. You have no idea who you're dealing with. Any deal proposed to circumvent the platform should get your spidey sense tingling. Airbnb provides some protection for your credit card information. If a host uses an online platform to attract guests and then wants to deal offline, they're probably up to no good. Abort! Abort! Abort!
A little common sense
---
There are pitfalls, to be sure, in booking accommodations through services like Airbnb. But if you apply a little common sense, and take some reasonable precautions, you just might find an amazing place to stay.
My new favourite short term rental on Airbnb, Elmcroft Place in Fredericton New Brunswick checks all the boxes for this traveller: Great location, clean comfortable room, no hassles, well-equipped, and half the price of a hotel room.
Over the past 4 years, I've used Airbnb more than a dozen times. A couple posed some challenges, but none were insurmountable. But I've also had the privilege of staying in a gorgeous country home in Tuscany, a room on the canal in Venice, and a grand century home in Fredericton New Brunswick. For this travelling foody, the benefits outweigh the challenges, and open up a world of local, authentic options for short term rental accommodations.