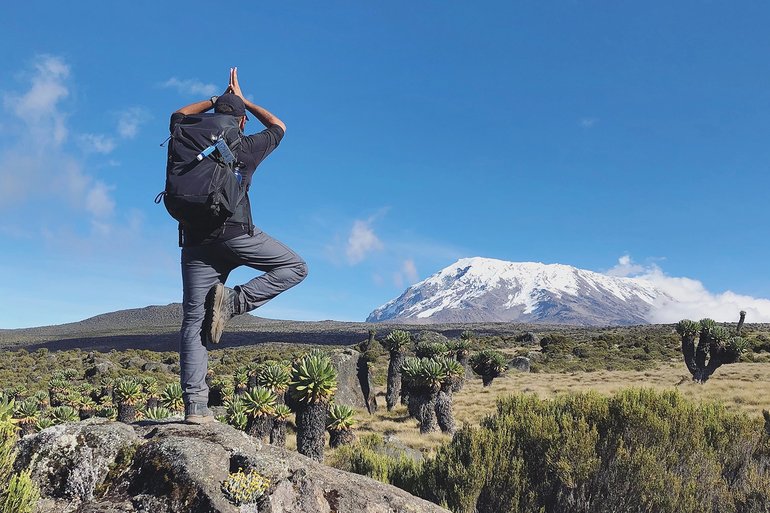 Lemosho Route, summer time.
Trekking Mount Kilimanjaro is an incredible experience, but it can be a daunting challenge even for experienced hikers. However, with proper preparation and planning, reaching the summit of Africa's highest peak is a goal that is within reach for many aspiring climbers. Here are some tips to help you successfully trek Mount Kilimanjaro to the summit
1. Choose the right route
---
There are several routes to the summit of Kilimanjaro, each with its own unique terrain and challenges. Research the different routes to determine which one is best suited to your abilities and preferences. The most popular routes include the Marangu, Machame, and Lemosho routes. It's worth noting that the longer routes generally have a higher success rate, as they allow for better acclimatization.
2. Train and prepare
---
Trekking Kilimanjaro is a demanding physical challenge, so it's important to train and prepare in advance. Start by gradually increasing your physical activity level, with a focus on cardiovascular exercise and strength training for your legs. It's also a good idea to do some practice hikes with a loaded backpack to get used to the weight and feel of your gear.
3. Pack wisely
---
When it comes to packing for your trek, less is more. Only bring essential items, and make sure to pack them in a way that is comfortable and balanced. Consider investing in high-quality gear, such as a sturdy backpack and a warm sleeping bag. Don't forget to pack plenty of snacks and water to keep you fueled and hydrated during the trek.
4. Acclimatize properly
---
One of the biggest challenges of trekking Kilimanjaro is the altitude. Proper acclimatization is essential to avoid altitude sickness, which can be dangerous or even life-threatening. Take your time and follow the itinerary carefully, allowing your body to adjust to the altitude gradually. Drink plenty of water, and consider taking altitude sickness medication if recommended by your doctor.
5. Stay motivated and positive
---
Trekking Kilimanjaro is a mentally challenging experience as well as a physical one. The long days and tough terrain can be draining, so it's important to stay motivated and positive. Lean on your fellow trekkers for support and encouragement, and take breaks when needed to rest and recharge.
6. Enjoy the journey
---
Finally, remember that the journey is just as important as the destination. Take the time to appreciate the stunning natural beauty of Kilimanjaro, and embrace the challenges and triumphs of the trek. With the right mindset and preparation, summiting Kilimanjaro is an experience that you will never forget.