I love a good underdog story. A story where obstacles are inevitably in the way, odds are stacked against, perseverance and hard work rise to the surface when the world turns aside, assuming failure. This is Detroit, the D, a city and a story that continues to evolve and grow back from its deeply wounded economic roots.
Once, where abandoned buildings ruled the streets and crime rates soared, there are new hotels, restaurants, an art district, a bustling theater culture and a people mover to connect it all. Yes, public transportation in the Motor City. Riding the People Mover or the QLine is evidence of Detroit's continued transformation.
Most Michigan residents have been following and reading about the resurgence going on in the D but have not ventured back on to the streets to see it firsthand. We decided to gather for a family adventure to kick off the Christmas and holiday season. Our group of seven made the Crowne Plaza Riverfront home base where we could keep an eye on Canada while we rediscovered the downtown district.
It was the day after Thanksgiving so we traded turkey, mashed potatoes and stuffing for boutique restaurants, most with an hour wait, trying to accommodate hungry patrons with a ticket to find Buddy the Elf at the Fox Theater. We squeezed in at Brass Ring Pizza for our pre-show dinner, the neon marquis glowing red against the winter sky. The Fox Theater is certainly worthy of being the centerpiece of a weekend itinerary, it's been around since 1928 after all. The grandeur of the architecture and décor provide a perfect stage for talented actors, musicians and dancers. Buddy the Elf's Christmas spirit rubbed off on all of us. Spirit in tow, we meandered to Campus Martius Park for a downtown display of lights, a pine tree tunnel and a bustling skating rink. As we walked, we noted the lingering scent of pine and copious number of coffee shops. The D aims to keep you caffeinated during your stay.
My big realization…..The big three are no longer Chrysler, Ford and GM rather art/culture, history and sports. The Fox Theater, Detroit Historical Museum, Detroit Institute of Art, Ford Field, Little Caesar's Arena and Comerica Park are the headliners. The diversity is impressive especially when this urban cocktail mixes in ballet, opera, art and bruising sports like hockey and football.
The D is worth two full days of exploring. We began day two with a scrumptious brunch (and strong coffee) at Avalon Café & Bakery on Woodward Avenue. We devoured a variety of handmade sandwiches with generous layers of bacon, sausage, cheese, egg and avocado. Hold the romaine, please! Fueled up, it seemed appropriate to pay a visit to the Detroit Historical Museum and its showcase exhibit on how Detroit built cars in its many factories. Josh was thrilled to take a seat in a vintage Model T while we perused a working Cadillac assembly line.
Soaking up knowledge takes time so part of our entourage had to take their leave of the city. They left just Josh and me to size up the craft beer scene. Like many cities in Michigan, the D has embraced brewing culture while pairing hoppy beverages with gastronomy. Of the three we visited, Batch Brewing, Brew Detroit and Detroit Brewing Company, it was Batch Brewing in Corktown that was the most memorable. The pub cuisine sourced plenty of local and Michigan specialties including fresh venison they turned into a tasty sloppy-joe pasty. We added a bowl of queso dip with crumbled chorizo and green onions. The spicy heat had us reaching for our glasses and Josh had to wipe a bead of sweat off his forehead. The beers, like the food, had plenty of flavor, a little too much flavor for me. After trying several samples where things like ginger, black anise or herbs overpowered the beer, we settled on a more simple choice, The Low End Theory, a Cascadian dark ale. While bellied up, we met the owner and he explained the head brewer (a woman) had her influence on the names and the ingredients. My guess is she not the shy type as I read the name of the stout. Dicksmasher!
Laughing at the eclectic names we polished off dinner and decided to walk off the calories.
Back in the city center, we soaked in the vibe and all the lights illuminating the streetscape and trees. One display in particular caught my eye, one word glowing ever so bright.
DETROIT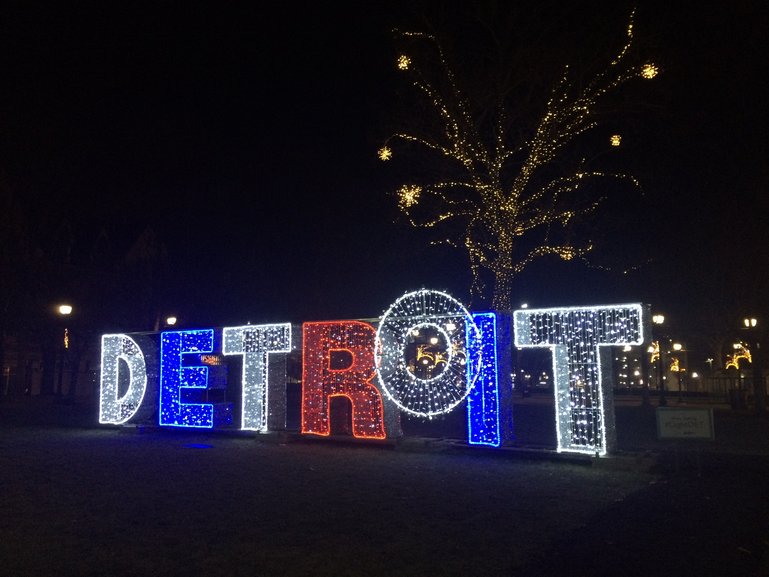 The D