The turn of the leaves means fall has finally arrived, and there's no better time to pack up the car for a family adventure. This season offers a ton of activities for the family to enjoy as the cooler temperature opens doors to outdoor fun. Check out some of these fun and affordable fall activities that the whole family will love.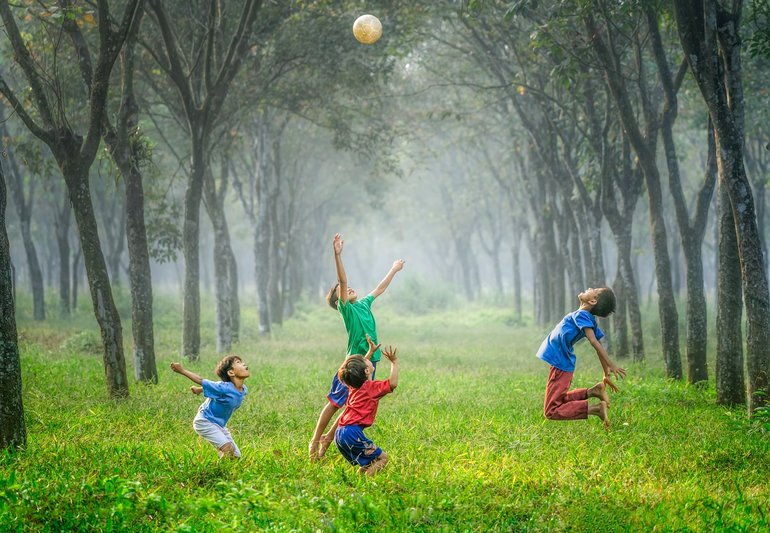 Kid-Friendly Activities
Hiking
---
From taking the kids on a scenic hike through the foliage to challenging the family and friends by exploring your local corn maze, Fall is arguably the best time of year. New to hiking? Consider trails and locations that are relatively easy. Keep in mind for most it's about the experience, rather than conquering a difficult climb. Choose a scenic trail with lakes, waterfalls, and all around exciting views to captivate their attention. Enable the little ones to stay engaged and interested in their surroundings, adding to the excitement. On a warmer fall day, the mountains can be cooler as your elevation increases. Pack extra layers for the trek in case it gets chilly along the trail. Most opt to pack their windbreakers and rain-resistant clothing just in case. Select a "leader" amongst the kids and letting them rotate their role. Most importantly, bring plenty of water and snacks for your journey.
Camping
---
During the cooler months, federal and state parks typically hit max capacity, so be sure to reserve your space ahead of time. If this will be the first time camping with your kids, try pitching a tent in the backyard as a dry run before fully committing to the great outdoors. When selecting a campsite, first time campers are recommended to consider a drive-in campground to easily access the family SUV. A quick dash to the car could be the swift action to salvage the trip. Be sure to unpack and set up your campsite during the day and avoid unpacking at night for fewer hiccups and to keep stress levels low. Since fall brings unpredictable weather, even a warm day can lead to a cool evening. Ensure you are comfortable by bringing extra layers, either a fleece or sweat pants for the night. Let the kids get involved and excited by letting them pack some of their favorite items. Consider bringing your iPad too, just in case of an emergency, your iPad can be an entertainment lifesaver. Though the intent of being outdoors is to escape technology, this small sense of home can be comforting for your child.
DIY Outdoor Movies
---
Fun and affordable, outdoor movies are an awesome option. To help save some money, consider opting out of buying an expensive projector- consider comparing prices online for an affordable projector extension for your smartphone or iPad. Enhance the experience and consider bringing along a Bluetooth speaker to maximize sound quality and opt for a crisp, white sheet to use for a screen. Use a thin wooden frame or other lightweight material to secure the sheet to reduce movement from the wind or other variables. Be aware and make sure that your houselights, the streetlights, and car beams will not distort the picture on your DIY screen. For optimal comfort add blankets and some outdoor seats where you can snuggle up with a hot beverage and popcorn.
Apple Picking
---
September leading into the beginning of October are considered to be the best time of the year in North America to pick your very own, fresh apples. Upon choosing your preferred apple orchard, head over and ask an employee where the ripest trees might be that are best for picking. Typically, most orchards throughout the United States also have pumpkin farms, strawberries, or other fruits attached for your picking pleasure as well! Consider searching for orchards or nearby farms with petting zoos, hayrides, or sunflower patches for the ultimate fall-filled experience. Some apples are best for applesauce while others are better suited for ciders or pies, and be sure to look up what types of apples are available at the orchard you choose, if you are planning on making any other of these Fall favorite recipes. A handful of orchards will have gift shops that are typically geared toward the little ones, with tons of sweet treats and warm beverages – You'll want to make room in your Suburban to take home a few treats! Make sure you call ahead to check what days would be best for your family to go, and if they offer additional benefits, discounts or even attractions on certain days such as face painting or haunted houses.
Road Trips
---
Encourage the entire family to be involved in planning the route and scoping out potential destinations. Let everyone choose at least one destination they would like to see and have them do some research on it. Try and spice things up by splitting the drive time and sightseeing in half for an equal amount of both driving and leisure. Make sure to allow adequate time for rest stops and bathroom breaks along the way. Drive by those fast food stops and go the extra mile or two downtown to try out regional foods that may be unique to the area you're driving through. Research ahead of times dining points of interest, like the popular diner in town or a local favorite. Pull over and check out all the natural attractions along the way including state and national parks. Prepare your expenses ahead of time to plan accordingly and reduce the anxiety as well. Include everything from snacks to lodging to help breakdown the exact costs and budget accordingly. Disciplined financial planning ahead of your trip will allow for more quality time with your family and less fussing over dollars.