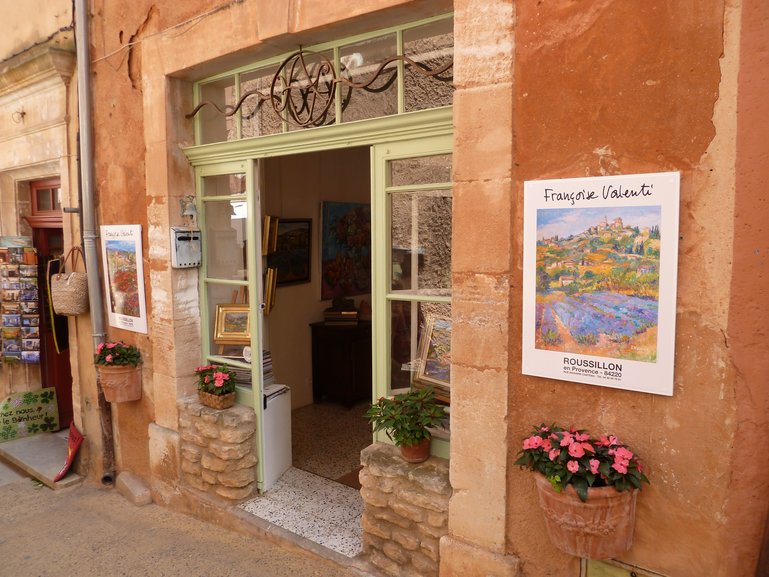 Our Artist friend Francoise Valenti
Justly famed as one of the most beautiful villages in the Luberon, Roussillon is a place we have loved from the early days of our travels in Provence. Perched high like so many of the Luberon villages, Roussillon is surrounded by the most beautiful countryside and from the very top of the village it gives extensive panoramic views that are difficult to beat in any other village in the Luberon. As you drive up from the valley plain you lose sight of the village as you wind up the road around its base and then once again the beautiful sight of this lofty place comes into view – one of the best drives in the region. When you park up your car under the cliffs and start to take in how the village is constructed on the rocky outcrops, the village appears to be straddling more than one base of rock and looks quite precariously secured atop this summit. It is an impressive village and quite an achievement of a structure in times past.
The feature that dominates Roussillon are the magnificent red cliffs and the red, yellow and brown shades of earth in the ochre quarries. It is a stunning sight. The large amounts of ochre deposits around Roussillon are the largest to be found in the world. The whole setting of Roussillon is just magical as you see interspersed around the village setting lush pine trees that contrast vibrantly with the ochre and the stunning clear blue Provencal skies. It is an area of incredible natural light and this of course has attracted a succession of artists to the village. Our friend Francoise is one of the modern resident artists and for us it has been a pleasure to be able to visit her in the studio where for many years she has worked here in Roussillon, she is a very talented and successful artist in this village. Do make sure that you pay her studio a visit located at the beginning of the climb to the top of the village. The last time we visited Francoise I had to explain that her beautiful paintings were at the moment just a little outside my price range but she kindly gave us a signed print and this takes pride of place in our home after we had it framed. It is a lovely reminder of the colours of Roussillon and happy times.
Roussillon is an exceptionally atmospheric village to stroll around and the maze of narrow streets are a joy to walk and can be a welcome source of shade on a hot Provencal day. The houses are composed of many different shades of ochre tints and these colours are perfectly set off by the brightly painted shutters framing the windows. Roussillon has quite a number of reliable cafes and restaurants particularly to be found as you make your way up towards the 11th Century chapel Eglise Saint Michel church and the summit. This is a small intimate church and is very cool inside but fairly simply adorned. This is a good place to rest for a while as you make your way to the top of the village and take in the stunning views.
Just around the corner and higher up from the church is a shop that sells pottery and ochre pigments. As I write this now I can see in the room the large olive green jug that we bought from there many years ago and it is a beautiful piece that reminds us of our visit and is always on display. It took a bit of carrying back to the car in the baking heat! We also made a big mistake by buying some ochre pigments that we felt sure would make our kitchen walls back home both unique and beautiful.
They most certainly made them unique!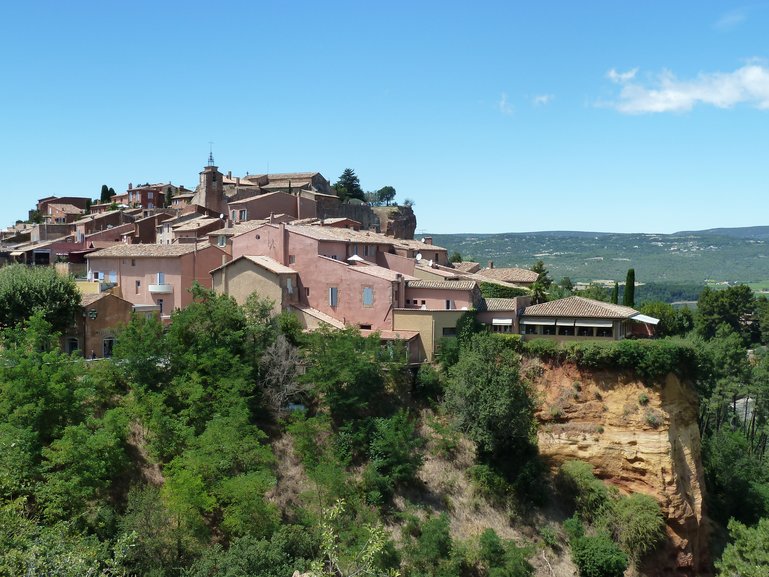 Roussillon
The problem was in those pre 'Google and You Tube knows everything' days was that we had neglected to find out how to use them correctly. We had assumed that it was a simple matter of mixing with white paint and off you go. Apparently not! The colour of our kitchen walls turned into a bizarre mix of a brown, purple and red sludge like mess of a finish. It had taken some time and effort to achieve this awful result so we thought that maybe it would settle down and the resulting hues would grow on us. It was clear after we had received sufficient visitors to cast their judgement over this garish fiasco that it was purely and simply dreadful and we had to repaint the entire kitchen, our dream of a Roussillon ochre inspired kitchen shattered.
This shop is close to the top of the village and when reaching the summit you find the most amazing view of what appears to be the entire Luberon and beyond. A breath taking place to sit and wonder for a time until the burning sun takes its toll on our fair skins.
Roussillon is a must see village and along with our quieter favourite Bonnieux, a village that can be seen across the valley plain, it is a place we return to as often as we possibly can.