Coastal city located south of Tokyo which is an important center of both local and foreign tourism. Among its multitut of temples highlights the Great Buddha (Kotoku-in) with an impressive bronze Buddha 15 meters high. In addition to many temples, we must also highlight its beaches.
Kōtoku-in 高徳院
---
Kōtoku-in (高 徳 院?) The temple is known for the Great Buddha (大 仏), a bronze statue of Amida Buddha that is one of the most famous icons of Japan. The statue is 13.35 m tall and weighs around 93 tons, which makes it the second largest Buddha in Japan after the Buddha of Tōdai-ji, in Nara, and is the most significant and known image of Kamakura.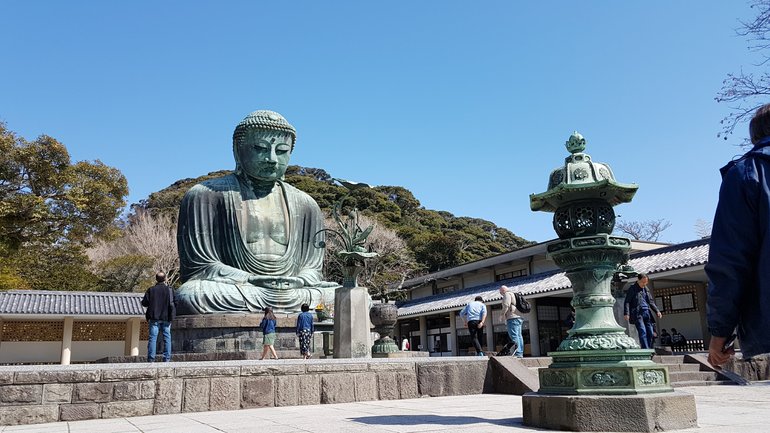 Kōtoku-in
Hōkoku-ji 報国寺
---
Hōkoku-ji (報 国寺) is an ancient temple famous for its bamboo garden, it is also known as "Bamboo Temple" without being so impressive that the forest of bamboo of Kyoto, has the charm of being smaller but much more careful.
In addition to the bamboo forest, the temple also houses a garden with other plants and small caves and a small tea house or chashitsu that is very popular with tourists.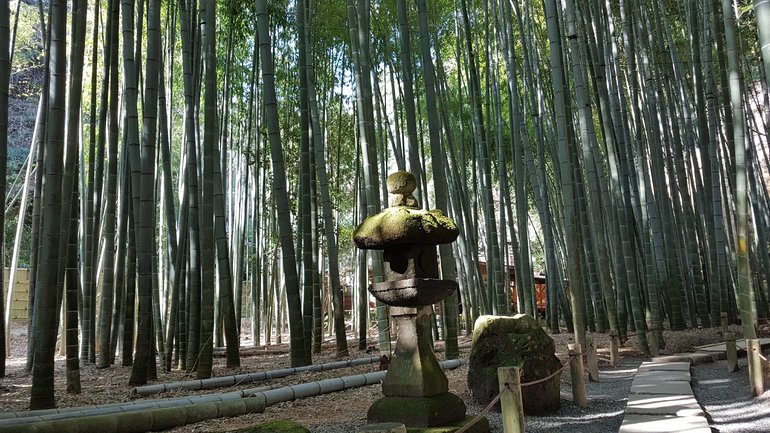 Hōkoku-ji
Sugimoto-dera 大蔵山観音院杉本寺
---
Sugimoto-dera (Taizō-zan Kannon-in Sugimoto-dera) is the oldest temple in Kamakura (734), it is a small temple whose main attractions are a staircase full of moss, the thatched roof of the main building, the two guardians of the fierce-looking entrance and the Kannon statues.
One of the most interesting curiosities of this temple is its long stairway full of moss, flanked by a series of banners with the inscription in kanji that say Kan'non of eleven heads, the goddess of the temple.
In 1337, long after the fall of the shogunate in 1333, there was a battle at the temple premises between the followers of Hōjō and the Ashikaga forces, and more than 300 samurai lost their lives. The little gorintō (stone stupas) to the right of the main hall were placed there in memory of those who fell on that occasion.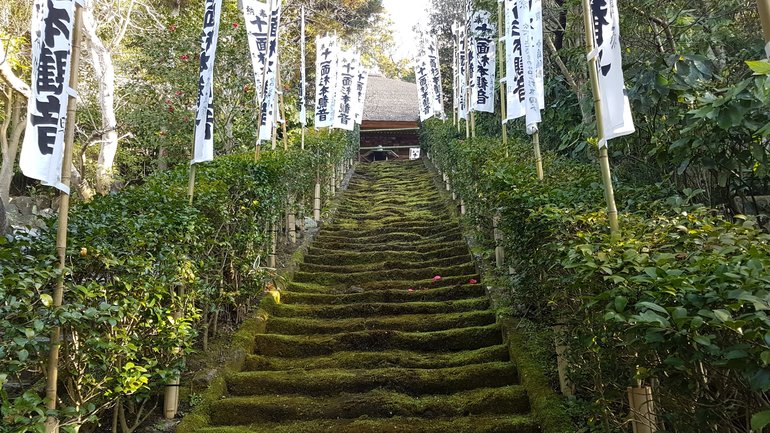 Sugimoto-dera