The leatherback sea turtle is the largest of all surviving turtle species. It's also the fourth heaviest reptile, with three species of crocodile weighing more. Leatherbacks are differentiated from other sea turtles by their lack of a bony shell. Instead, the top shell for which they are named is covered by skin and oily flesh.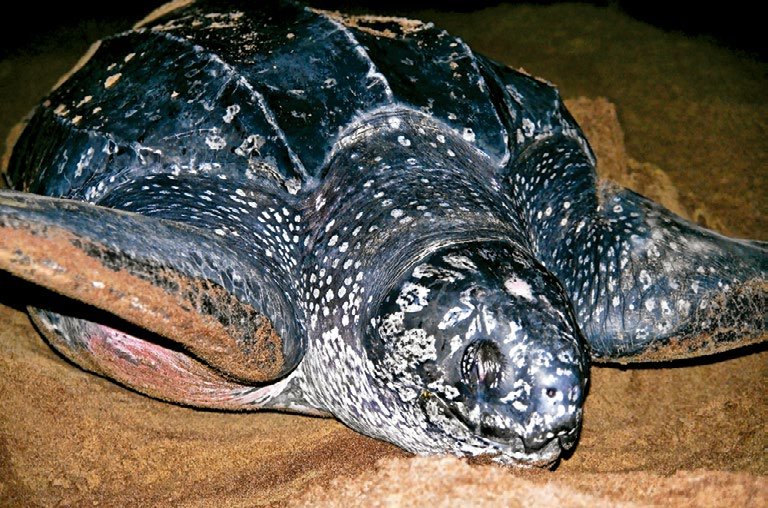 Leatherback Sea Turtle in Costa Rica
Leatherbacks nest along beaches extending as far north as Alaska and Norway, and as far south as Cape Agulhas in Africa and New Zealand's southernmost tip. Their primary food source is the jellyfish, which helps keep the jellyfish population down. However, coastline pollution from discarded plastic bags — Californians alone use upward of 19 billion plastic bags every year — poses a man made risk to leatherbacks. An estimated one-third of adult turtles have ingested plastic bags, mistaking them for food.
The leatherback is designated as VU (vulnerable) on the IUCN Red List of Threatened Species. Various benevolent groups such as Earth Watch are working with scientists to conduct important environmental research in this regard.
The Leatherback Trust was founded specifically in the interest of its namesake sea turtle conservation. The foundation established a sanctuary in the Tamarindo-Playa Grande area of Costa Rica, the Las Baulas National Marine Park. This is one of the most significant leatherback nesting spots in the world. If you want to get involved in helping these turtles, visit www.leatherback.org for information.