Have a go at a Via Ferrata hike in Riva Del Garda, Italy
---
Destination – Riva Del Garda, Italy
How did we get there? – We drove from the UK to attend the F1 Grand Prix at Monza and then made our way to Lake Garda from there. Driving in Italy isn't as scary as some people would make you believe and sat nav is a great help.
How much did it cost ? – For the actual Via Ferrata you need the correct equipment. Climbing harness and via ferrata attachment so that you're able to hook onto the cables and wires around the course and a helmet. We already had the climbing harness but we hired the via ferrata attachment and helmets from The North Face store in Arco. The hire of the equipment was around €20 for both of us with a deposit which is returnable on return of the equipment.
Where did we stay? – As this holiday was a driving holiday we had our camping gear with us and stayed at a lovely campsite in Riva Del Garda Camping Brione The campsite was about a 5 – 10 min walk into town and was only about €15 a night. The facilities were as clean as a whistle and it had a pool. As we were out of season it was really quiet.
Tip of the trip – Whilst hiking or walking in the area, don't rely on the bus service and take plenty of layers. The weather can change from tropical to torrential in a heartbeat but most of all – Enjoy !
Our Story
So what is Via Ferrata. According to Wikipedia Via Ferrata is a climbing route that employs steel cables, rungs or ladders, fixed to the rock to which the climbers affix a harness with two leashes, which allows the climbers to secure themselves to the metal fixture and limit any fall. The challenge is to navigate the route whilst feeling completely safe and secure in your harness. We had done some indoor climbing in the UK and had a little bit of outdoor climbing experience so we were ready for this next adventure……….
It was the day we'd waited for, the day of our holiday that would see us in our climbing harness, ropes attached and hard hats on our heads. Cima Capi Fausto Susatti was our target for the day which was billed as an easy(ish) Via Ferrata for folks new to this particular sport.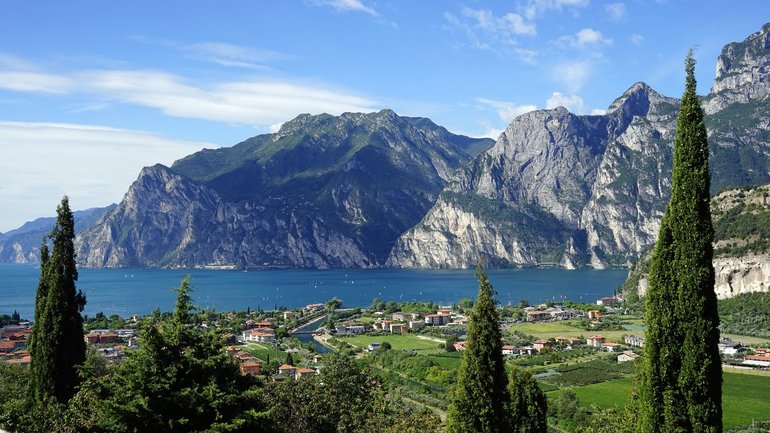 I was excited at the prospect of being roped to the mountain on precarious ledges and climbs however I was less excited about the 3hr walk up the mountain before the Via Ferrata part started. Never the less it had to be done and what made it fun was the views that spread out behind us as Riva del Garda and the surrounding area came into view again and again.
It was a straightforward path upwards, steep in some places and well marked. We met a few folks on the route but mostly it was just us 2. The sun was shining and conditions were near perfect. We had several layers packed as with any mountain the conditions can change in an instant so we were well equipped with waterproof and extra layers to be used should needed.
Before long it was midday and the first part of the via ferrata was in view. Hats & harnesses on and clips secured on the wire rope we made our way upwards through the first narrow gully that would take us higher.
We were then presented with a series of ladders, ledges and exposed pinnacles that was all very thrilling and over far too soon. There were 2 German chaps in front of us (once who was very scared indeed) and we met them again when we'd reached the summit where the Italian flag flew. There was a book at the summit where you could sign to say you'd been there but there was no working pencil so we couldnt add our names to the log, sadly.
Time to head down and we met a group of lads who were descending but without the via ferrata gear and on one particular scramble downwards we wondered how they would have managed with that as it was quite tricky and even though we were roped in there were still sticky bits that tested your logical mind to the max.
The weather was changing and our extra layer and waterproof coats were now needed as we made our way down the mountain. There was a lovely forested area that we walked through which was about the time we relalised that it was getting late in the afternoon and the lady at the tourist office had told us that the last bus back from the village below was at 6pm. We had to make that bus as our climbing gear had to be back to the outdoor shop in Arco by 7pm or we'd be liable for another days hire.
We quickened our pace as much as we could on the descent and arrived at the village about 5.30pm, well in time for the bus. So, there we were, perched against the wall at the bus stop in the sleepy village and 6pm came and went with no bus. We were about 10 miles away from Arco and at this point not sure if any bus would come at all. We decided to stick our thumbs out and hope that some kindly walker type person would assist and get us at least back to Riva where the car was. Fingers crossed someone would stop.
Many cars passed and it was now 6.20pm and we had almost resigned ourselves to the fact that we were not going to make it back in time when a car almost skidded to a stop causing the moped rider behind to swerve at the last min to avoid hitting the back of the car. In the car was a lovely lady who offered us a lift. She lived near a lake close by and was heading to Arco to get some painting supplies and although spoke very little English we managed to have a chat about the weather and the fact that her washing machine was broken, very random.
So all was not lost, we made it back to the hire shop in time to return the equipment and made it back to our tent in time for a quick change and wander into Riva for dinner. Dead on our feet we returned to the campsite completely shattered and fell asleep to the now familiar sounds of thunder accompanied by lightning and heavy rain………what a brilliant day !