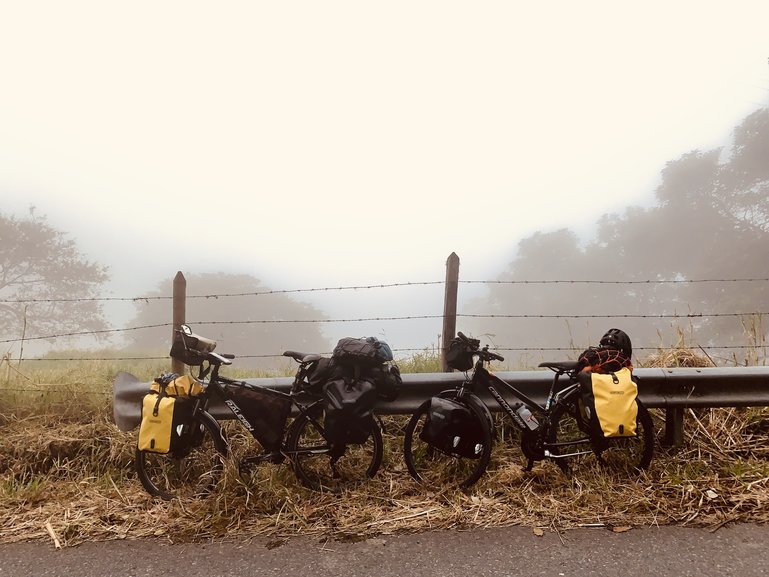 Our bikes pulling us through the foggy mountains of Colombia
After endless backpacking trips across the span of 10 years, I was invited to embark on a different form of traveling. Ebert having cycled from Venezuela to Colombia through out the idea that I should also do a bicycle trip. Having met at a rock climbing spot in the mountains of Colombia we really kicked it off. It wasn't until the following year that I would accept the challenge. After falling ill with an illness and struggling to health for some harsh months, I decided that I wanted to immerse myself on a journey that would force me to live minimally out in nature. I wanted to reach a holistic harmony within myself that I felt could be cultivated through a journey that demanded physical, mental, and spirit strength. Aside from riding my bicycle around Los Angeles where we have bike lanes, i'd never taken a long bike ride. I set off in Colombia with minimal training and this is my list of necessities in setting yourself up for cycle-tourism; a sustainable and empowering form of travel.
1. Choosing a the right BICYCLE is crucial. Depending on whether you will be going through mountainous areas or taking paved roads will make a difference. If you decide to do a little of both like we have you can go with a hybrid. Bike frame and fitting is also very important.
2. Pannier Bags to carry your gear. We went with the Ortlieb bags, 2 in the front and 2 in the back. They are waterproof and the closing flaps keeps everything dry. Even more, we liked that they had straps to easily carry them overarms.
3. Gear!!!! Since you are cycling the weight it is important to choose wisely on what you will carry. Below is a list of necessities to consider.
a. A lightweight tent
b. Lightweight sleeping bags
c. Lightweight sleeping pads for comfort
d. tool kit to fix bike on the road, specifically changing tires.
e. Spare tubes (we took two tubes for each bike and I have had 2 flats)
d. Camping stove The MSR international stove has been amazing. It works with gasoline so its easy to come by)
e. Cooking tools. We had a compact pot that fit 2 bowls, 2 containers, and 2 spoons inside of it.
f. camelback or other water supply source
g. A water filter is great when you are traveling in developing countries
h. waterproof pants and jacket (When it rains it pours and if you are cycling you will want to stay dry)
i. A handlebar bag is great to have because you an store necessities that are easily accessible.
4. How you organize your gear will save you a lot of time. We used 2 back bags for camping gear. Front pannier bags for food and toiletries. The other two bags held our clothes.
5. CLOTHES: At least one Cycling short/pants is a must. Cycling shirts a plus. Definitely long sleeve shirts to protect you from the sun. Comfortable shoes to cycle in. I used my boots and a pair of sneakers, and even cycling in my chocos (sandles) quite a bit. You would be surprised at the minimal clothes that you need, but I would say to plan on having at least 2-3 cycling outfits and then comfortable clothes to change into after a day of cycling.
Traveling by bike will transform the way that you travel. There is nothing like spending more time out in nature than being indoors as much as we have grown accustomed to. A positive outlook is required ready to experience what this world contains for you and within you.
Happy Travels,
HealingCycleTrip