Himachal is always the first preference for me, for unplanned and spontaneous trip from Delhi. After covering most of known and famous places of Himachal, i was now in search of new places to cover in my long weekend breaks. I had heard and read about Bir… but always thought that's for paragliding only. So never thought to explore it. And i could not have been more wrong... Bir has so much more to offer other than paragliding that i ended up staying there for one week instead of my planned 3 days long weekend trip.
A Buddhist town
---
Bir is a place which is called the Buddhist town, so the foremost attractions to visit are the Monasteries. This place should also be known for imparting Knowledge and wisdom. I came to know about a very interesting establishment there; "Deer Park Institute"- located at the heart of Bir and neighbouring to my hostel, Gostops. It is an institution which offers the study of classical Indian wisdom traditions. It is known to carry the traditions and spirits of Nalanda. Much to my surprise, all of the courses and classes are fully booked and next classes were also on waitlist. You can visit the institute and can familiarize yourself with their philosophy, library and their way of living and meditating. It offers full accommodation and all day learning workshops and meditation programs.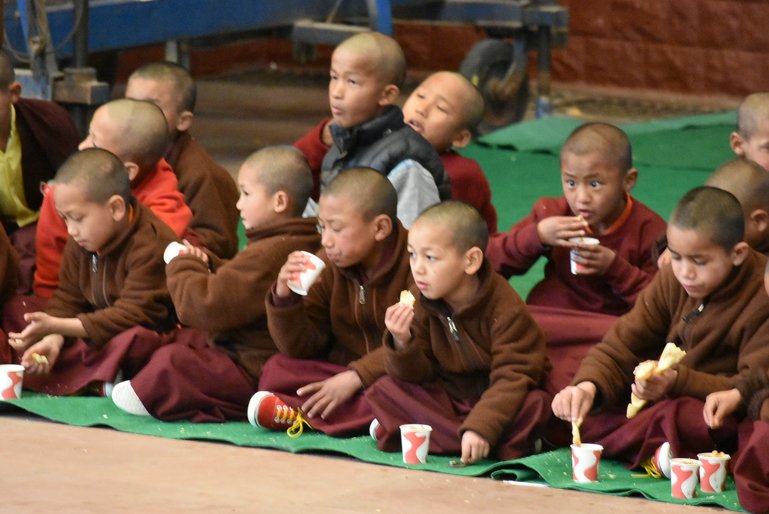 Little Monks having discussion over Tea
But people, don't worry! Bir is not only about the calm experience of Buddhism and Monasteries. It has its own share of excitement and adventure…. Paragliding! !Other than enjoying guided paragliding experience, you can also learn Paragliding here and take part in international championship as well. Lots of pilots have come from other parts of Himachal, Uttarkhand and Nepal to learn and make a career in Paragliding here. I met a Japanese girl who was learning paragliding for two months and was about to fly solo soon.
Food
---
it seems very funny, but one of the key reason for my extending the stay in Bir is food. Yes… good food can make you do things unplanned Near to landing site of paragliding, there are lots of good cafes and eateries. Tibetan food is found everywhere very easily, but i also found very good South Indian food there. Avva Cafe (@avva_cafebir) is owned and run by a very sweet couple of South India who had visited Himachal Pradesh first time in their 50s and then settled there itself. They have opened the cafe, serving authentic South Indian food cooked by them personally. And its not the only place, June'16 cafe (@june16cafe) was also on my daily visit list. To have coffee there with sunset views of landing site was real happiness. A beautiful couple who came to Bir on June, 2016 from Mumbai, but could not leave this place after that.
No place can make an unforgettable place in your heart just by scenic views or adventure activities or things to do there. What we remember is how happy we were at that moment at that place. Bir made me real happy in that short visit of 7 days... yes, it felt very short even in one week. Also, a very special thanks to Gostops hostel (@gostops) and its team there. They made me feel as if i have my own beautiful home amidst the hills and can stay there forever. So guys... if you are planning for paragliding, Go to Bir. But even if you are not thinking about paragliding, definitely go to Bir!