What is "pura vida?" "Pura vida" means "pure life" in Spanish. It is the single most used expression in Costa Rica. It is a response to "Cómo estás?" It means, "life is great." It is a greeting and a goodbye.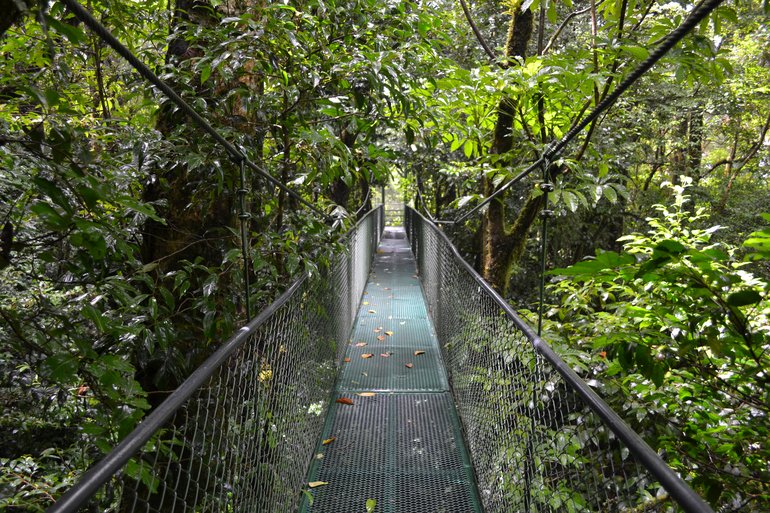 Monteverde, Costa Rica
The origin of the phrase "pura vida" is said to have come from a 1956 Mexican film by the same name. The film starred the famous Mexican comedian, Antonio Espina "Clavillazo," as a luckless man named Meliquiades Ledezma. Despite Ledezma's misadventures in the film, he continues to have an optimistic view and says "pura vida" thirteen times in the film. This optimistic soul struck a cord with the Ticos, as the Costa Ricans affectionately call themselves. By the 1990's, this phrase was so popular in Costa Rica, it was incorporated in dictionaries as a Tico idiom.
"Pura vida" is more than just an expression of the Ticos. "Pura Vida" is their vision. The vision of a people who have been military free since December 1, 1948. On that historic day President José Figueres Ferrer abolished the military after his victory in the civil war by ceremoniously breaking a wall with a mallet. Since that time, while the surrounding countries in Central America have suffered bloody conflict, "pura vida" describes Costa Rica's choice to remain on a different, peaceful path.
Ticos enjoy universal healthcare and live longer than United States citizens. They spend 30% of their national budget on primary and secondary education. As a result Costa Rica currently has a remarkable 95% literacy rate compared to its war torn neighbors. There are more teachers in Costa Rica than there are police officers. This commitment to peace and to the education of its people is "pura vida."
"Pura Vida" is also the people's commitment to preserving the beauty of their land. This small country has a lot to teach us about preserving our planet. Costa Rica is in a race with other nations to be the first country to be 100% carbon neutral. Costa Rica has committed to reach this goal by 2023. Of its competitors in this race, Costa Rica is the poorest, yet Costa Rica seems to be on track to win. In the 1980s Costa Rica's forest cover had dwindled to a mere 13%. Today the forest cover is 54% and growing. No wonder Costa Rica is currently ranked number one on the Happy Planet Index.