Your Visit Begins Here
---
Starting and ending your visit to Costa Rica from the country's busiest arrival and departure point, Juan Santamaría International Airport is about 20 minutes from the heart of the capital city, San José.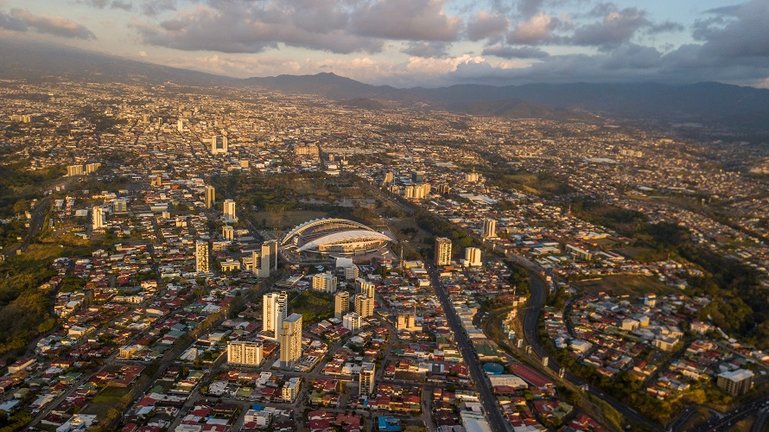 San José, Costa Rica
Do not be in any hurry to leave San José without immersing yourself in its bustling urban landscape for a day or two. Tradition and culture are yours to enjoy at every street corner.
With no less than 20 museums, San José will captivate visitors of all ages with an interest in Costa Rica's rich heritage. Here are just a few popular examples.
National Museum of Costa Rica
---
Although no longer the country's largest museum, it still offers the widest diversity of exhibits. The floor plan for artifact collections has been meticulously detailed to represent a timeline from pre-Columbian history through the colonial and industrial eras, and into the 20th and 21st century. The museum also features a splendid terrace view of the entire city.
Children's Museum of Costa Rica
---
This remarkably transformed former prison facility is now a happy and welcoming place for kids and adults alike to enjoy spending hours. Galleries and hands-on exhibits engage visitors in learning about science, technology, history, literature and culture. There is even a funhouse with an earthquake simulator.
Peace Museum
---
This relatively new museum is run by the Arias Foundation for Peace and Human Progress, showcasing Costa Rica's achievements in promoting social change throughout Central America. It was established in 1992 through the foundation's monetary proceeds from the Nobel Peace Prize awarded five years earlier to Costa Rica's long-time President Oscar Arias.
We also urge you not to miss these San José attractions.
National Theater of Costa Rica
---
Even if your schedule doesn't allow you to take in a performance of live theater, music or dance, the museum and cafe alone are worth the visit to one of Costa Rica's most prominent architectural treasures. The resplendent baroque landmark, inaugurated in 1897, is located next to the Plaza de la Cultura.
San Isidro of Coronado Church
---
Prepare to be awestruck by this neo-Gothic architectural wonder, almost 140 years old. Your jaunt to Coronado, on the outskirts of San José, is one you will not regret for the chance to behold a church that ranks high on the most-beautiful-in-Costa Rica lists.
Nature not far away
---
For a change of pace, your seven-day itinerary must include some nature-infused experiences. Fortunately, these can be found reasonable distances away from San José in different compass point directions. That includes distinctly different options for volcano enthusiasts, both easy day trips about 90 minutes away.
Poás Volcano National Park
About 50 kilometers northwest of the capital is Poás Volcano National Park, housing one of the world's largest geyser craters in a breathtaking cloud forest setting. The view overlooking the crater can still be described as otherworldly, despite drastic landscape transformations caused by a significant volcanic eruption in April 2017. To compare what visitors could view and experience before that event and after the national park was deemed safe to reopen 18 months later.
La Paz Waterfall Gardens
La Paz Waterfall Gardens is a rewarding destination for tourists whose travel schedule is too compressed for sightseeing throughout many regions of the country. It's an ideal day trip from San José, either on its own or in combination with a visit to Poás Volcano National Park. The oft-described magical excursion encompasses five stunning waterfalls, bromeliad and hummingbird gardens and a magnificent wildlife sanctuary incorporating the world's largest butterfly observatory, a serpentarium and a frog pond.
Irazu Volcano
Irazu, Costa Rica's tallest volcano, is 55 kilometers east of San José. Two of the four craters are visible to national park visitors, including the main crater, whose brilliant blue lake started reappearing in 2016 after being dry for several years.
Sanatorio Durán
En route to Irazu, just 18 kilometers southwest of the volcano, is Sanatorio Durán, an abandoned hospital that tourists now find irresistible in being Costa Rica's most haunted building.
Orosi Valley
Because it does not take long to tour the Irazu volcano site, day trips from San José are often combined with an Orosi Valley excursion to Cartago. Highlights include Lankester Botanical Garden and the famous Basilica of Our Lady of the Angels. More than two million travelers from all corners of the country make an annual 22-kilometer pilgrimage to this church on foot every August 2, commemorating Costa Rica's patron saint, the Virgin of los Ángeles.
The quaint town of Orosi is the perfect place to savor fresh mountain air and the aroma of locally grown coffee you can sip at your leisure, perhaps with a view of Irazu volcano in the distance on a clear day.
Other relaxed urban tourism hubs, where visitors appreciate blends of cultural authenticity and modern amenities can be found in Costa Rica's Central Valley, short distances from San José. Three notable examples are Escazú, Atenas and Grecia.
Cangreja
Cangreja is closer than any other national park to the Central Valley, just a short drive from San José. Extensive, well-kept trails cover everything from a hike to the 1,300 meter summit of La Cangreja itself, to walks along the Río Negro with natural swimming holes and waterfalls.
Sarapiquí Canton
Although less well known than many of Costa Rica's national parks, Heredia's Sarapiquí canton has become an increasingly popular day trip or weekend excursion for visitors or locals in the Central Valley. Bordered by Nicaragua in the north, it appeals to families and thrill seekers alike, including whitewater rafters, and all manner of nature lovers.
Turrialba
Also in the Central Valley just over an hour's drive east of San José is the small town of Turrialba. Besides being a favorite spot for white water rafting adventures on the Pacuare and Reventazón Rivers, it's ideally located for visiting the nearby Turrialba Volcano National Park.
Caribbean Dreamscapes
---
Heading east from San José leads to Costa Rica's Caribbean coast, from Tortuguero National Park in the north, to Cahuita and Puerto Viejo in the south towards the Panama border. Lush tropical wonderlands delight you at every turn, from rainforest adventures to surfing and snorkeling in places unlike anything in your wildest dreams.
Tortuguero
Tortuguero, named for the turtle nesting ground lining its 22-mile long stretch of protected beaches is one of the country's most popular national parks, but can only be reached by airplane or boat. The park site encompasses 11 different coastal habitats, including rainforest, mangroves, swamps and lagoons.
Cahuita National Park
Cahuita National Park offers the most glorious and leisurely kind of walk on the wild side you will ever experience in a jungle by the sea.
Cahuita and Puerto Viejo are not only known for their idyllic natural landscapes, but as the jewels of the Caribe "hammock" culture, with a Calypso soundtrack. Afro-Caribbean influences have shaped traditions around food, language and customs as well as song and dance.
Central Pacific palette
---
San José's central, landlocked location in Costa Rica makes for short trips to Central Pacific hotspots as well. That includes the booming beachtown of Jacó, having undergone an image makeover from surf and party playground to an artistic, fun and family-friendly community with burgeoning civic pride.
With your trek from San José to Jacó taking only about 90 minutes, allow yourself time to stop at Carara National Park en route to the beach destination. You'll know you're close to the park when you cross the famous Tarcoles crocodile bridge. A riverboat trip will give you a much closer and more personal encounter with likely the largest and greatest number of these creatures you could possibly imagine.
Driving about 75 minutes south from Jacó, and still less than 2.5 hours west of San José, brings you to the small but busy port town of Quepos. Besides being a popular sport fishing spot, Quepos is known for being the gateway to Manuel Antonio National Park. Not only is Manuel Antonio one of the easiest park sites in the country to access, it's the crown jewel for visitors wanting to capture as much diversity of landscape and wildlife interactions in the same place in the same short space of time.