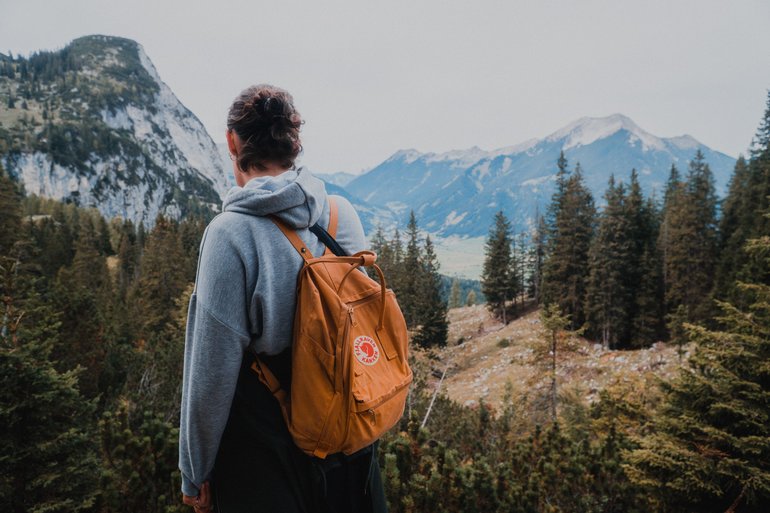 A little squared backpack with a round logo featuring a fox. It seems it claimed the whole generation of everyday commuters and aesthetic-driven travellers. Truth to be said, I got one for myself too and I instantly became a huge fan of Kånken. With its simplistic design and a perfect size for a short person like me, it was the best option for everyday use.
Even though you can see it everywhere, I think it's not only one season hype. It's squared shape helps to fit a decent amount of clothes and other travel essentials. I use it every day for the past couple of months and tested it in different situations. Now I'm ready to tell you more about my experience. It was with me on a motorbike adventure, a few weekend getaways and the aeroplane. I also used it as an ordinary accessory to carry my stuff around – think work, shopping, city breaks etc.
I'm not a big fan of handbags, as after longer use I can feel how it affect my back, with having heavier load only on one side. It felt like a backpack is a way to go. However, all the backpacks I have seen before, are either very sporty or very elegant. Kånken is a great option for those who want to be in the middle. There quite a few size options and ways to upgrade it with padded shoulder straps, packing cubes, etc.
Kånken – pick your own. You have a choice.
---
Kånken comes in a variety of sizes, but I got a standard, black version of it. I wish I went for one with a special compartment for a laptop. It's easier to slide it out for airport security check, rather than take it out from the inside. It's still quite easy to take it out without messing up everything else. For me, it can fit up to week's worth of clothes, toiletries and a laptop with chargers for all my devices. Mind that I like to travel "boring" without having much outfit options. Upside? You actually focus more on what you see, rather than how others see you. It was a big change for me on my way to grow as a traveller. If you travel for longer, simply wash your clothes on the go. I usually keep the jacket or a hoodie rolled up on top of the backpack. To do that, I use top handles to attach it to the backpack when there's no space left inside. It's good to have a carabiner on top of the handles for more safety in case the snap closure opens unexpectedly.
Minimalist design is a blank canvas to customise with pins, badges or other trinkets! I plan to start a collection of pins, and so far got only one. But I will be looking out for more cool accessories on next adventures.
What also makes Kånken unique is the fabric it is made of. It's called Vinylon F. It is waterproof, waxed sustainable material which lasts for long. You just need to care for it a bit. A little downside, to retain its features you cannot wash it in a machine. It's best to just wipe it with a wet sponge or a cloth. Work like a dream if it's a bit dusty or covered in dirt. Also, it will look better with time. Weathered corners or 'patina' layer is just a sign of adventures it's been on!
My tips for packing like a minimalist:
---
Clothes are your uniform
With limited choice comes a lot of freedom. If you don't have to think about matching (like I was nearly programmed to before). You can just throw a set on your back and go exploring! The memories will not be based on how unique your outfit was. It's my favourite kind of boring.
Pick your staples, multiply.
Black t-shirt and jeans? Steve Jobs, Mark Zuckerberg had an idea of wearing the same set every day. It just takes away the thinking about such a meaningless thing. Unless you're really into fashion. People don't care if they see you wearing the same things every day. Mind they need to be clean! Buying 3 exact same t-shirts bothered me a bit at first. But when I came back from the trip I couldn't go back to wearing a different outfit every day.
Multi-way, all-the-way
There are a few pieces of clothing I take with me regardless of destination. They are so versatile! This includes:
black leggings – if you exercise while you travel, want to layer up, want to be comfortable in the plane or hiking.
a scarf – you can tie it around your neck in a few different ways. Use it on your head. If it's big enough, you can put it around your arms to be a bit warmer! A bit of colour to brighten up your day.
long sleeve, breathable top – great to be a top or bottom layer. You can wear it under a t-shirt or under a jacket. It was a blessing when I was wearing a leather jacket on a bike in the middle of hot summer. It's easy to wash and quick to dry.
weaved belt – you decide where the hole is. The weaved belt is a great option to accommodate a different kind of outfits. You can wear it both on your hips and on your waist.