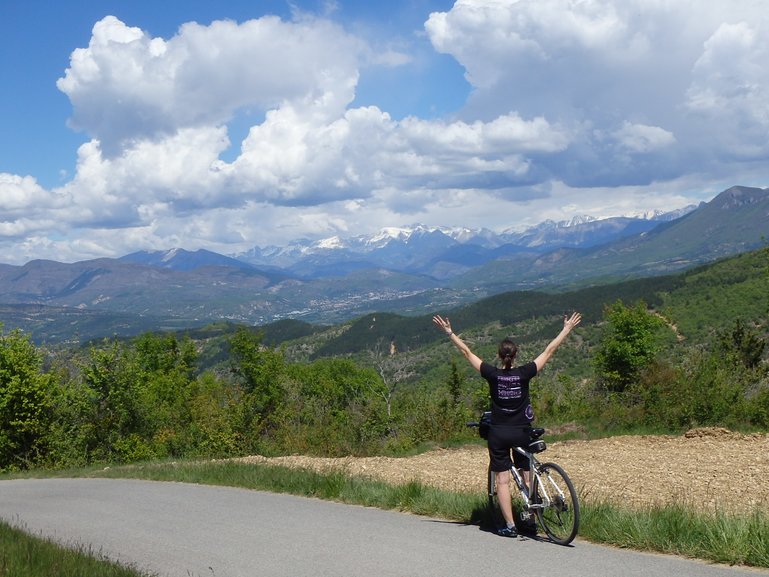 Cycling Provence
What's been your determining factor in selecting a place for a vacation? Do you have a goal like me to take one big trip each year? …to unplug and step away from the routine of our lives. I carry around a list on a piece of worn scrap paper, tucked deep in my purse, secured by a small zippered pocket. The list is my top-10, must-see destinations across the world. Periodically, I take it out and review how I am doing. It's like a self-imposed test to see if I've made progress on completing my quest. But, how do you narrow it in? And, choose just one place? Where will your wanderlust take you next?
This story describes one method of selection. My perennial travel cohort, Theresa and I made a pact to let fate and the universe decide 2014's big trip. We discussed how we would leave the next destination to chance and shook hands to cement the idea. We swore to follow the choice no matter how random.
Using a cycling tour catalog as our instrument of fate, full of global itineraries and intoxicating photographs, we concocted a simple method that would take the choice out of our hands. With Theresa as the witness, I extended my arms holding the catalog at waist height. Then, I let it fall from my hands, thump the floor, before it wildly flopped open to a page spread.
We bent and nervously peered down to focus on the pages and the contents. We pulled the page closer to reveal a section header proudly displaying the word, EUROPE, in all caps. EUROPE was surrounded by flowing fields of lavender, with exotic rock outcroppings in the distance. Confusion set in, we scrunched our brows in frustration. "How can we go to Europe?" we exclaimed. We can't book a flight from Grand Rapids to Europe!
We wanted more direction and were determined not to make this decision on our own accord. The plan of randomness had been foiled. We sighed, but looked closer as if looking for clues. Scanning the page, a subtle message was tucked in the corner – muted white letters formed a sentence. We leaned in to read our clue. A tiny, 6-point font, whispered to us from the upper left corner. It instructed, see page 48.
As if the catalog held a vacation time-bomb tucked in the spine, we slowly and nervously turned to page 48. As we did, we nodded in acknowledgement that the number was not without significance. The birthday (Theresa's) we had vowed to celebrate is represented by the same number of years. Finally, we were getting the signs we needed and the travel universe was listening. Hope began to float up from the open pages.
We arrived and the pages floated down to flat. The photos and text came into sharp focus, we read the heading and recognized the surroundings. The page proudly announced: Biking in Provence. We grinned broadly. Two smiling bikers gaze back at us, set in one frame against an aquamarine lake, then amongst idyllic rows of violet lavender in another. Our eyes devoured the image of a stone farmhouse and patio table set for dinner with wine glasses. We smiled back at a couple in bike jerseys, who sit on the edge of a patio pool, dipping their toes. With the understanding that Provence in southern France is to be our selected destination, we looked up, locked eyes and began to nod. "Très bien, sounds good to me," I offered. "Let's do it," piped Theresa. "Sweet, done deal!" we exclaimed. We high-fived to confirm the choice.
In less than a year from the catalog-flop methodology performed initially by just two – five girlfriends have been gathering, planning and prepping for a cycling tour in southern France that would take us through Provence, the Côte D'Azur and to the Mediterranean Coast. Of note, only two of our five are seasoned cyclists and parts of Provence, surely are not labeled as particularly flat. The allures of Provencal wine and cuisine outweighed the 25-40 miles of pedaling the tour described….per day. Certainly, a couple of stationary bike rides at the gym would have our legs and lungs prepped for pedaling in Provence. Money was deposited, rental bikes reserved and gear purchased in preparation of a vacation where we would earn our dinner, wine and cheese.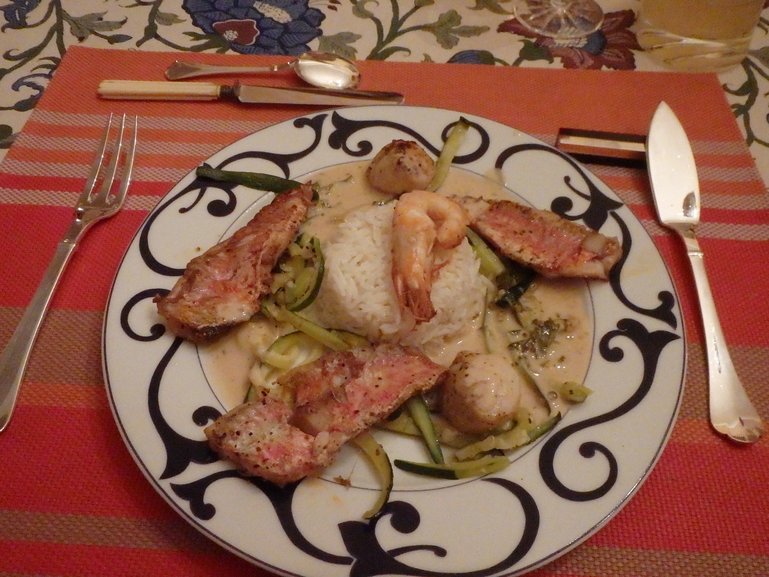 Cooking class success