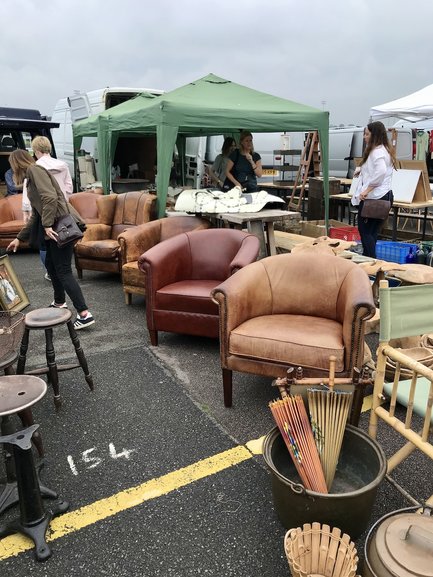 Each holiday I feel like I'm subconsciously keeping my fingers crossed that I will have a few hours to forget myself in a magical world of flea markets. Browsing through curiosities, looking on my reflection in golden-framed, crumbling mirrors and appreciating the craftsmanship of furniture is my ideal plan for a Saturday morning – even if it means I am sneaking out of bed on my own. This works wonders for my creative self, to be able to see a healthy variety of both art and junk and furnish my imaginary home. It makes me think about the history of a particular item, what it was used for and how it ended up here, on a table, waiting for someone else to buy it.
Every market has its own special character, either by the size or places it is taking place. Vendors always have some special stories to tell, as often they travel abroad to source their unique stock from countries like Belgium, Netherlands, Germany and Sweden. Sometimes, you can even find some post-Soviet memorabilia or stoneware which will make even your grandmother feel nostalgic.
Below you can see some of my favorite destinations around Europe.
Piazza Lorenzo Ghiberti Market (Florence, Italy)
---
Where?
Piazza Lorenzo Ghiberti, Florence, Italy
When?
Last Sunday of the month for a big market in the district
07:00 – 14:00 Monday-Saturday (Smaller Market)
We ended up finding this market on the last Saturday of October when we were visiting Florence. A variety of items, both new and old, we couldn't leave empty-handed. We got pink lensed aviators, a vintage wooly jumper and a yellow locket. If you both like discovering new ways to spend time together, vintage markets are on the very top of my favorite activities. A market in Florence allowed us to feel closer to a natural city flow. If you have seen Duomo and Ponte Vecchio a dozen times, this is a great option for an instant overdose of cool things to look at.
Portobello Road Market (London, UK)
---
Where?
Portobello Road, W11 3DJ, London, UK
When?
09:00 – 18:00 Monday To Wednesday
09:00 – 13:00 Thursday
09:00 – 19:00 Friday (Antique stalls)
09:00 – 19:00 Saturday (Main day)
Closed on Sunday
London's most famous destination for antiques – located in Notting Hill. You can see rainbow-colored houses there as well as unique finds from all around the world. Prices tend to be quite high, but you can grab some bargain vintage posters. A lot of opportunities to make great pictures for the gram, and just a really nice place to hang out in. I tend to come here every two months or so. I think it's a must-see when you're coming to London. That's one of the first places I took my Mom to when she visited me here. A great thing to note, there is a whole quarter dedicated to street food if you get hungry during your flea-market hunts.
Bazar Na Kole (Warsaw, Poland)
---
Where?
ul. Obozowa 99, Warszawa
When?
Every day 08:00-18:00
My homeland ground zero, where I first discovered the fun of going to flea markets, just to look at things and get something on occasion. I remember one of the first things I got there was a miniature figurine of a cow. It was very realistic and was maybe 1 inch long, made out of bronze. Why have I picked a cow? I have no clue. I probably just really liked it. It was also one of the last places I went to before moving away from Poland, I went there with my dog, my mom, and her partner and we had a great time. Bargaining is highly recommended, usually, sellers wind up the price to leave more room for negotiation and make you leave feeling that you got a good deal.
Sunbury Antiques Market (Sunbury-on-Thames, UK)
---
Where?
Sandown Park Racecourse, KT10 9AJ, Sunbury-on-Thames, UK
When?
Every Second and Last Tuesday of each month (except December)
Just an hour away from Central London, Sunbury is a real deal for anyone who loves to have a great selection of different furniture, cookware, marquee signs or suitcases. Anything you might dream of, I am sure you will find it there. The event is hosted every second and fourth Tuesday of the month, always with free admission and free parking. There are indoor and outdoor zones around the Racecourse which provides enough space for all unique vendors. You can get the sense of style from each seller because very often they focus on a particular type of antique they collect and resell.
Braderie de Lille (Lille, France)
---
Where?
Lille, France see map
When?
The first weekend of September
8:00 – 18:00 Saturday and Sunday
One of the most impressive flea markets which I got to see. It is an annual event held in Lille, France. Happening around the end of the school holidays, it takes place on the first weekend of September. It's hard to say where exactly it happens because you can see whole streets filled with the most unique curiosities from all around the World. If you plan ahead, you can get there on a Eurostar train from London to Paris – it is the only stop on the way! Otherwise, if you get there via car, you have to leave it far from the city center, because the streets are closed to cars and patrolled by the police.
My treasured Aviakit leather jacket, Festival of Vintage, York.
Festival of Vintage (York, UK)
---
Where?
York Racecourse
When?
Once a year in April – hit up their website for the exact date.
Are Fifties back? You might feel like you came back in time in York. The festival is focused around 1930s all the way to the 60s. Live music, a vast selection of clothes from decades ago. On top of that you can join the Dance Craze and try your skills with others! What I really liked about this festival, was the authenticity of people who came there – you could see they love that era. Clothes, make-up, the way they move and speak. For many, those were times they were young and lived in! There will be many cars and motorbikes from the era and pin-up girls walking around to keep the vibe.
On my Vintage Market Bucket list...
---
Midnightbazar (Munich, Germany)
Where?
Multiple locations in Munich – check their Facebook page for announcements.
When?
Every other Saturday – check their Facebook page for details.
Vintage clothes, live music and great bargains available – if that sounds like a more interesting idea than a bar tour on a Saturday night, Midnightbazar is a perfect choice. The entrance is €3. Bazar happens in different locations around Munich every other Saturday and starts at 5 pm, so you can enjoy a lazy morning in bed and not miss out on the best grabs available here. To check availability, go to their website or Facebook. A great time guaranteed.
IJ-hallen (Amsterdam, Netherlands)
Where?
T.T. Neveritaweg 1, Amsterdam
When?
The market happens once a month – agenda available here
IJ-hallen in Amsterdam claims to be the biggest flea market in Europe. You can find anything you might need (or not need at all), from furniture, through to home decor and vintage clothing. The scale of the market makes it worth to plan a dedicated trip to see it and explore it to the fullest. The entry fee is €5 and might be one of the greatest deals in your life. The Netherlands is famous for great antiques, with many professional sellers coming to get their stock for shops in other parts of Europe.