The emails and texts began dinging on my phone and Josh's:
Are you still going to London and Paris after what happened?
Any safety concerns while you are there?
We will be thinking and praying for you both.
You must be worried to travel just after the Paris terror attacks.
We left for London one week after 130 were killed in Paris by ISIS. Our itinerary included London, Paris, public transportation, Emirates soccer stadium then on to Versailles just south of the French capital. On our departure and during our stay, at least one terrorist was still at large in Paris or near the Belgium border. Turkey shot down a Russian warplane on the Syrian border. The city of Brussels was shut down on high alert Sunday-Tuesday with no transportation running and military police checkpoints. And, the US State Department issued an official travel warning for Americans heading to Europe to be on your guard, the threat of another attack is very possible.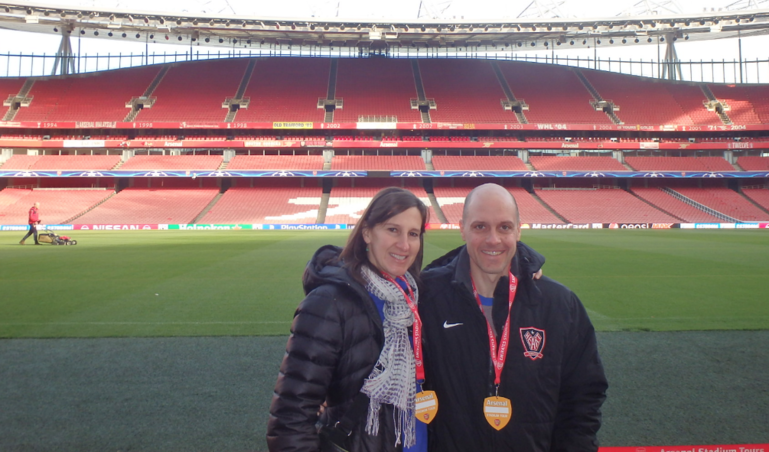 Arsenal stadium tour in north London
With all that looming, we never wavered in our plans….of course we were going. Friends and family worried enough for us. There are always risks when traveling…. just as risky is waking up in my home (I could fall down my stairs) then drive to work and get t-boned by a texting driver. Statistics show we are more likely to get in a car accident in the U.S. or caught in a mass shooting (too many guns in the wrong hands in the U.S.) than sniped by a terrorist abroad. Plus, not overtly cautious by nature, we choose not to live in fear or incessantly worry about what might happen. So, with terror threats and warnings we pressed on, flew across the big pond and stuck to our planned itinerary.
Plenty of other tourists had our same idea, evidenced by the hordes in the London Tube, on the Tower Bridge and by the 50,000 fans in the stands at the Arsenal Football Club soccer match. Lots of people (including Josh and I) were both wishing for Peace for Paris and continuing on with daily plans in defiance of fear, extremism and hatred.
The catalyst to plan the trip was to check off a bucket list item for Josh, to see his favorite team, Arsenal Football Club. As a raving fan (a Gooner) for over ten years he had never seen them play a live match, relegated to TV highlights and occasional matches on cable. With a touch of travel nudging paired with the Thanksgiving holiday and extra travel days, dreams do come true! The Tuesday fixture featured Arsenal vs. Dinamo Zagreb in Champions League play. A 3-nil victory for the Gunners at Emirates Stadium, just six rows up from the pitch put the proverbial icing on the bucket list cake.
For those planning a trip abroad or internationally, there are resources and websites to consult on the danger and risks in various regions or countries. http://travel.state.gov/content/passports/en/alertswarnings.html