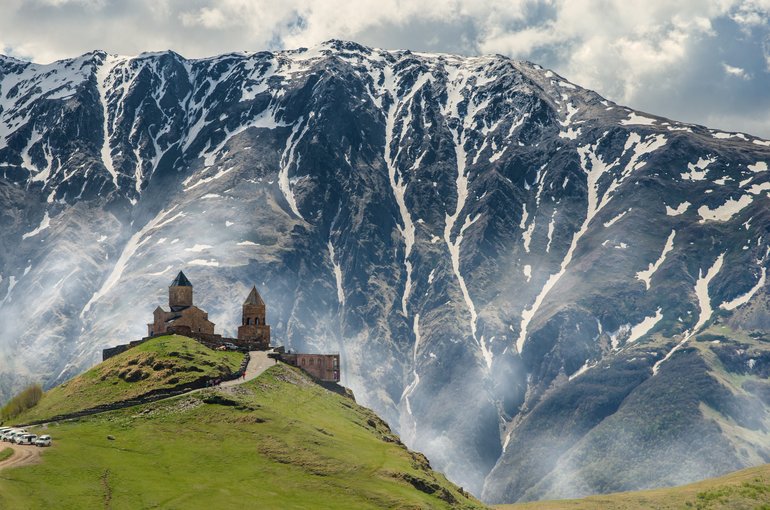 A post-Soviet republic neighbouring with Russia, Turkey, Armenia and Azerbaijan, with a coastline on the Black Sea. Its unique culture, local cuisine, varied topography and affordable prices make it a perfect bucket list destination. Georgia. What is so special about it?
Georgia on my bucket list, why?
---
There seems to be plenty of activities for everyone, those who love cities and the countryside. There is a special vibe to the urban areas in Georgia – which are a mix of modern buildings and Soviet artefacts; Georgians also have their own alphabet, language and currency. They are very warm, welcoming people interested in your story and happy to share their meal with you.
There is a lot of influence from other countries, mostly from the US. You can see it on the streets, with the American police patrol cars monitoring the city – it does make you feel like you're in the other country. The US has provided immense political, military, financial and humanitarian assistance to Georgia. As a result, many young people in Georgia were able to learn English in school, instead of Russian which is a great move for further growth of tourism in the country.
There's plenty of amazing beaches, forests, wonderful modern architecture and remote villages up in the mountains. It can offer you all that and much more, with its friendly citizens priding themselves through their culture in all aspects.
Tourism in Georgia is quite an important factor supporting the economy, but it is dominated by visitors from Russia. With 2.7 million tourists coming there every year, more than half are Russian. That can be challenging at times, starting with asking for directions or reading a menu, but service in restaurants is usually very friendly and the people speak at least a little bit of English. Russian is more popular among older people.
Transport in Georgia is provided in many different ways, including rail, ferry, air and the roads. In recent years, there was a big focus on improving the quality and reliability of public transport, but also quality of roads. You can get to Georgia by flying to one of six international airports. They are located in Tbilisi ( the capital), Kutaisi, Batumi, Mestia, Mtshketa and newly opened Ambrolauri.
What is there to see in Georgia?
---
Not only beautiful mountains, green forests, lakes and incredible seaside – if that doesn't sound like enough! Georgia is an amazing country to stretch your Pound or Dollar further with exploring horse rides, off-road motorbike and car rides, staying in a top hotel with a sea view, and it'll be more affordable than you might think.
As the region is still developing there is a lot of opportunity to invest in real estate, and prices are amazing.
See the gallery of my favourite places in Georgia. This gallery features
Tbilisi – the capital of Georgia.
Kutaisi – famous for Motsameta Monastery located on a hillside.
Batumi – seaside entertainment city with a long promenade.
Borjomi – resort town with natural, healing spring waters.
Ushguli – Unesco World Heritage site, highest inhabited villages in Europe.
There are many ways to explore Georgia, if you would like to have the experience of driving a 4×4, I found this Caucasus Enduro to offer the best rates for a Jeep rental (around $40/$50 per day).
If you are a motorbike fan, I think Georgia will be a very challenging and rewarding destination – especially if you travel in a pack, with other enthusiasts of two-wheel adventures. Check Silkroad Adventures itineraries.
Food in Georgia
---
This is one of the biggest highlights and surprises in Georgia. Variety and flavours in a Georgian cuisine is definitely a hit, and something unlike any other place in the world. There is a lot of choice of vegetable stews with meat, carefully shaped dumplings, homemade cheeses and other seasonal specialities. A unique kind of flatbread you can get directly from the bakery, is sold through a tiny window and costs pennies – its a true pleasure to be handed a fresh, still warm bread you can have on its own – it is quite flavoursome even without any spread.
My must-try list of Georgian food
Khinkali – traditional dumplings filled with meat and soup
Chakapuli – herbed lamb stew with green plums
Churchkhela – walnut candy, walnuts covered in dried grape pudding
Khachapuri – cheese bread, sometimes served with baked egg and shaped like a boat.
Georgian wine – very delicious and go very well with local dishes
Summary
---
If you like to forget yourself in the unknown – have an open mind and heart to observe, and be a part of the unique culture of this country, you will feel very welcomed by Georgians. They are very committed to protecting their heritage and culture and they love to celebrate it. I am sure you will meet a lot of friendly people on your adventure here and get to try delicious food and wine as well. The popularity of this place is growing slowly, which soon might affect the way you travel and discover – so if you would like to experience raw Georgia, don't wait any longer to go there.