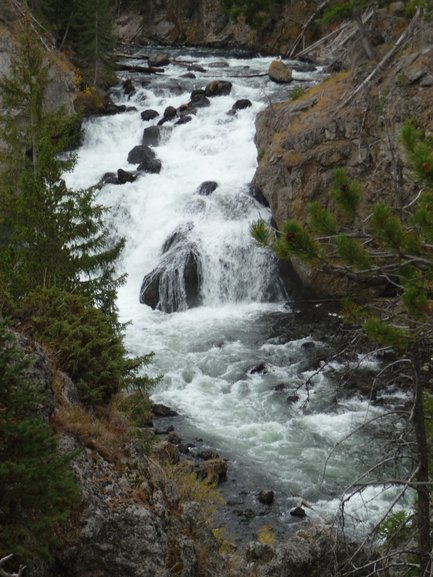 Gardiner is a 7 hour drive from where we live in northern UT, and Gardiner quickly became our preferred choice for lodging when vising Yellowstone National Park because it was next door to Mammoth Hot Springs. Although Gardiner is the second smallest of the four towns that provide most of the lodging for visitors to Yellowstone, it was our favorite because it was the only outside the park lodging location with easy access-- a five minute drive-- to a major park feature, and that includes most of the lodges inside the park.
For dinner, our first visit was to Cowboy's Lodge and Grill and that was good enough. Cowboy's is where we always ate dinner-- the highest recommendation for the chicken fried steak.
Our first stay in Gardiner was at the very nice Yellowstone Absaroka Lodge whose rooms have attractive views over the river. Our next three stays were at the new Comfort Inn, with slightly nicer rooms but no view, and a better breakfast. Today, I would go back to the Absaroka Lodge for their lower rates, better view, and because Comfort Inns mistreats loyal customers. Comfort Inns are one of the chains of the vast Choice Hotel company. Some day I might write a tip explaining why, after 30 years of often going out of our way to stay at a Choice Hotel, we now go out of way to avoid Choice Hotels.
The crowds are another reason to consider staying on the north side of Yellowstone. To the extent that there is a less crowded part of Yellowstone, it is along the road (US Rt 212) from the North Entrance at Gardiner to the north east entrance at Cooke City, by far the smallest gateway to Yellowstone National Park.
We stopped staying at Gardiner when the Mammoth Hot Spring shut down. Cody, WY is now our preferred place to stay when visiting Yellowstone National Park, and other tips will explain this.