The second part of our Yellowstone adventure was exploring West Yellowstone, but first, we had to get there. Our trip from Gardiner, Montana to West Yellowstone, Montana was 1.5 hours longer than it could have been. With our truck and trailer at 57 feet long, we decided that we didn't want to risk driving through Yellowstone with its windy roads. Also, there is so much more traffic and visitors in the summer months and we expected to run into problems. The additional time, however, didn't bother us as the stunning views made up for it.
Yellowstone Holiday RV Campground
---
We stayed at the Yellowstone Holiday RV Campground & Marina so we could explore West Yellowstone. We paid around $53 per night for a 30-amp site with our Good Sam discount. It's open from May to September and is right on Hebgen Lake and is great for swimming. It has nice picnic areas, laundry, a store with huckleberry ice cream, restrooms, and big lots. And if you don't have an RV you can stay in a cabin right on the water. The campground is also a marina that offers boat rentals and you can fish off the docks. Other than the campground being on a lake, the best part is it's only 15 minutes from the town of West Yellowstone.
West Yellowstone
---
West Yellowstone, Montana is a small town of about 1,300 people. Full of adventure, this town has shopping, tons of restaurants, and so many things to do while taking in the beautiful views. There are lots of different tour companies, offering you the best Yellowstone National Park has to offer. For food options, we found an amazing Mexican food truck called Taqueria Malverde. The owners are based out of Pocatello, Idaho and make the drive every summer to feed the tourists. Their food was so delicious that we went back twice which energized us for more exploring West Yellowstone.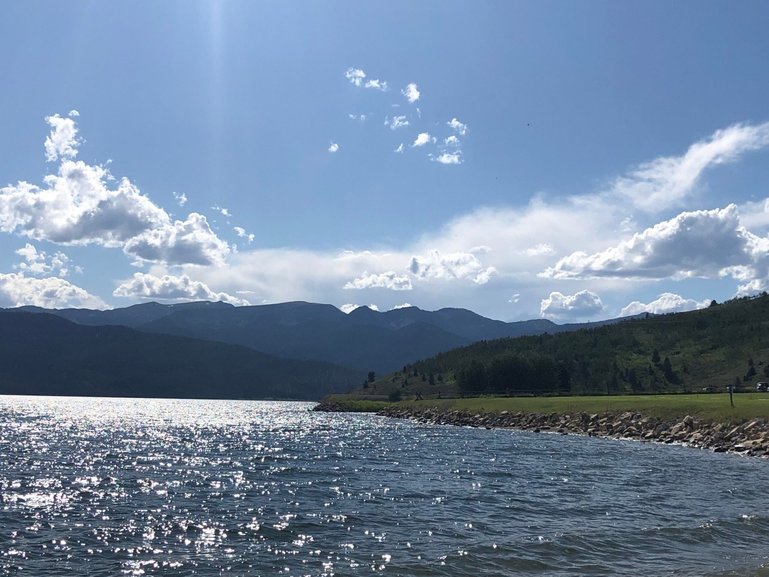 Grizzly & Wolf Discovery Center
---
We headed to the Grizzly & Wolf Discovery Center and spent a morning seeing presentations and visiting the animals. $15 for adults and $10 for kids is a good price because there is so much to see and do there. And since the bears don't hibernate, it's open 365 days a year. All of the animals at this wildlife discovery center are rescued and many can no longer live in the wild. There are bears, wolves, birds of prey, and other smaller animals.
Bears…
The rescued bears were either nuisance bears or orphans of nuisance bears from all over America, including Alaska. The bears were acquiring food from people, damaging property, or maybe being aggressive towards people. They were removed from nature and live full lives at the Discovery Center. They have large, comfortable outdoor habitats with ponds and lots of natural features to make them feel more at home. Kids can even hide food in the bear habitats, with a ranger's assistance, of course.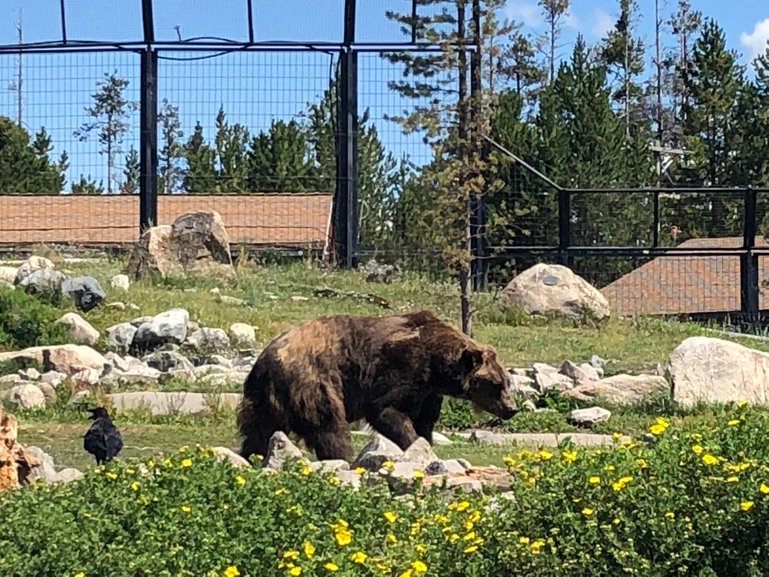 Wolves…
The wolves were all born in captivity and would not be able to survive in the wild. There are seven wolves in all, split into three different packs. They have very nice, natural habitats with trees, a waterfall, and ponds full of trout! The park staff also takes the time to hide food from them or adding different scents to certain areas to stimulate the wolves' senses. The wolves at the Discovery Center show us the wolves' lives that we usually don't see as they're in the wild.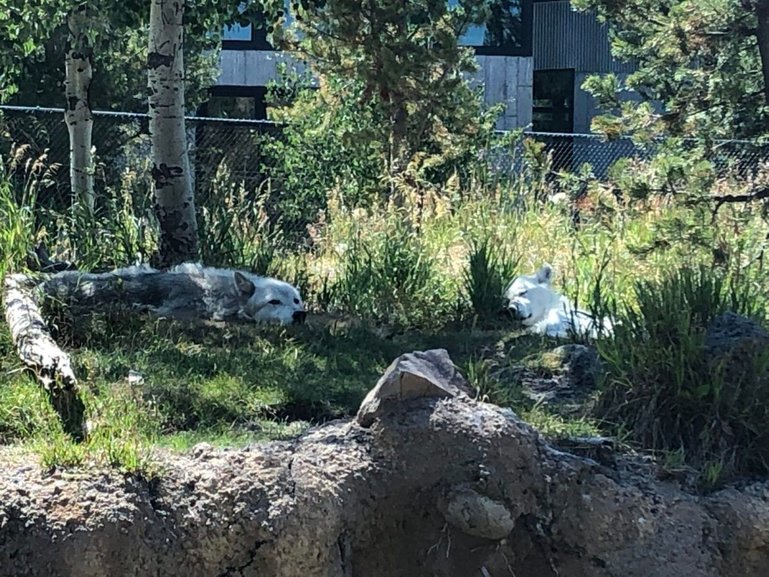 And Birds of Prey, Oh My!
The Discovery Center has many birds of prey, also known as raptors. Some of these birds were injured and can either no longer fly. Some will be unable to survive in the wild due to an injury. Many of the birds participate in training programs for the public to give a greater awareness of how they live and what capabilities they have when they are in the wild. Overall, the discovery center was a good find and we really enjoyed it. We will definitely go back to see how the bears and wolves have changed or to do some different programs.
Yellowstone: West Entrance
---
The west entrance to Yellowstone National Park is near West Yellowstone, so we had only a short drive to see the beauty. Entry fees are $35 per car for a seven-day period. We highly recommend getting an annual pass which you can get HERE or at the park. After a quick stop at the visitor's center for maps, we headed straight for the Old Faithful Inn area to explore the Upper Geyser Basin Trails. Yellowstone has almost 60% of the world's geysers, with most of them located in the Upper Geyser Basin.
Upper Geyser Basin
The Upper Geyser Basin alone includes Old Faithful and over 150 other geysers to view. While there are over 500 geysers in the whole park, the park staff can only predict the eruption times of six geysers. And others just erupt whenever they feel like it… surprising you as you walk by. There are 4.5 miles of boardwalks and paths that take you around the geothermal wonders in the Upper Geyser Basin. The smells, sounds, and colors of the different springs, geysers, mud pots, and pools were amazing.
We followed the Upper Geyser Basin walk up with the Old Faithful Geyser eruption… you can check out the predicted eruption times on the Yellowstone App, at the Old Faithful Lodge or the visitor's center. It's awe-inspiring no matter how many times you see it. It's no wonder that Old Faithful was the inspiration, and most well-known feature, of the establishment of Yellowstone National Park.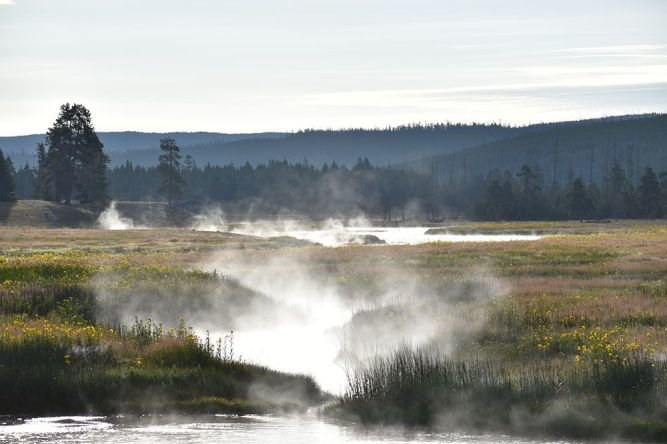 Grand Prismatic
We headed out early on our last day of exploring West Yellowstone so we could visit the Grand Prismatic Spring, the most photographed spot in Yellowstone. This is Yellowstone's largest spring and truly is grand and quite colorful. There are a couple of different ways to see this spring. There is a boardwalk that goes around the spring and an overlook trail so you can view the spring from above. Just be aware that if you go too late in the day, you may not be able to find any parking as the lot is on the smaller side.
The overlook trail is located just down the road from the spring and is part of the Fairy Falls Trailhead. The trail is a gravel path that gradually climbs up just a bit over a half-mile to the overlook. The platform overlooks the Grand Prismatic Spring and the Midway Geyser Basin. The view of the spring from above is full of color and steam and completely different from seeing it up close. It was well worth the hike and we finally saw wildlife! Many deer, a mother quail, and her 4 chicks and other small rodents were checking out the people hiking.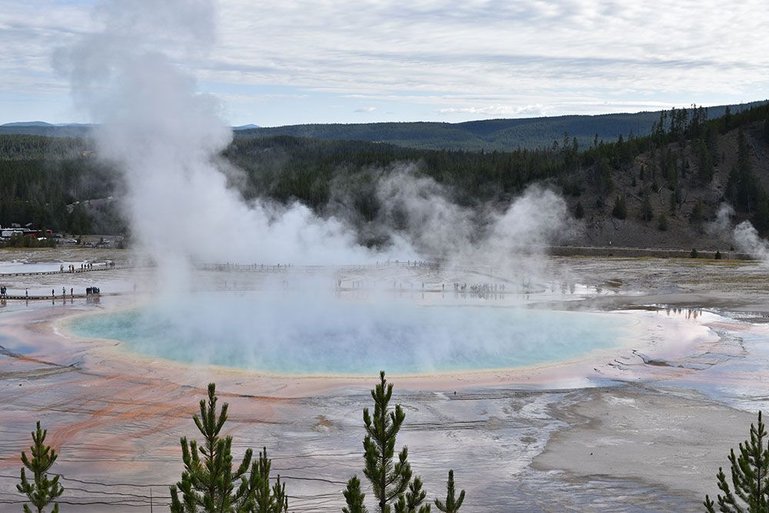 So Long…
---
Our time exploring West Yellowstone National Park has come to an end. We learned some lessons about timing, spotted lively animals, and saw some amazing geothermal features. We look forward to coming back in the future to see how it's changed.