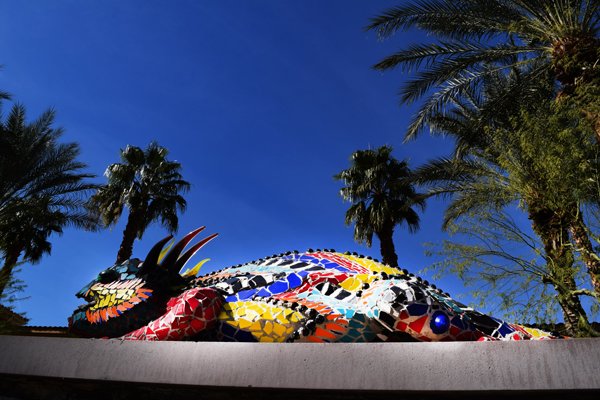 Near Shadow Ridge Golf Club - Palm Springs area
Are you looking for a weekend getaway destination? When you hear the words 'Desert Oasis' what comes to mind? The first thing that comes to my mind is Palm Springs in California. The quaint, quiet little desert town nestled in the middle of the Sonoran desert. It's a place known for its hot springs, golf courses, and spas. Many Hollywood stars also made it their getaway place and built additional homes in a particular area east of Palm Canyon Drive, calling it "The Movie Colony."
The Palm Springs area has been the filming location for numerous films and TV shows but this is not the reason of which it draws my sweetheart and I to frequently visit. We love the tranquility, the peaceful mood, and the enjoyable hiking trails. We've been lucky enough to live only a short distance from the beautiful desert oasis making it a perfect road trip getaway with usually only a 2 and half hour drive one way. Here are some fabulous ideas on how you can fill your weekend days when you visit the Palm Springs area!
Ideas on Things To Do On A Weekend Getaway To Palm Springs:
Hiking
---
Art Smith Trail: This hiking trail will leave you with feelings of wow and awe as it is rated as difficult and the complete trail distance is 12.2 miles and is 2641 feet high.However, the first couple miles are a gradual climb and mostly easy trail paths. We hiked about 2 miles the day we explored this trail and enjoyed the quiet, serene landscape, and the scenic views overlooking Palm Springs area.
Golf
---
The Shadow Ridge Golf Club formerly was associated with former PGA Golf Pro Nick Faldo, and is the home of Marriott villas and resort club. A great place to spend a few hours or the afternoon hitting balls and working on your short game. The cost to use the practice facility is about $25 for the entire day. We've enjoyed using the golf practice facility and also stayed in one of the villas and thought they were quite exceptional.
La Quinta Resort & Club
---
You might also enjoy a round of golf at the Greg Norman Course at PGA West with a fair design yet can be challenging. My husband spent the day playing a round here and enjoyed seeing the beautiful layout and visually pleasing wildflowers, lakes, and panoramic views.
Relax
---
La Quinta Resort and Spa: The grounds at La Quinta Spa are just as enticing as the services! The relaxing patio and lounge area used for those who are awaiting their treatment, or the adult swimming pool area to take a dip and cool down on a steamy afternoon.
Art Galleries in Nature
---
Faye Sarkowsky Sculpture Garden. This beautiful garden is full of scenic colorful settings together with sculpture art displays. With an easy lighted pathway that leads to various areas where you can sit on a bench and relish the moment, this is a perfect place to appreciate some culture, art and history.
Dining
---
Maracas. Although we are not really what you would call foodies, we do enjoy our favorite dining place. Maracas offers delicious entrees as well as drinks, free chips and salsa, and a very friendly atmosphere (and reasonably priced). The staff are extremely attentive and friendly! This is where we dine every time we visit Palm Springs area. I do have food sensitivities and Maracas has several options that I can choose that are gluten free, and of course I do order my food dish without cheese or flour/wheat, and the food is fresh and quality.