If you come to Guanajuato by bus (typically with ETN, Estrella Blanc, First Plus or Primera Plus), you'll end up in Guanajuato Central Bus Station (Central de Autobuses de Guanajuato, in Spanish).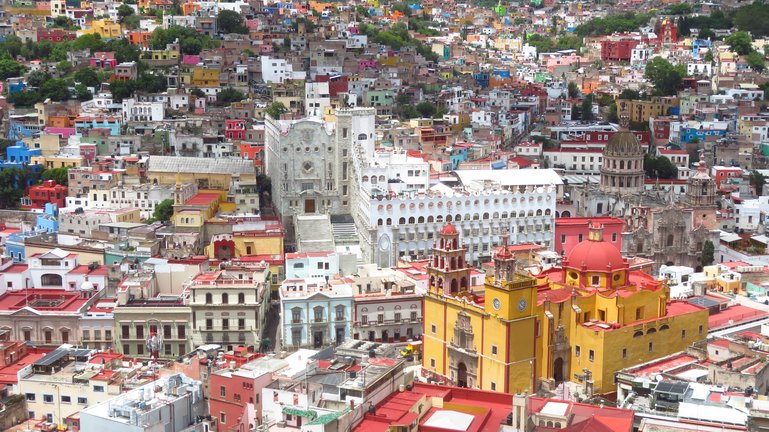 Guanajuato City, Mexico
The bus station is located around 5km south of the city center.
Taking a taxi there will most likely be a rip-off, especially if you don't look Mexican or if your Spanish is not very good. Take the local bus instead, it's direct, cheap (7 or 8 pesos) and simple.
Taking a bus to the historical center of Guanajuato
---
Head off the main bus station, the local bus stop is in front of the building. Local buses won't look anything like the luxury bus you took to get there, they're old and simple but they're just as reliable.
In Mexico, local buses have their destination and the main stops handwritten on the windshield. Look for a bus headed to "Mercado" (a.k.a Mercado Hidalgo, a big covered market in the historical city center).
Pay your ticket in cash directly to the driver, it will be 7 or 8 pesos per person depending on the bus type, the price should be indicated on the inside and / or the outside of the bus. Drivers have change for small bills only (20 and 50 pesos), so be prepared with coins or a small bill.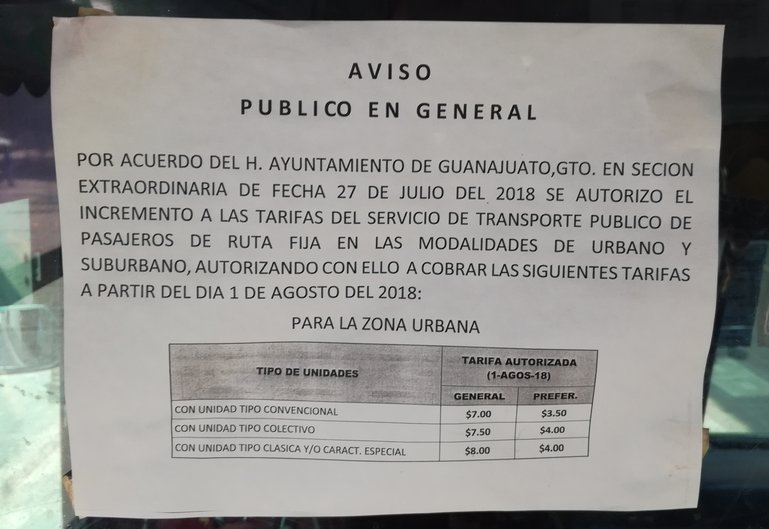 Bus prices in Guanajuato since August 2018
The journey takes around 20 minutes depending on the traffic. Now, a thing to know about Guanajuato: as you will see, the center is barely accessible to cars and buses, so the city is filled with underground tunnels to help the traffic. Your stop, the Mercado stop is underground, in the middle of a tunnel, but no worries!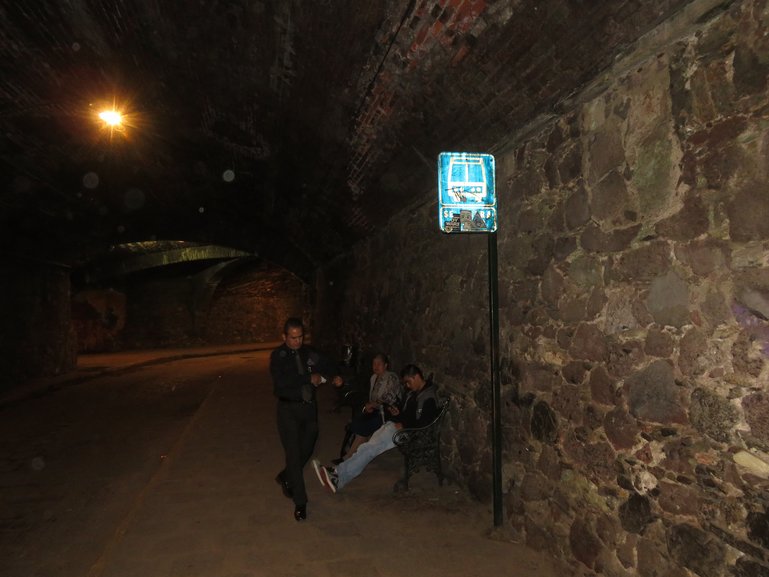 This is what the "Mercado" bus stop looks like
Chances are that a lot of people will go out at this stop. Ask either the driver or a passenger for the Mercado stop. You can also follow the bus on your GPS since the tunnel only starts a few hundred meters before reaching Mercado.
Once you're out, walk on the sidewalk in the same direction that the bus goes (just follow everyone else) and you'll find a set of stairs 40 or 50 meters ahead. Climb them, and that's it, welcome to Guanajuato! From there, you should be able to reach your accommodation on foot if it is located within the city center.
Some helpful Spanish vocabulary
---
* In Mexico, most people say el camión (literally "the truck") to talk about the bus, instead of "el autobús". But everyone will understand the word "autobús"
* El camioncito: a small bus
* La central de camión, La central de autobús or just Central: bus station
* Centro: the city center