Animas is owned by the indigenous people native to Mexico who still speak the Nahuatl tongue. This language is the ancient tongue that also gave Teocaltiche its name meaning, The Place Near the Temple. Nahuatl is also the language that the Virgin of Guadeloupe spoke to Juan Diego back in 1531.
Ánimas is only accessible by boat. This remote paradise lies just south of Puerto Vallarta. To get to Ánimas, take a taxi or catch a bus to Boca de Tomatlán, a small fishing village. From Boca, you can take a water taxi or hire a private boat and negotiate your own price and your own itinerary for your own private group. We hire a boat from Charlie. His father owns most of the buildings and businesses in Ánimas and still speaks Nahuatl. The only people allowed to live in Ánimas are the indigenous people who own the land and a very few others who get special permission.
We eat red snapper at El Caracol, a restaurant on the beach of Ánimas. The chef prepares the snapper huachinango sarandeado, a specialty of the house. The snapper comes to us whole, grilled and full of spices and chile. It melts in our mouths and is, by far, the one of the best dishes we enjoyed in Mexico.
Charlie returns us to Boca but not without stopping at the tiniest beach in all of Mexico and the fourth smallest beach in the world, Colomitos. From the small cove, we follow the rocks up a series of waterfalls that lead up and away from the ocean. Charlie tells us that the waterfalls continue all the way up the mountain. We stop after the fourth waterfall and return to the boat. Charlie brings us back to Boca just in time for the sunset. We walk up to the road and catch the bus back to town.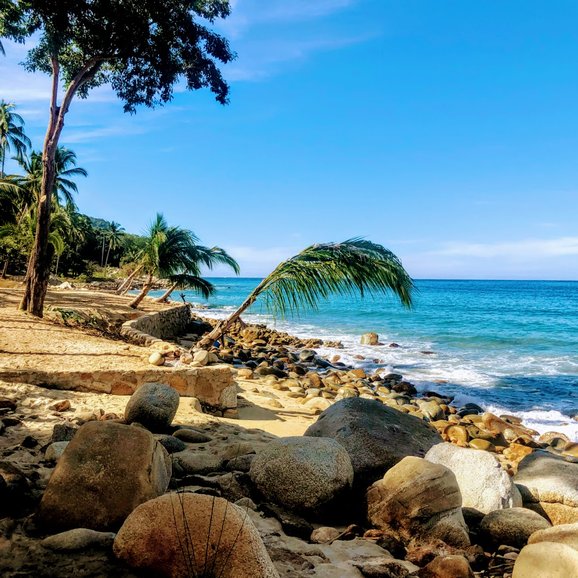 Animas Beach