Many people think they need to spend a fortune to travel. However, the reality is it's not necessary to break your bank. Yes, you will definitely need to save some money, but it may be way less than what you initially thought. That's why today I will show you how to travel to Mexico on the cheap.
I will give you some tips on how to save on transportation, meals, lodging, and tours. You will be able to have a better idea of what the prices are like and make a budget accordingly. It's good to be spontaneous, but you might want to prepare ahead to avoid any unpleasant surprises.
Flights
---
Flight prices are variable and will depend on your location. Some markets like the U.S. are more competitive than others and as a result, you will be able to find lower prices there if you do your homework.
So much has been said about buying cheap flights. Some say you have to buy them late at night, while others say you have to buy them on specific days. As a rule of thumb, three months is a good time to buy your tickets to get a good price. In general terms, the earlier, the better. If you buy your tickets less than three months before departure, be prepared to pay more.
Just to set an example, a round trip flight from Houston to Monterrey costs around $180 (USD) with VivaAerobus, Mexico's low-cost airline. If you live in the U.S., I recommend you check this airline first.
You can also check the following sites:
Kayak
Google Flights
Skyscanner
Make sure to create alerts for your desired dates and monitor prices constantly.
Lodging
---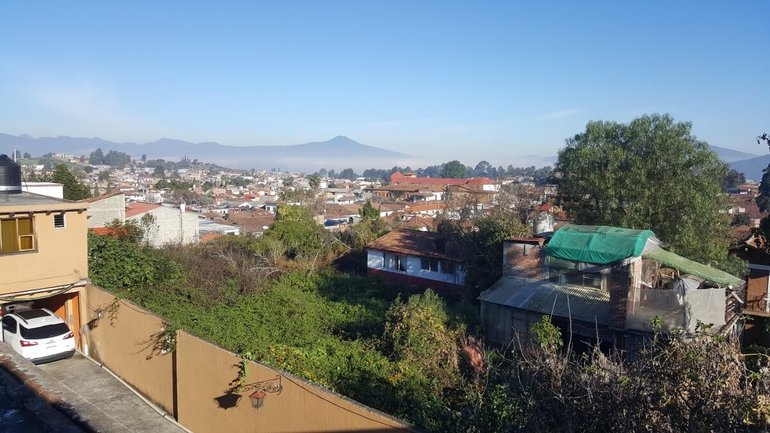 A hotel in Pátzcuaro.
First of all, we have to understand that some sacrifices will have to be made if we want to save money. When it comes to lodging, be prepared to share a room and bathroom with others. In other words, you will have to give up your privacy.
If that's not a problem, then the first option you should be looking at is hostels. In Mexico, they can go by different names such as hostales, pensiones, or casas de huéspedes. They're the cheapest lodging options by far. Prices are as low as $7 a night depending on the destination. Of course, don't expect anything fancy, but there are some nice hostels. Major destinations like Mexico City have several, and they're in well-located areas like downtown.
Most hostels offer free Wi-Fi, and some of them even have pools and include breakfast. You can try the following sites:
Booking
Expedia
Hostales.com
Another option you might consider is Airbnb. If you search diligently, you can find a good place that's well located and not too expensive. They're usually cheaper than hotels, but this is not always the case.
Young travelers opt for options like Couchsurfing. It's basically a world network where you will find people willing to host you and show you around. The idea is you will host them in return when they visit your country.
Don't discard hotels altogether. In Mexico City, for example, a cheap hotel can cost you somewhere between $15 and $20 a night. A 2 or 3-star hotel will cost you a little more, between $30 and $50 a night. As you can see, it's a matter of playing with the numbers.
Transportation
---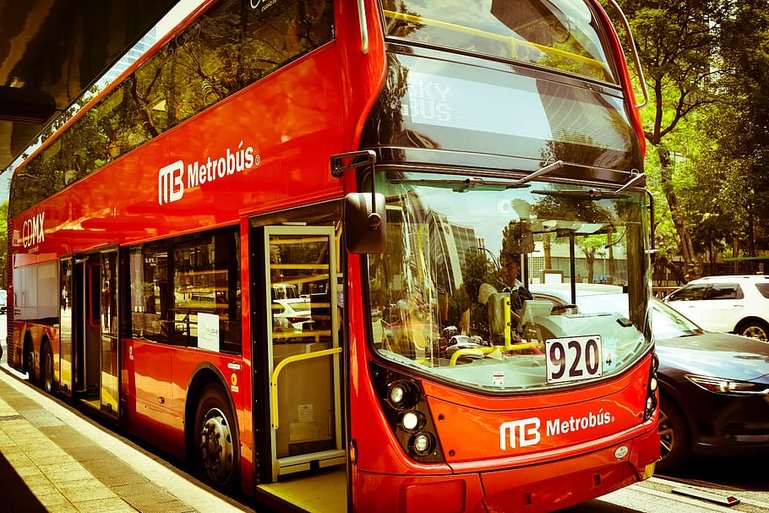 Public transportation in Mexico City.
To save money, your best bet is to use public transportation. Bus fares range between 10 and 15 pesos (around $0.50-$.75) one way. Fares vary between cities, with the most expensive ones being Cancún and Monterrey.
Buses have different routes and make frequent stops, but you can go virtually anywhere you want.
Major cities like Mexico City and Monterrey also have subways. The fare runs around 5 pesos one way (around $0.25).
Even Uber is not that expensive. Trips normally cost around half of what you would pay in the U.S. However, one of the biggest problems with Uber is when dynamic pricing is in effect, which can double or even triple the fare you normally pay. Also, keep in mind that although Uber operates in many parts of Mexico, it's not present everywhere.
In some instances, you might need to rent a car. The cheapest daily rates run around 400-500 pesos ($20-25). However, remember you have to add gas and tolls to the total, so you have to make sure it's really worth it. When traveling on a budget, this might not be your best option, but in some cases, you will have to rent a car if you want to visit some remote areas.
Meals
---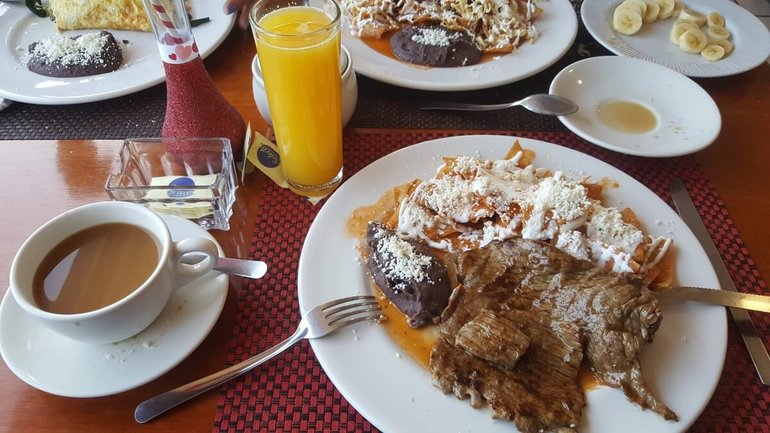 Mexican breakfast.
Some people buy groceries and cook everything themselves to avoid eating out, but I understand this may not be your ideal type of vacation. It may also be impractical if you're not staying at an Airbnb or timeshare. Chances are you will not be in your room all the time, which means you will have to eat out.
For starters, try to look for some type of lodging that includes breakfast. This way, you will only have to worry about lunch and dinner. The good news is that Mexico has lots of affordable places where you can eat delicious food.
The first place I recommend checking out is the local city market. You can eat breakfast, lunch, or dinner, not to mention the food there is the most authentic you will find.
Food establishments in Mexico go by different names like fonda, cocina económica, or cenaduría (this one only serves dinner "cena", hence the name). Some of them even offer combos or 3-course meals.
You can also find cheap restaurants. Keep in mind the ones in touristy areas are usually pricier. I recommend you look them up on Foursquare, Yelp, or Tripadvisor.
Oh, and don't forget the food stands! In Mexico, you can find them on every corner. Tacos, quesadillas, tortas...delicious and cheap.
Generally speaking, the cost of one meal per person is 50-100 pesos ($2.50-$5) on the low side, while eating at an average place will cost you somewhere between 100-200 pesos per person ($5-$10).
Tours and Attractions
---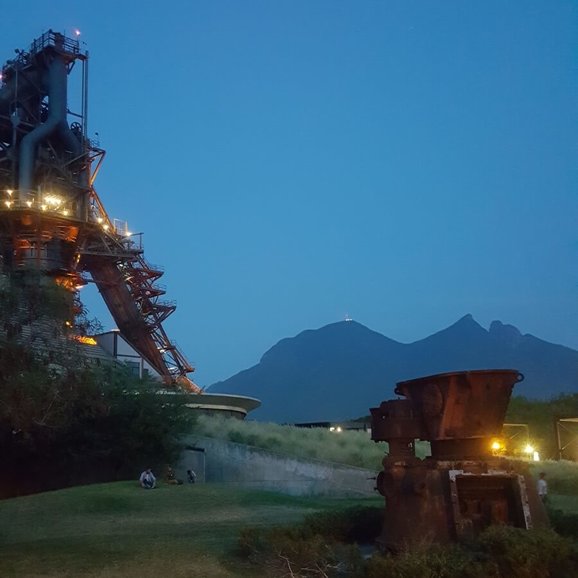 Parque Fundidora in Monterrey.
Traveling on a budget does not mean you cannot take any tours. Ideally, you should do everything yourself, but in some cases, it's more convenient to take a tour, especially when visiting remote areas like Calakmul or the rainforests in Chiapas.
Another advantage of taking tours is you will learn more about the places you visit as compared to visiting alone. Destinations like Mexico City offer several free tours. They include the city center, the public university, and some famous neighborhoods. You will only have to tip your guide for his time.
Try to avoid tours from sites like Viator. Hiring local tours on site is usually cheaper than going through a third party. I've seen tours as low as 200 pesos ($10), but this varies widely depending on the destination.
Some attractions like the Bosque de Chapultepec and Parque Fundidora offer free admission every day of the week. You should also look into museums. Many of them are free on set days. Or how about borrowing a bike on Paseo de la Reforma in Mexico City? All you have to do is perform a Google search, and you will find lots of free or low-cost activities to do.
Staying Connected
---
If your phone carrier is American, your plan might include unlimited calls, messages, and Internet in Mexico. Such is the case of TMobile. The coverage is great for the most part.
If your plan is not unlimited, your best bet is getting a local SIM card from a carrier like Telcel. It costs just around 80 pesos ($4). Then reload your phone and select a data plan, which can be for one, three, seven, or more days. All you need is an unlocked smartphone, which you can get on sites like Amazon and eBay.
Prepaid reloads can be as low as 20 pesos ($1) or as high as 500 pesos ($25). Choose the one that fits your preferences, but don't forget to take the duration of your trip and data consumption into consideration.
Using Credit Cards and Exchanging Currency
---
If possible, pay in pesos. Many places like Cancún, Cabo, and cities close to the American border accept dollars, but the exchange rate is not always favorable.
Credit cards usually charge a foreign transaction fee (around 3%). Check the terms and conditions of your card before using it.
If exchanging currency, avoid airports at all costs. They have the worst exchange rates ever. It's preferable to look for casas de cambio as they have better exchange rates.
Some banks will only exchange currency if you're an account holder.
Always bring some cash with you as not all places accept credit cards. Many do but make sure to ask first.
Conclusion
---
As you can see, it's possible to travel to Mexico on the cheap. You will have to make some sacrifices like sharing a room, using public transportation, and eating at markets, but you will be able to save a good bunch of money and spend it somewhere else.
You can travel as frugally as you want. Traveling on a budget does not mean you will have to settle for whatever comes your way. It's just a matter of searching.
I hope you found this useful. Make sure to come back regularly for more info and tips.